Animation Artifacts 02 Aug 2006 08:22 am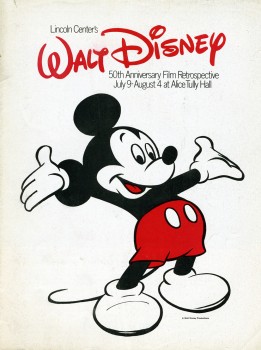 – Way back in 1973, Walt Disney Studios teamed up with Lincoln Center to present a complete retrospective of their work, celebrating the fiftieth anniversary of Disney.
This was a big deal for animation buffs in New York. Aside from presenting all the Disney features, live action as well as animation, they presented many of the shorts in special programs. (This was long before videos were available – even before Beta.) There were also a number of seminars with Frank Thomas, Ollie Johnson, Woolie Reitherman, and Ken Anderson.
The tickets for the talks were sold in advance, but the seats weren't reserved. We'd cue up outside the small, Lincoln Center Library theater hours in advance to get the better seats. This is where I first met a number of young students including: Tom Sito, Mark Mayerson, Lou Scarborough and Dan Haskett. Mind you, I wasn't much older, but I was already working for the Hubleys, so I had some cache as a "professional."
The talks were lively. I can remember the audience being critical of the "disco light" scene in The Aristocats, and Frank & Ollie pointing to Woolie saying it was his fault. None of them wanted it, but he thought they should stick it in "for the kids." There were quite a few surprises, with plenty of clips and pencil tests. They were promoting Robin Hood, and the audience didn't seem very enthusiastic – or maybe it was just me. If I remember right, I believe the film had already been released.
The Museum of Modern Art had some adjoining programs of shorts which I remember to this day. There was the program of silent shorts which ended with Steamboat Willie. Boy, did you get the effect of the first sound Mickey film. They presented the first color Disney short in the same way: a lot of B&W shorts followed by Flowers and Trees. Great programming.
It was a nice time to be in New York.
Here's the schedule and an article by John Culhane from the program: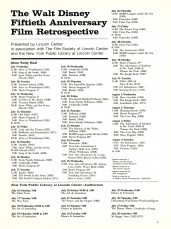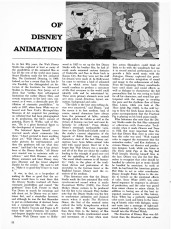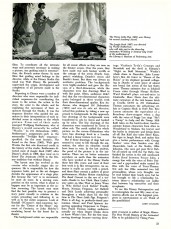 (click on any image to enlarge.)
One Response to "Lincoln Center Disney"
on 04 Aug 2006 at 5:38 pm 1.Mark Mayerson said …

I made sure to catch every shorts program they ran. I knew that the features would all eventually be re-released, but at the time the shorts were extremely hard to see. It was the first time I saw Music Land and Who Killed Cock Robin. I've still got copies of the program book as well. It really was an amazing retrospective.
Leave a Reply