Commentary &Daily post 04 Aug 2006 09:20 am
- Amid Amidi has posted an excellent look at fifties animation books on his Cartoon Modern site. He leads us to books and tapes available on the subject. The Art of the era.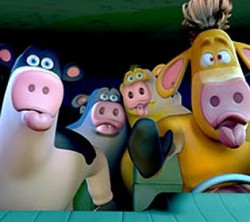 – To get away from Art let's talk about cleaning up the Barnyard.
Here are some of the local reviews for that Nickelodon film; they're all negative. Too bad.
When you have a live-action auteur like Steve Oedekirk come in to write and direct an "animated feature," surely you're on the right track. Why should the director know anything about the craft?
The animals, for the most part, seem to be walking upright, on their hind legs. I guess it'd have been more difficult doing a four-legged animal with motion capture.
I've about had it (as Popeye said: Enough is too much!). I'd rather quote a few of the local critics than try to waste my time articulating what I think about it.
Mahola Dargis, NY Times: The udder looks a lot like the base of a plumber's plunger and the teats look exceptionally friendly, like chubby little fingers waving toodle-oo. They're so friendly that it's hard not to stare at them and wonder what would happen if you milked Otis, which proves both distracting and something of a relief, since there isn't all that much else in this film to think about.
Elizabeth Weitzman, NY Daily News (1 ½ stars): Nothing in this movie makes any sense, especially considering that it's ultimately geared toward young children. The high-quality animation can't distract from tragic funeral scenes and frightening fights, let alone racial stereotypes ranging from a feisty Mexican mouse to a sassy black Bessie. Too mature for little kids and much too corny for older siblings and chaperones, "Barnyard" probably should have been put out to pasture long before it made it to the multiplex.
Scott Tobias, The Onion: The truth about farm animals is that no matter how humane the farmer (or how lush the rolling meadows, or how slop-filled the pen), they're all kept around to produce food products, and eventually, that means death by unnatural causes. Otherwise, it's not really farming, is it?
An honest children's tale at least acknowledges that fact, and the classic Charlotte's Web turned it into a note of great poignancy, because even prize-winning pigs and their eight-legged friends have to come to terms with the inevitable. When a patriarchal cow dies in the hideous new animated film Barnyard, he's actually buried six feet under with a ceremony and a tombstone—no steak, no rump roast, not even a pile of tripe. It may seem unfair to expect realism from a movie about anthropomorphic party-animals who walk around on their hind legs, but the film crosses the line. What makes them animals? What makes this a farm? What would George Orwell think?
Kyle Smith NY Post (1 ½ stars): ANIMATED FARM TALE UDDERLY UNREDEEMING If you want to punish your kids, send them to bed without dinner. If you want to disturb, frighten and depress them while making sure they fail biology, take them to the animated feature "Barnyard."
My only real question is: why do all children's films have to be so cynical and nasty?
28 Responses to "Where's the Beef?"
Leave a Reply