Books &Illustration 10 Aug 2006 08:39 am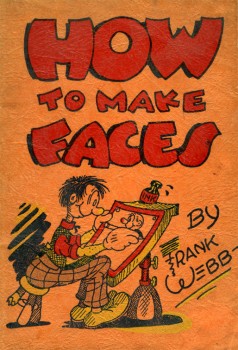 – Time to perk things up. Let's draw faces!
These pages are taken from a book I have, published in 1940, called How To Make Faces. The author, Frank Webb, was a comic strip cartoonist who drew the cartoon panel 'Kartoon Kollege' from 1940-41. When this strip ended, he created the comic strip 'Raising Kane', which ran until 1944.
Other than that, I haven't been able to learn much about him. I find it interesting that he signed each page of his book almost as if he expected it to run in a newspaper on a daily, one-page-at-a-time basis.
His approach was to use the alphabet and build up from there. When he runs out of the alphabet, he just turns to shapes then just asks you to copy his picture or finish the page.
Every other page is a blank "Practice Page." A nice way to fill up a book.
(Click on any image to enlarge)
22 Responses to "Faces"
Leave a Reply