Animation Artifacts &Books 13 Aug 2006 08:43 am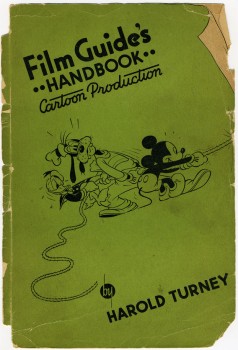 – This Harold Turney "Filmguide's Handbook to Cartoon Production" is one of the things I treasure in my little collection.
It was smallish book published in 1940. Apparently, there was a whole series of these books about film production. It has about 65 pages of print on heavy newsprint paper followed by about 20 pages of B&W photos on semi-gloss paper. Many of the photos printed there don't seem to have appeared in many other places. (Though I've found one or two lately on the internet.)
The pictures are almost wholly those of Pinocchio's production.
I'm posting a few of the pages. There are several to do with animators. The only picture posted here shows Fred Moore at his desk (cigarette in hand). The model maker below him is pictured with a marionette behind her. That marionette was merchandised; I have one. These were pre-plastic days. It's made of some wood pulp product, very interesting to me. There's also an odd studio photo of Disney manipulating the same marionette.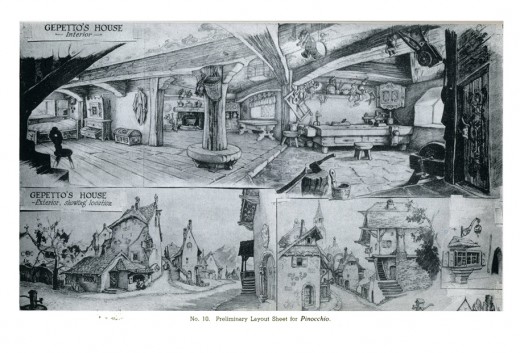 (Click on any image to enlarge.)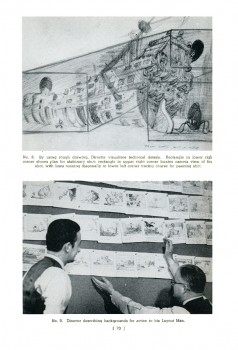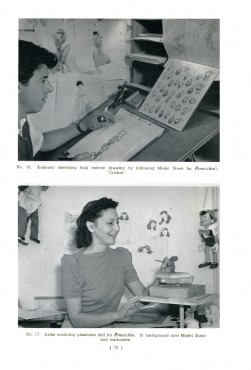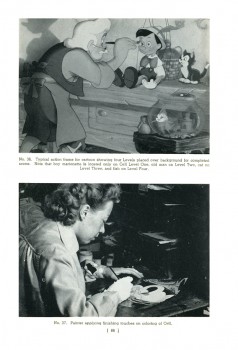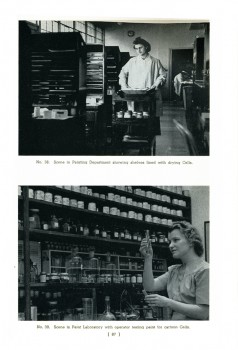 3 Responses to "Treasures"
on 13 Aug 2006 at 10:31 am 1.Mark Mayerson said …

The only photos I've seen before are the ones of Moore and Gepetto. It drives me crazy that we'll probably never know who the other people in the photos are. We're reaching a point in time where even the children of these people might be gone.

on 13 Aug 2006 at 10:52 am 2.Michael said …

There are about ten more pages of photos. I don't have the time today to scan them all, but will eventually post them. About four of them are of animators, another four of storymen, and some of camera, editors, and sound people.

As with all Disney pictures of the period no one is identified. One presumes the person above listed as "director" is Jack Cutting. They're working on "The Ugly Duckling".
Leave a Reply