Animation Artifacts 21 Aug 2006 08:11 am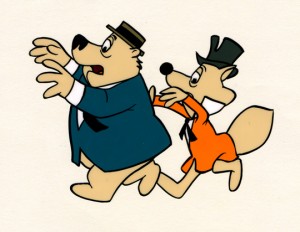 – When I was younger it was an absolute thrill to see an animated series premiere in prime time. The very first one was The Flintstones. Hanna Barbera had succeeded with Huckleberry Hound and its spinoff shows (including Yogi Bear), and they made history with The Flintstones.
It didn't take long for a second prime time show to premiere. Calvin and the Colonel was the darling of Charles Correll and Freeman F. Gosden who were the radio voices of Amos & Andy and had created the tv version of that show in early television. Once it was removed for racial profiling, they came up with an animated version of the same idea featuring cartoon characters.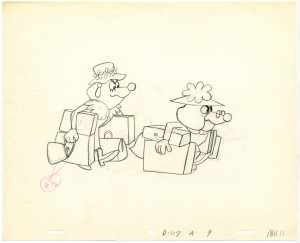 I was as much taken by the list of artists who worked on the show as the show, itself. They were more WB & Disney people unlike the Hanna Barbera shows which initially seemed to use more of their MGM cohorts.
Look at these names in the credits: Chuck McKimson, Norm Gottfredson, Lee Mishkin, Phil Roman, John Sparey, Ben Washam, Tom McDonald, Volus Jones, Dave Weidman, Jim Davis, Bob Bemiller.
George Bruns scored the show – obviously while still working at Disney on 101 Dalmatians etc.
(Click on either image to enlarge.)
The show premiered on ABC, Oct 3, 1961 at 8:30 PM and was produced by TV Cartoons which became Creston Studios for the show. (See this page at Cartoon Modern for other animated spots by this company.)
Voices: Calvin Burnside (voiced by Correll) was a big, brown bear, amiable but not very bright. Colonel Montgomery J. Klaxon (Gosden) was a fox, who was clever and not very trustworthy. Klaxon's wife, Maggie Belle (Virginia Gregg), and Maggie's sister was Sister Sue (Beatrice Kay). Paul Frees played Oliver Wendell Clutch, a slippery lawyer. I was a Paul Frees junky as a kid, so this show was a must see in my home.
I was young enough for the show to have had an effect on me. I've bought some 16mm prints of the show to see it again (before anything was available on vhs) and even a couple of cels and drawings. All memorabilia more than anything.
By the way, Topcat was the third show to premiere in prime time. how innocent things were back then.
- Tom Sito has a nice reminiscence of Friz Freleng on his blog today to celebrate Fritz' 100th birthday anniversary.
- This story in today's NYPost: EMMYS 'TOON UP NOSES AT 'PARK'
In the showdown of animated comedies, "The Simpsons" won the Emmy this weekend for best cartoon show – beating one of the most controversial episodes ever of "South Park."
Comedy Central nominated the much talked-about "South Park" epsiode "Trapped in a Closet," which skewered Scientology and was pulled off the air under pressure from Tom Cruise.
"Well, I guess this is what happens when you don't mock Scientology," said "Simpsons" co-executive producer Al Jean said afterward.
- Tom & Jerry quit smoking This is the headline in a Guardian/UK story. Apparently, all of the scenes which include smoking in the cartoons are going to be excised.
4 Responses to "Calvin and the Colonel"
Leave a Reply