Animation Artifacts &Art Art &UPA 31 Aug 2006 07:36 am
- I'm saddened to learn of Ed Benedict's death. Cartoon Brew gives a number of resources to view some of the man's work and learn about some of his accomplishments. It's worth a visit to get a sample of his accomplishments. Though I didn't know him, I've been enormously affected by his work.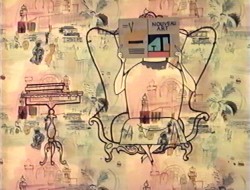 – Last week I made reference to Aurelius Battaglia's UPA short, The Invisible Moustache of Raoul Dufy. The film was produced in 1955 and celebrates the life and art of Raoul Dufy.
It was part of the first season of The Gerald McBoing Boing Show, a short lived series on CBS, Sundays at 5:30. This show featured three short films (most done especially for the TV show) with a wrap-around bit featuring Gerald. The Invisible Moustache of Raoul Dufy was one of these shorts.
(Click to enlarge any image.)
Walking in Paris, about 20 years ago, I stumbled upon Dufy's immense mural La fée électricité, which was commissioned by the Compagnie Parisienne de Distribution d'Electricité. It was in the Musée d'Art Moderne de la Ville de Paris. Only on seeing this enormous work was I able to really grasp the notion of the film, which I'd seen as a child. I was taken with the technical expertise Dufy utilized to paint the work so quickly. He used a special painting medium created by a chemist and a projection system that allowed him to paint directly over images of his sketches. For the viewer, it's the immense size of the piece that is so monumental. The colors literally glow around you in the somewhat darkened room.
The film, on the otherhand, seems to exist only in grayed colors. I have a 16mm print which came new, and the colors seemed faded. The vhs copy I have is no better. The delicate script is still quite lovely, but one is always wishing Dufy's colors could come through.
I've posted a number of frame grabs to give an indication of the film, but I urge you to view the reconstructed mural the next time you're in Paris. (Perhaps a side-trip from Annecy.)
6 Responses to "Raoul Dufy"
Leave a Reply