Animation &Animation Artifacts 30 Aug 2006 08:25 am
- This blog stuff is amazing. History revealing itself.
Posted on the ASIFA Hollywood-Animation Archive site, today, is a most amazing document. Mark Kausler has loaned his set of bar sheets from the Rudy Ising directed short "Shuffle Off To Buffalo." and Steven Worth has digitized them.
Bar sheets are the director's work book used in breaking down a film musical note to musical note. Obviously, as depicted on these pages, found on the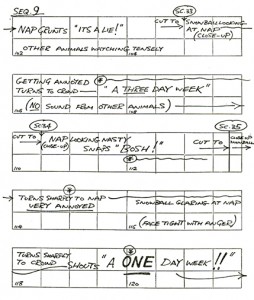 Animation Archive site, they were actually recorded on the sheet music, itself.
Over time things morphed, and there were actual bar sheets designed specifically for the director. These generally incorporated music, exposure/timing sheets and a place for action comments. Then, they seem to have dropped the musical notes.
Nowadays they seem to have dropped the workbook altogether. I try to work with them on most of my films. On Doctor DeSoto, for example, I actually built the camera moves on a waltz tempo musician, Ernest Troost, had written. I couldn't have done this without bar sheets. They allow you to see the big picture – the movie – rather than the frames.
You can see what they look like in the Halas book Techniques of Film Animation to the left.
Here's a set depicted in the Eli Levitan book Animation Art in the Commercial Film:


(Click on any image to enlarge.)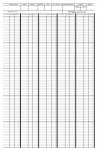 The bar sheets I've used in my studio look like the doc on the left. It allows me to see 400 frames in one glance. I can cut the track readings from the dope sheets and place them right onto the bar sheets.
The post on the Hollywood Animation Archive is a real find, especially for such an early document. Thank you Stephen Worth and Mark Kausler. Stephen's also constructed a scene-by-scene visual breakdown and given a QT version of the cartoon to be able to better study the sheets.
What a fabulous chunk of animation history. One-stop-shopping for free.
11 Responses to "Bar Sheets"
Leave a Reply