Books &Commentary &John Canemaker &Photos 28 Apr 2013 05:55 am
- John Canemaker recently loaned me a stash of photos of the Raggedy Ann crew. These were pictures that were used in his book on the "making of". It was a better book than movie (as they often are). There are also some photos that didn't make it to the book. John Canemaker shot all the photos, himself and all copyright belongs to him.
I thought I'd post the pictures and add some comments that pop off the top of my head. Hopefully, a couple of interesting stories will show up in my memories.
There are enough photos that it'll probably take about three posts to get them all in. The next two Sundays are booked, I'd guess.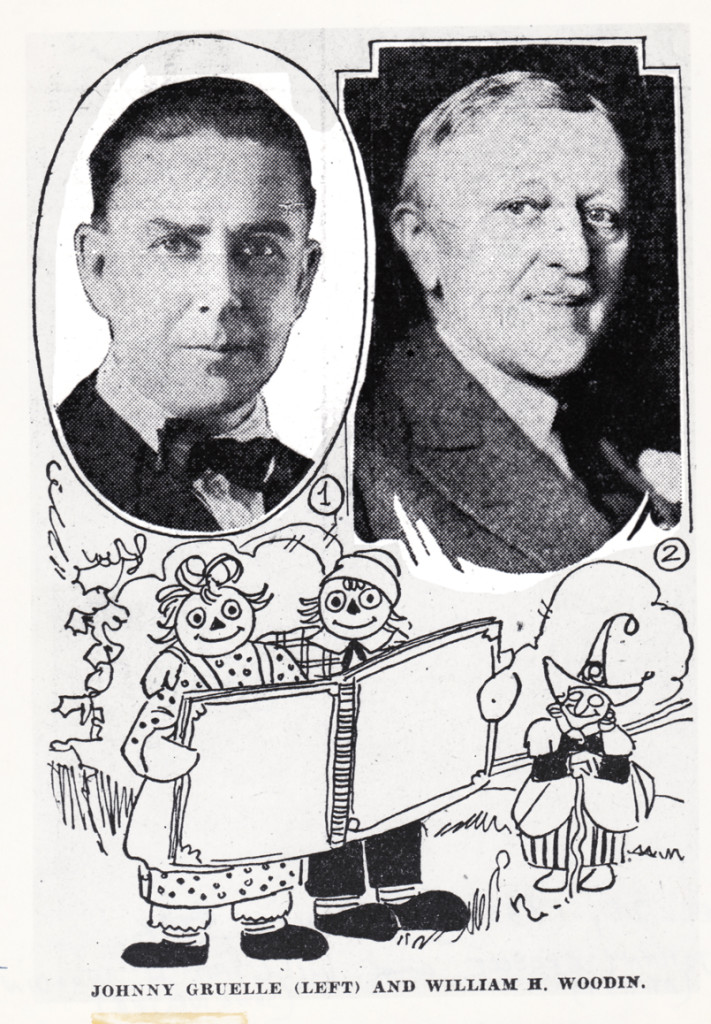 1
Johnny Gruelle (artist, writer) and William H. Woodin (song writer)
Dec.28, 1930 Indianapolis Star – "Raggedy Ann's Sunny Songs"
This was apparently a theatrical piece Johnny Gruelle
put together with his very successful characters.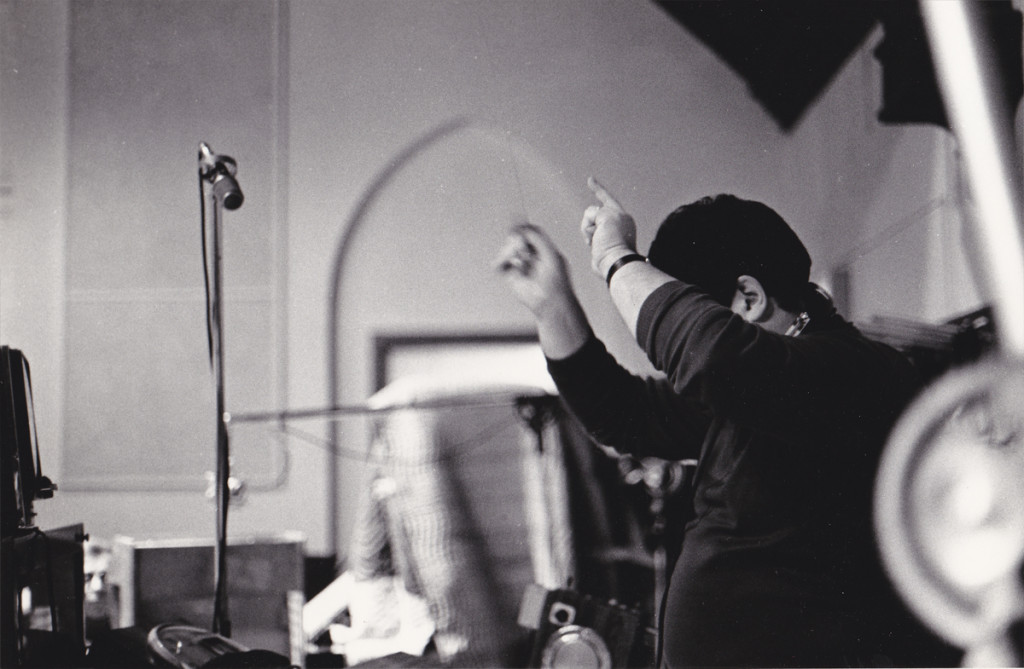 2
It all started with Joe Raposo, the composer of "Bein' Green"
and many other hit Sesame Street songs. He wrote a musical for "Raggedy Ann
and Andy" and was made to see that it would make a wonderful animated musical.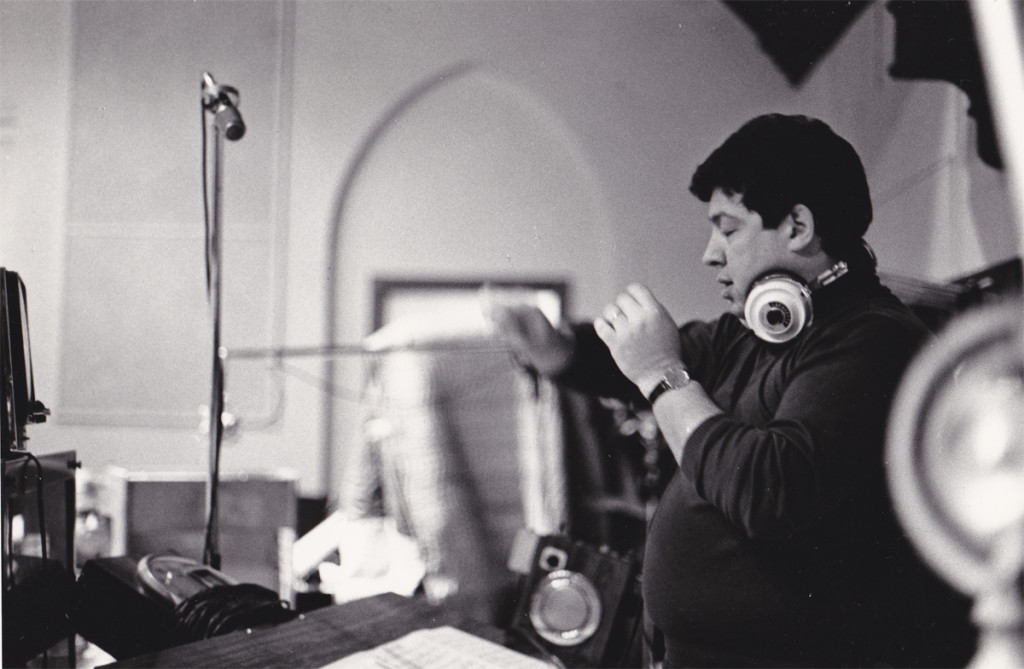 3
He wrote a lot of songs for the slim script and they prerecorded
the songs for the animation. We lived with a soundtrack of about
a dozen musicians playing this very nice score to the delicate voices
that sang the tuneful pieces.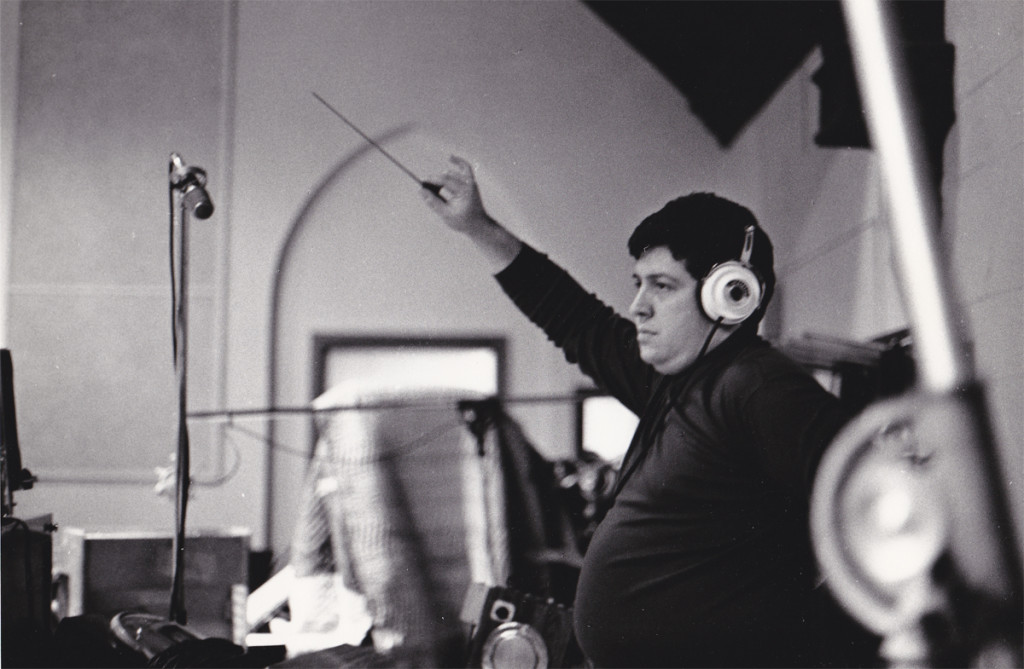 4
We heard this at least once a week as the animatic/story reel
grew into a full animated feature shot completely in Cinemascope.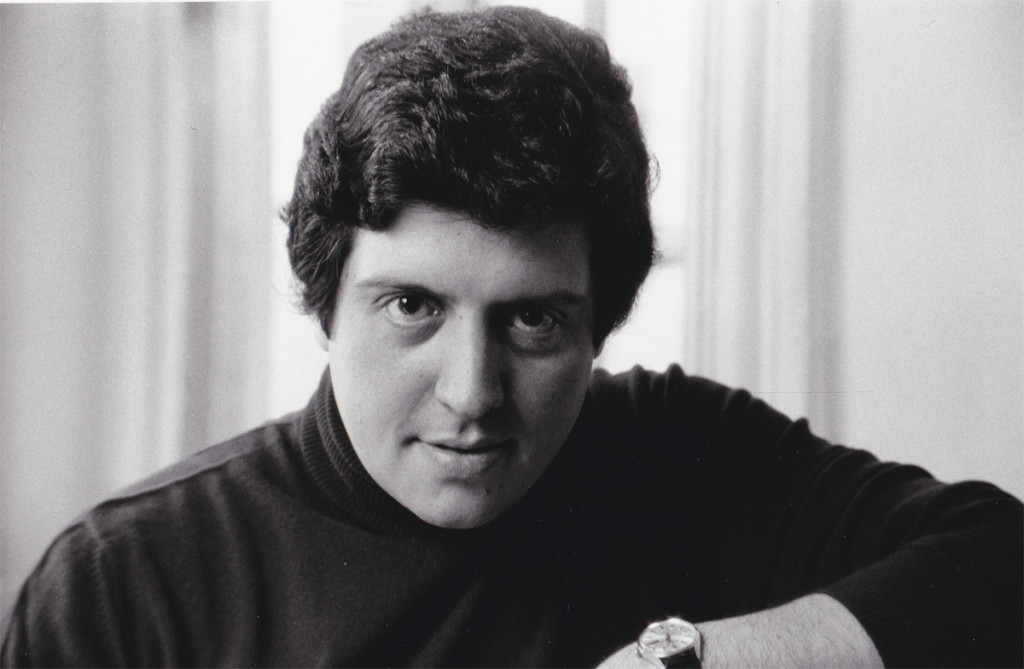 5
When the final film was released, that 12 person orchestra
became 101 strings and a big over-polished sound track.
No matter where you went the music was there and in the way.
It was too big, and the movie was too small. It was bad.
The track was incredibly amateurish. The composer had too much control.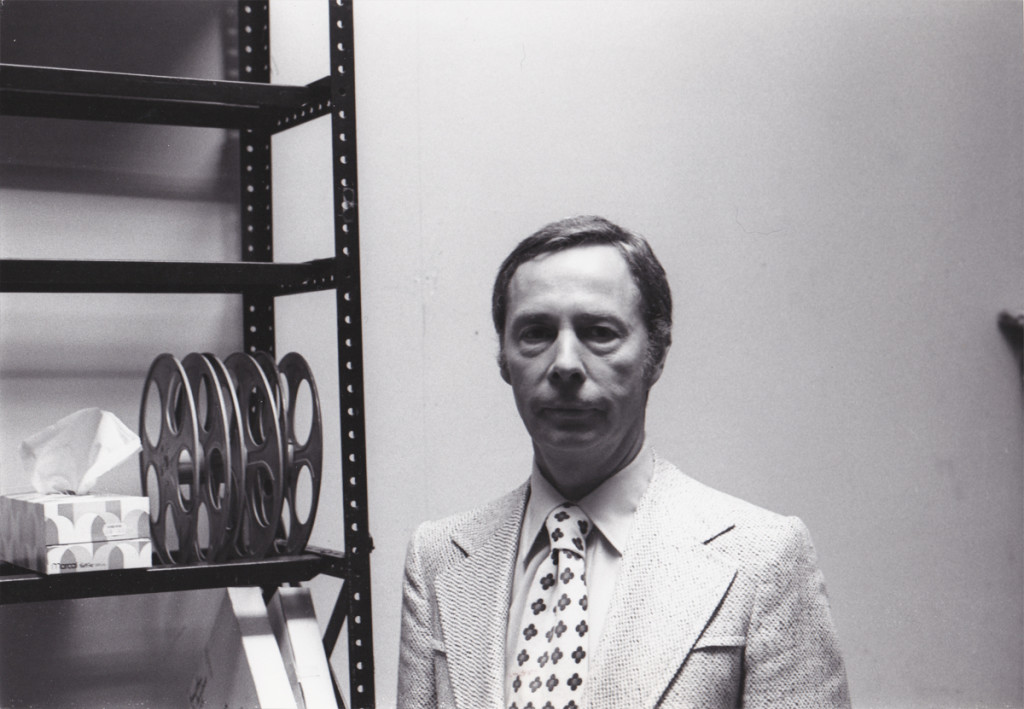 6
This was Richard Horner. He was one of the two producers of the film.
Stanley Sills (a Broadway producer and Beverly's brother) was the
other producer who didn't know what he was doing.
They represented Bobbs-Merrill who owned the property.
I really liked Mr. Horner. We met again a number of years later
when Raggedy Ann was distantly behind us. I'd offered to take Tissa to church,
one Easter Sunday; Richard Horner and wife were there. He asked to meet with me.
He sought advice on some videos of artists and their work that he was producing,
and hoped I could offer my help in leading him to some distributors.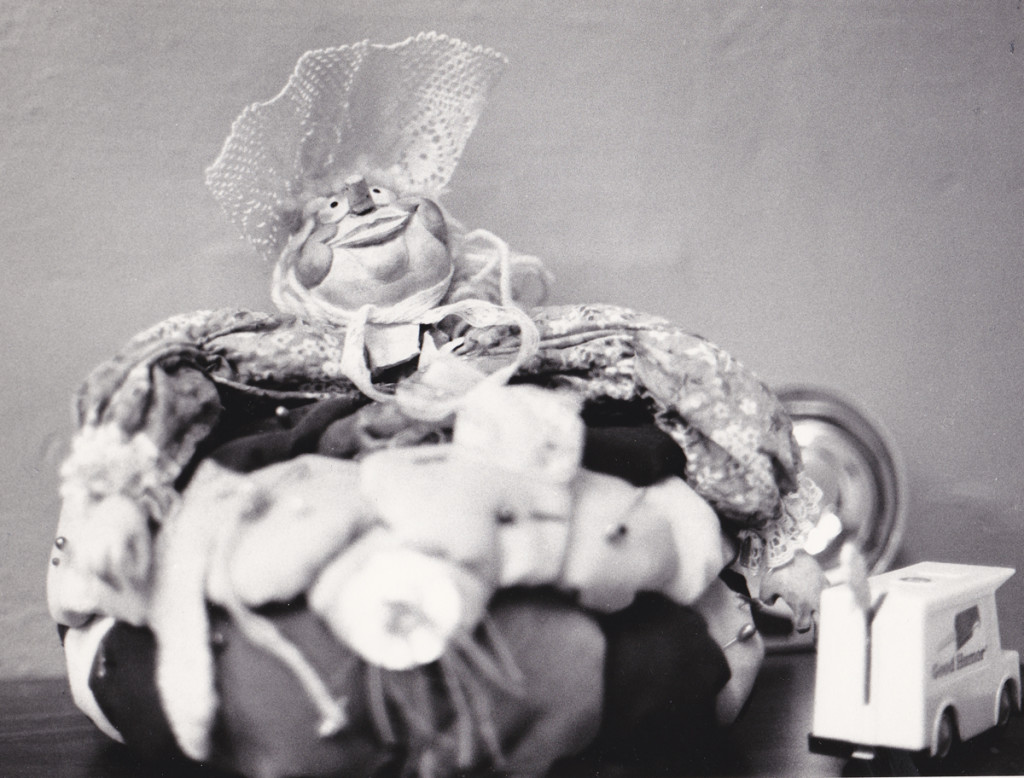 7
This is one of the dolls in the play room,
Susie Pincushion. She was charming.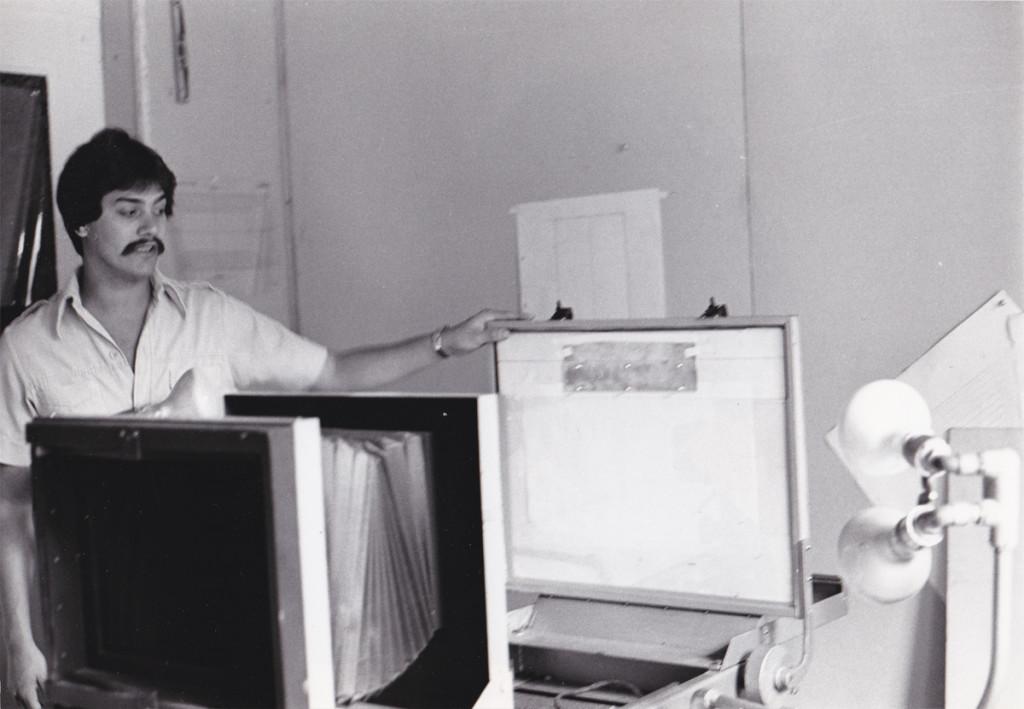 8
This is Cosmo Pepe; he was one of the leaders of the Xerox department.
It was Bill Kulhanek's department, but Cosmo really did great work.
They had this room-sized machine that they converted drawings into cels.
It was all new to NY, and the whole thing was so experimental.
Especially when Dick decided to do the film with grey toner rather than black.
The film always felt out of focus to me (even though it wasn't.)
In the end when they rushed out the last half of the film, Hanna Barbera
sub-contracted the Xeroxing, and it was done in a sloppy and poor black line.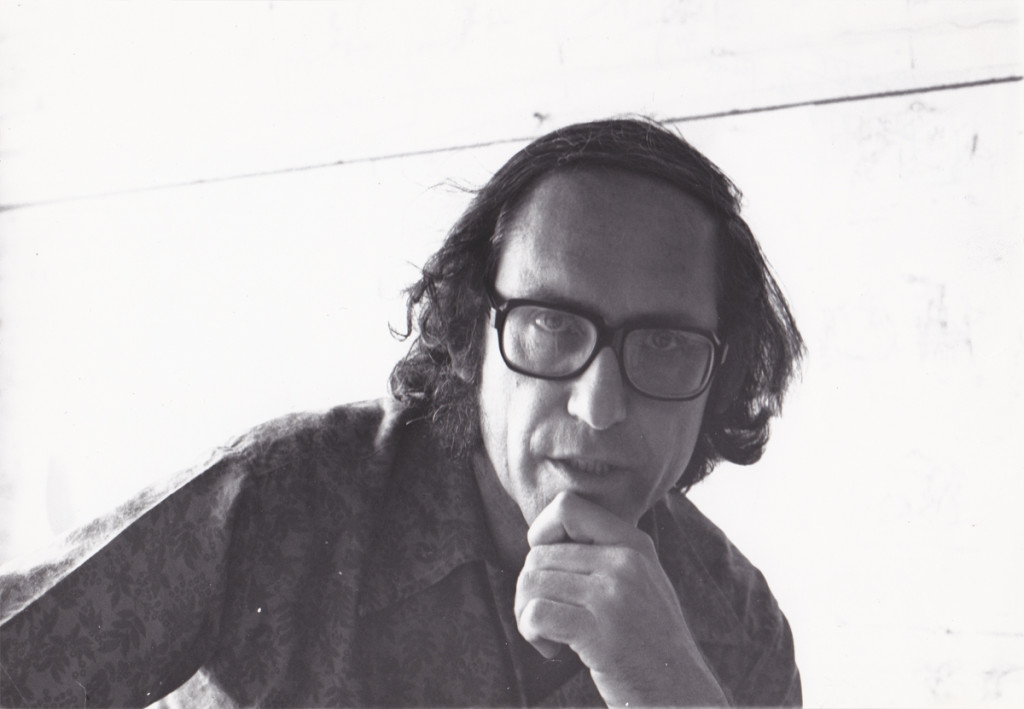 9
This is Corny Cole. He was the designer of the film, and all the great art
emanated out of his Mont Blanc pen nib. Or maybe it was a BIC pen.
Whatever, it was inspirational.
I wrote more about him here.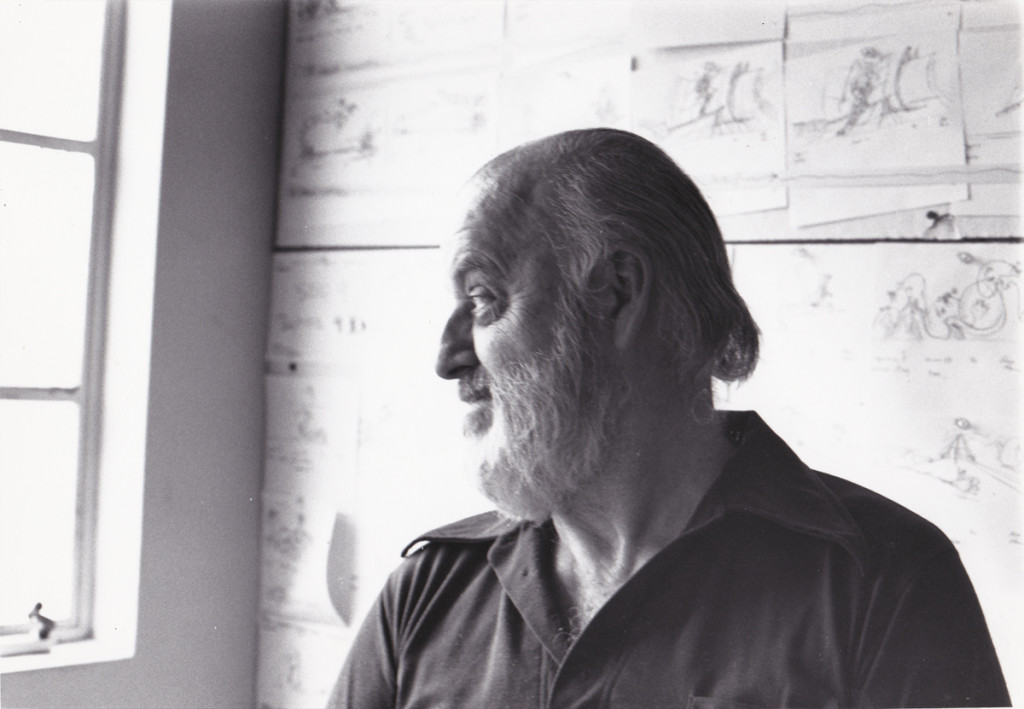 10
The gifted and brilliant animator, Hal Ambro. Can you tell that
I admired the man? I wanted badly to meet him during this production,
but that never was to happen. Now, I can only treasure his work.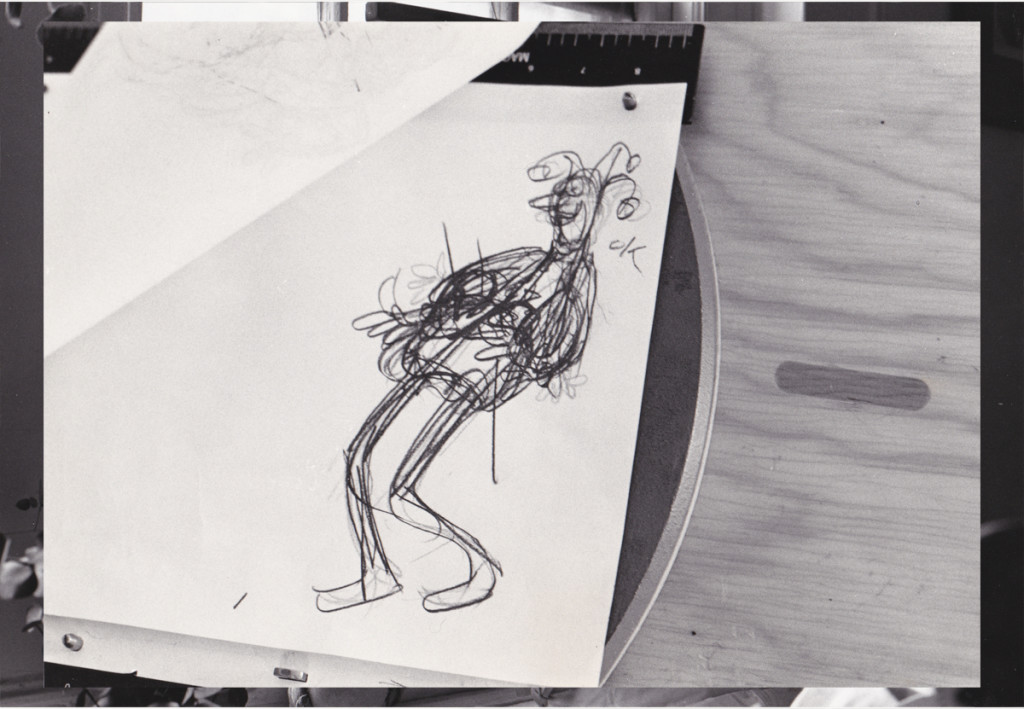 11
This is a very rough planning drawing that Grim Natwick did on
the Jack-in-the-Box he animated. See the scene here.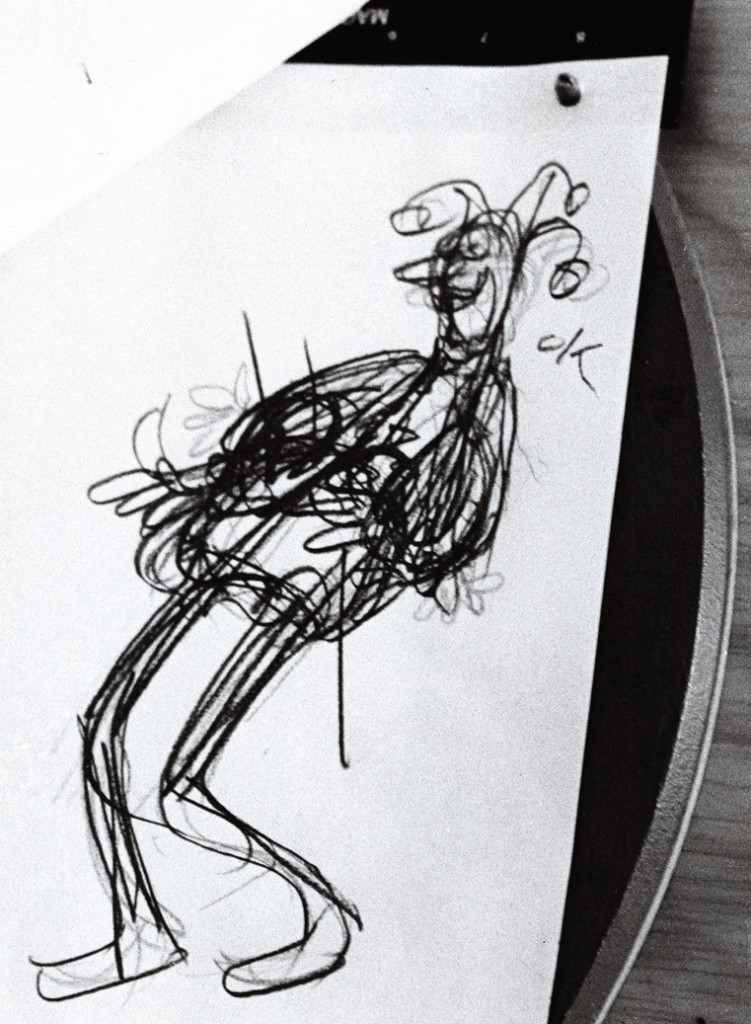 12
Here's a close up of that very same drawing.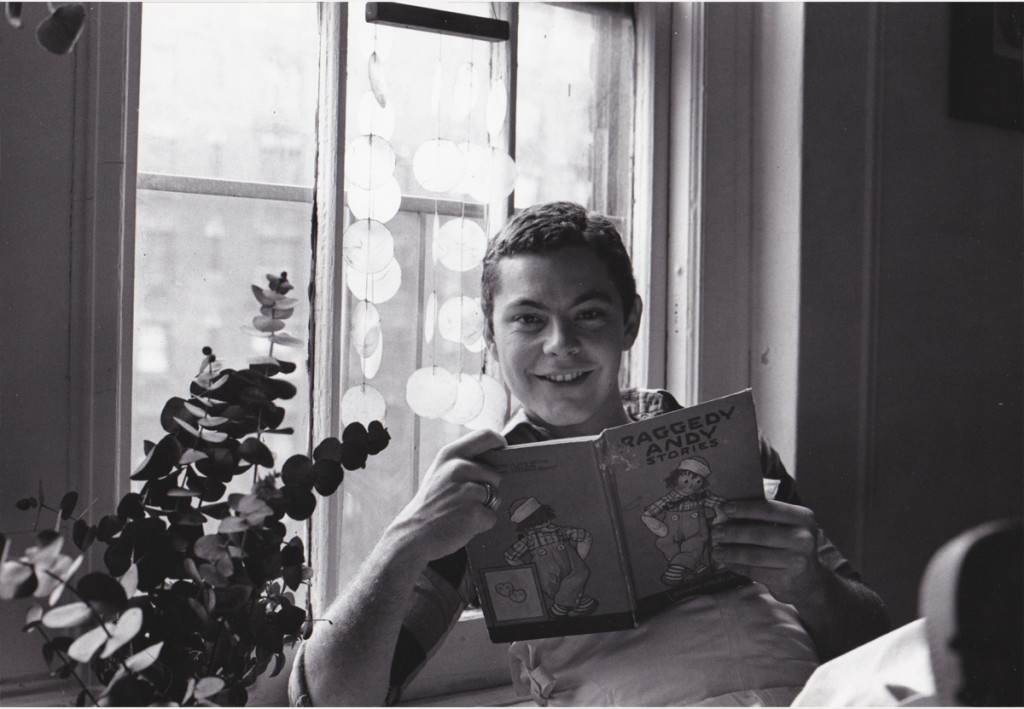 13
Mark Baker did the voice of Raggedy Andy.
He'd won the Tony Award as Best Featured Actor in the musical, Candide.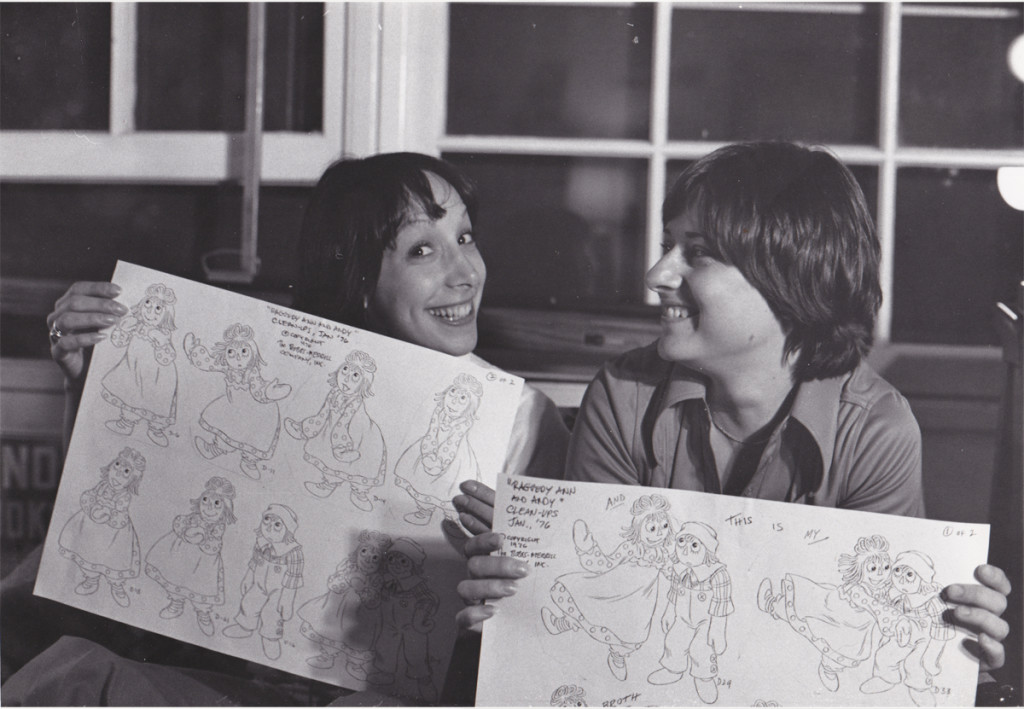 14
Didi Conn, the voice of Raggedy Ann, with Chrystal Russell, an animator
of Raggedy Ann. She backed up Tissa David who was the primary actor for
that character and did most of the film's first half. Chrystal did many
scenes in the first half and most of the second.
She had a rich identifiable style all her own.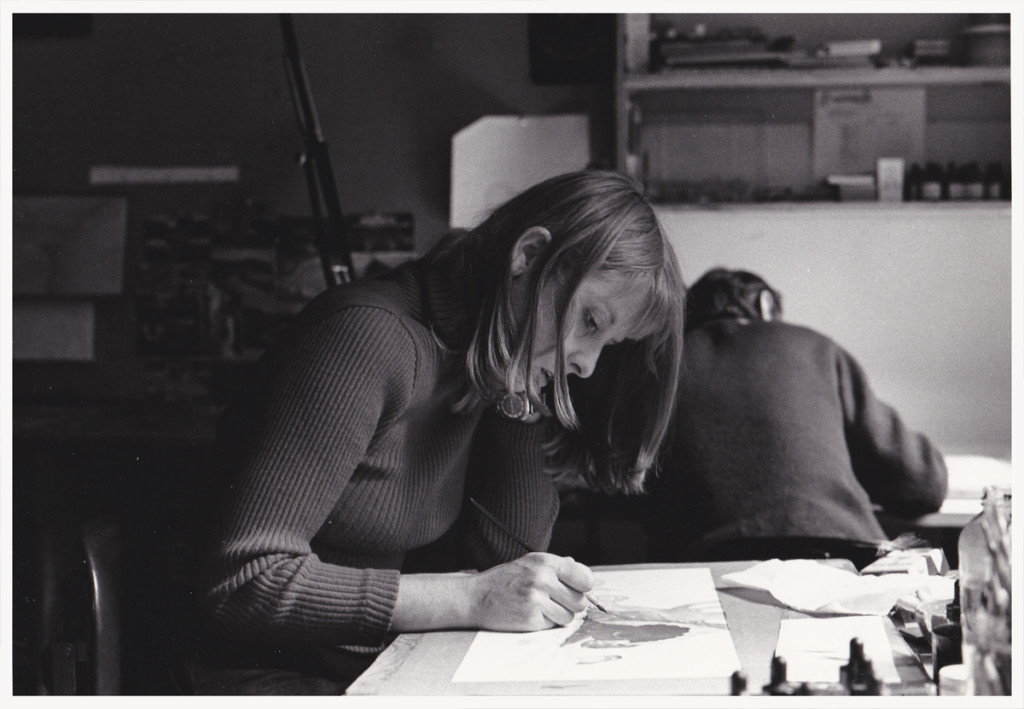 15
Sue Butterworth, head of the BG dept who designed the watercolor style
of the film. Michel Guerin, her assistant, can be seen in the rear.
Bill Frake was the third part of that BG department.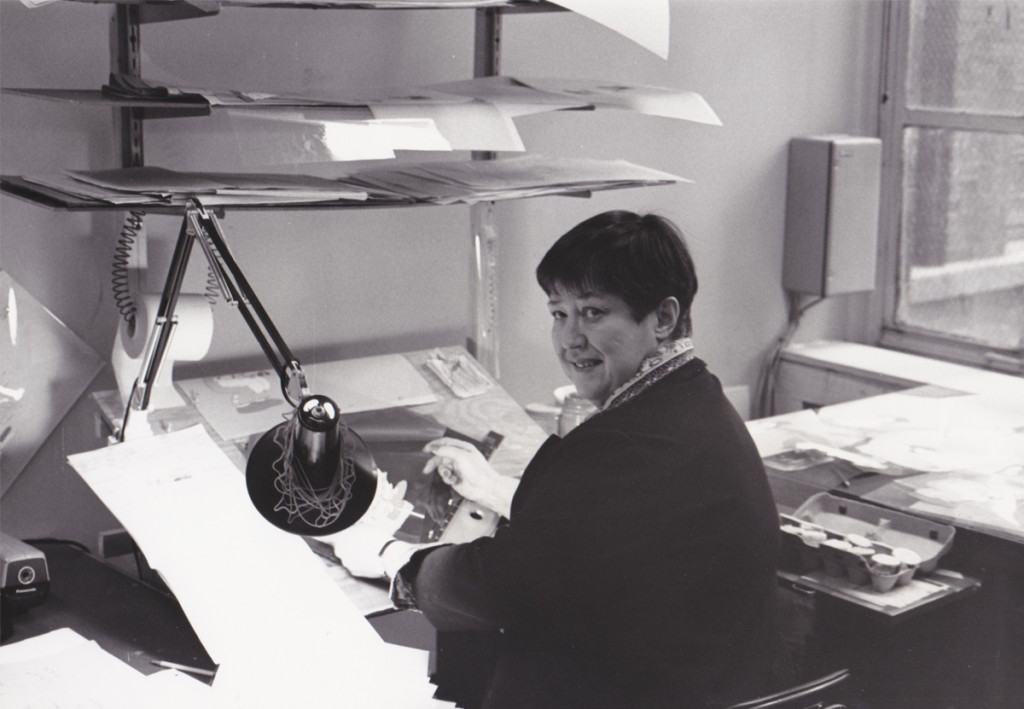 16
Painter, Nancy Massie. A strong and reg'lar person
in the NY animation industry. She'd been working forever for a reason.
On the average, I spent about an hour a day down in the Ink & Pt dept.
Often they had problems to resolve with some animator's work. Either the
exposure sheets were confusing or they didn't match the artwork, or there
was some question that they found confusing. My being available made it
helpful to them, and I did so without hesitation.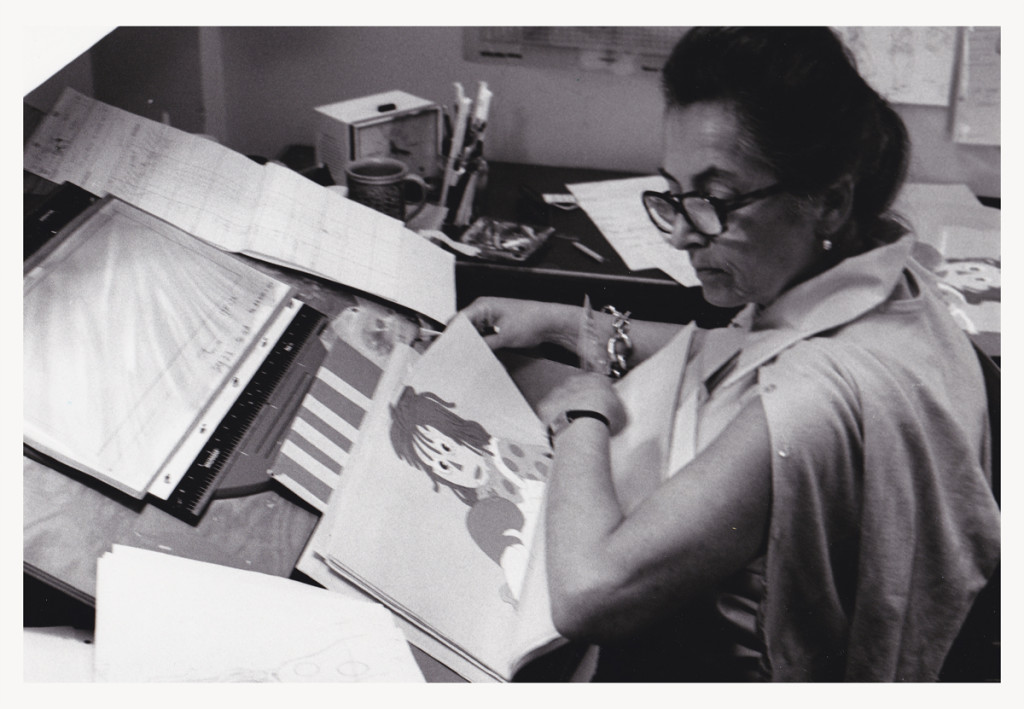 17
Checker, Klara Heder. Another solid person
within the NY industry.
Generally, before a scene left my department for the I&Pt dept., I'd
have studied the exposure sheets and felt I knew the scenes before
they were handed out to the Inbetweener or Assistant. It meant taking
a lot of time with the work in studio so that I was not only prepared
to answer questions of a checker but the Inbetweener as well.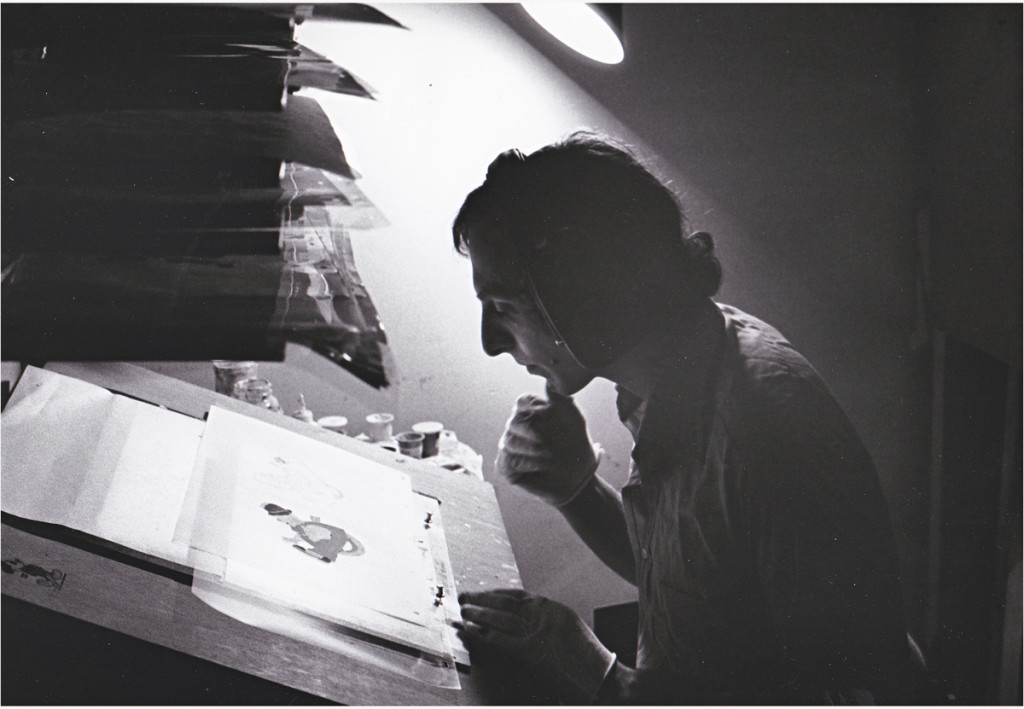 18
Sorry I don't know who this is. If you have info,
please leave it for me. For some reason, I'd thought
he was an inbetweener (which would've made it odd for
me not to recognize him by name.) Apparently he's a painter.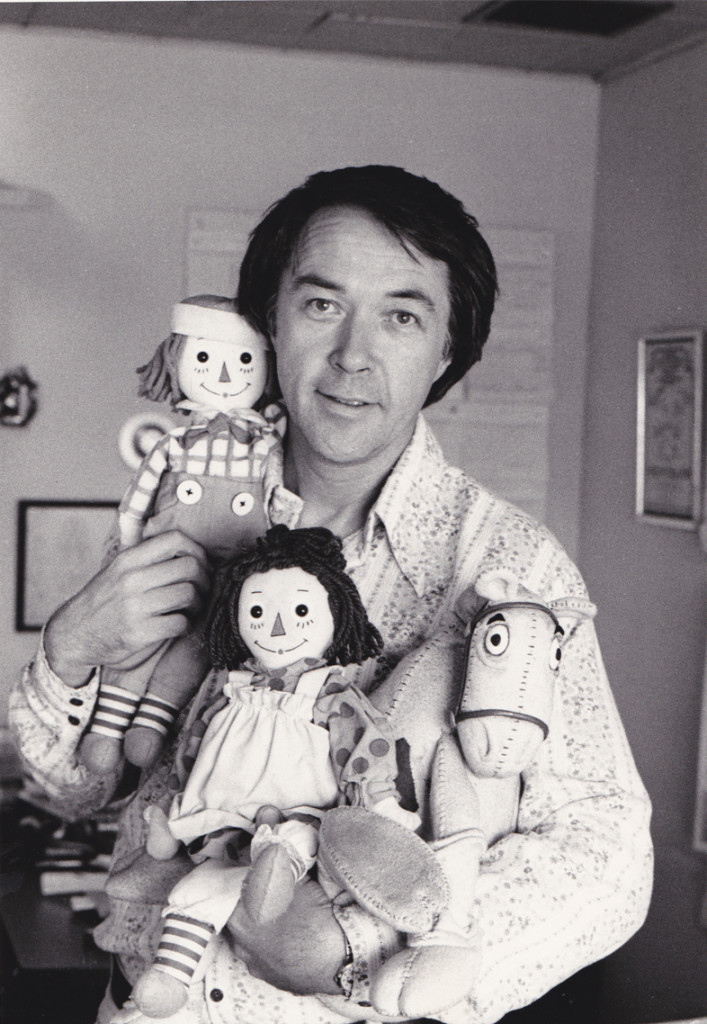 19
Carl Bell was the West Coast Production Coordinator.
We spoke frequently during the making of the show.
When I left the film, I went to LA for a couple of weeks.
Chrystal Russell threw a small party for me, and Carl came.
(I think he might have brought Art Babbitt, who was there.)
The group was small enough that we could have a talk that we all
participated in. We talked for some time (though not about
Raggedy Ann.) It was great for me.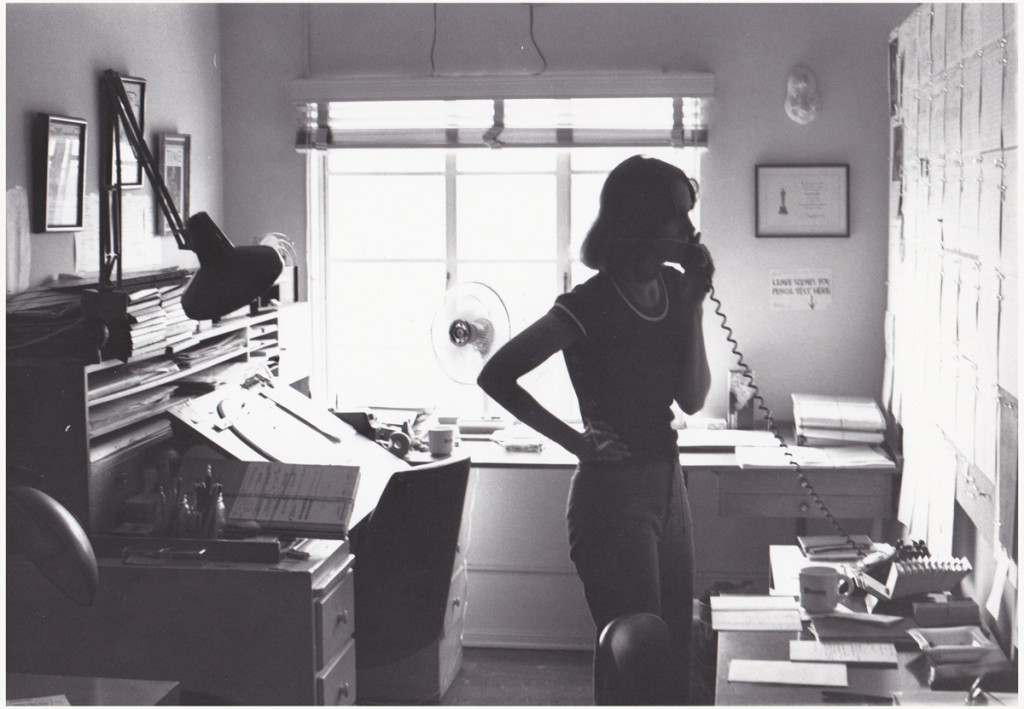 20
Jan Bell, Carl's wife, was the West Coast Office Manager.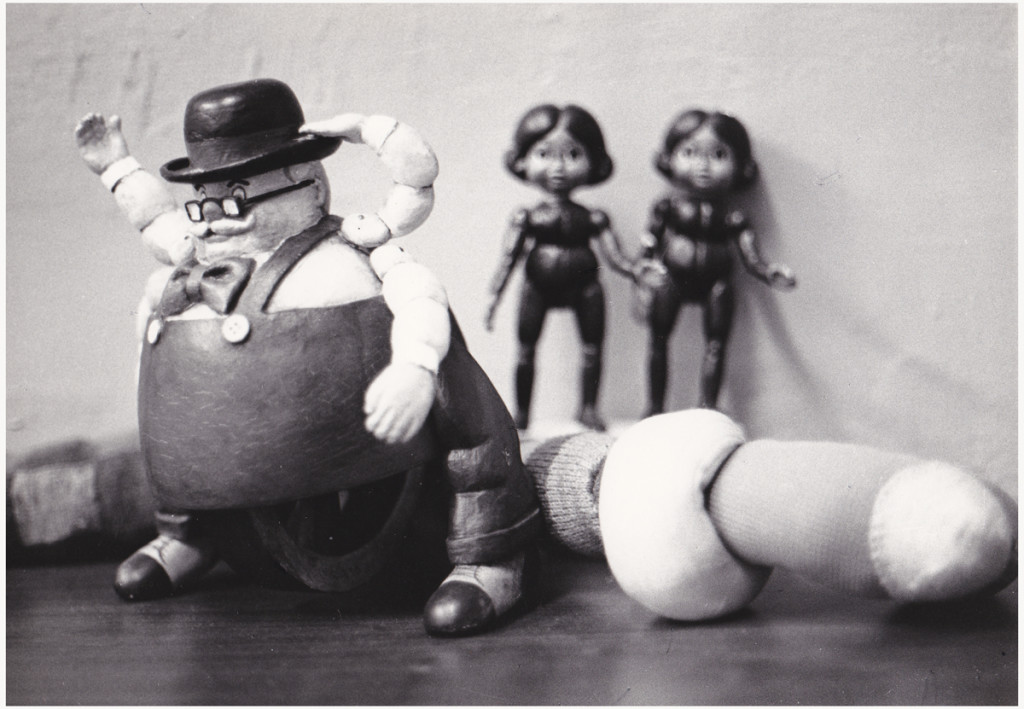 21
Maxie Fix-it. This was a great doll that wound up to get the legs going.
He rolled around the floor beautifully. The "Twins" in the back were animated
by Dan Haskett. though I'm not sure they gave him credit for it. I was a bit
embarrassed by these characters. They were just a naked bit of racism running
about our cartoon movie for very young children.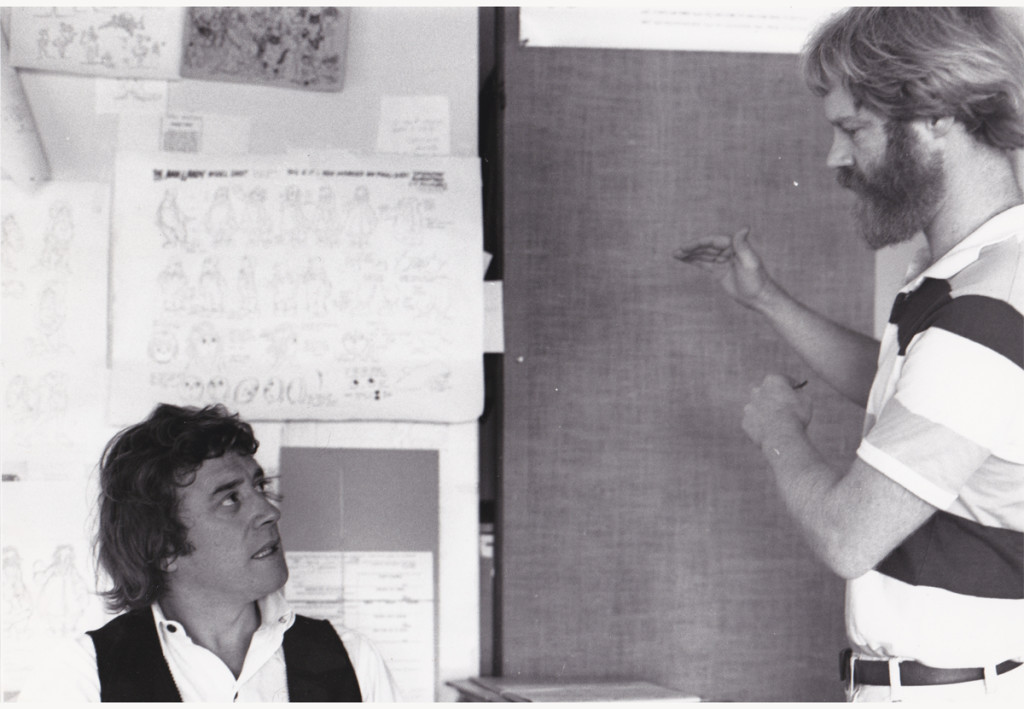 22
Gerry Potterton (left) and John Kimball (right).
Gerry was one wonderful person. I always enjoyed spending time with him.
He produced/directed a number of intelligent, adult animated films.
This includes an animated Harold Pinter's Pinter People.
After Raggedy, I tracked Gerry down to get to see Pinter's People. It was
rather limited but full of character. Gerry knew how to handle the money
he was given, unlike some other directors.
John Kimball was, at the time, not in the caliber of Babbitt or Ambro or
David or Hawkins or Chiniquy. However, he did some imaginative play
on a few scenes which were lifted whole from strong>McCay's Little Nemo
in Slumberland. One of these scenes I animated but was pulled
from it before I could finish it. I had too much else to do with the
tardy inbetweens of Raggedy Ann (an average of 12 drawings per day)
and the stasis of the taffy pit (an average of 1 inbetween per day).
Too many polka dots on Ann and too much of everything in the pit.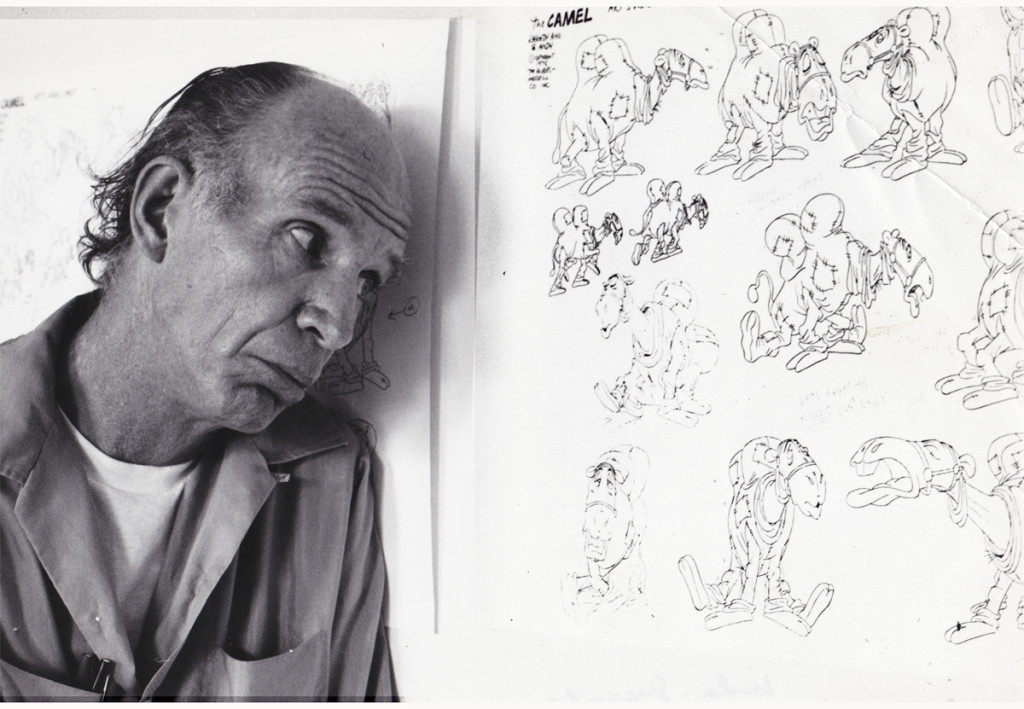 23
Fred Stuthman, the voice of the camel with the wrinkled knees.
He did add a great voice for the camel, though for some reason
I remember his being a dancer, predominantly.
All photos copyright ©1977 John Canemaker
.
2 Responses to "Raggedy Ann Photos"
on 28 Apr 2013 at 7:16 pm 1.Floyd Norman said …

How I remember that glorious time even though I had absolutely nothing to do with the production. However, many of my friends did. I had worked at Disney with Hal Ambro, and of course John Kimball was an old pal. So was my great friend, Corny. So many talented people on this project.

When the show wrapped, a number of artists came to the West Coast, and I was able to work with some of them. I had great admiration for the feature even though it turned out less than we had hoped. Then again, we produced our fair share of duds at Disney as well. And, for a good deal more money.

Thanks for the memories.
Leave a Reply