Books &UPA 04 Sep 2006 09:45 am
- I hope I'm not sounding like a shill, but I don't really mind. I believe in the product, and I'm going to broadcast my enthusiasm until you've got tears in your eyes.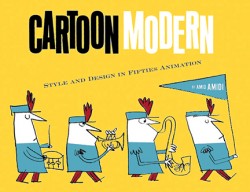 Amid Amidi's book Cartoon Modern is the best book on animation I've encountered since Michael Barrier's Hollywood Cartoons.
When Barrier's book came out, I was depressed and could find no inspiration in anything animated. As a matter of fact, I didn't want to see any more animated films. I read his book and found the charge I was looking for. I reread the book and found more. Just getting some trustworthy version of some of the pioneers and artists who pushed their way through the medium did it for me. I found new life in the work I did after that. I reread that book at least once a year – just for the pleasure.


(An Eyvind Earle study for Sleeping Beauty.) . . . (All images enlarge by clicking.)
Cartoon Modern has had a similar effect. The story, here, isn't about the pioneers who built a business and an artform; it's about the artists who rebelled from that business to advance the art. Their story is every bit as thrilling and certainly as much of an inspiration. This is especially so in that I grew up while these guys developed the look they advanced. In some small way I was taught – through their cartoons – that modern art was good. Also, as a small business animator, how could I not associate with these guys?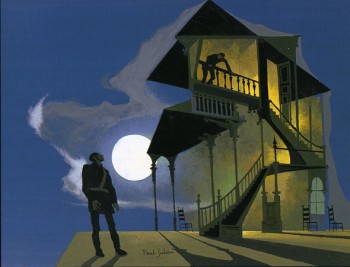 This book is filled with glorious illustrations as only such a story could be told. We are talking about people who found a way to update the art and break the mold of the 19th Century.
I've recklessly copied a couple of the stills from the book to illustrate how magnificent Amid's photo research is to illustrate his text. It involved more than going to one archive and having them open their wares to you.
(Paul Julian's painting for UPA's "The Telltale Heart.")
Amid had to go to many artists who shared the wealth. That, let me tell you, is a trying job. None of the difficulty is apparent here. Just the love. Love of the material and the medium.
Amid Amidi has a lot in common with Michael Barrier.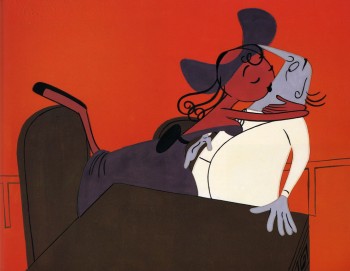 They're both fine writers, articulate and intelligent. Both are in love with the medium, and neither is afraid to call a spade a spade or a bad cartoon a bad cartoon. You don't always have to agree with them, just agree to listen.
For this quality, as a writer, you have to have more than a little responsibility.
Your sense of taste has to be impeccable and your audience has to trust you.
(Cel set-up from "Rooty Toot Toot.")
Amid gained my trust and my affection for his writing years ago – thank heaven for the internet! Animation Blast, Cartoon Modern (the website), and Cartoon Brew have all informed me in a deep and solid way.
My delight in this book couldn't be more sincere.
I haven't completely finished reading it, and I do have a couple of quibbles. But that would have been the case of any book. However, this book is all about taste, and I'm so pleased to be in the hands of such a fine writer and historian – it's a great feeling.
One Response to "Cartoon Modern"
on 04 Sep 2006 at 1:55 pm 1.Rudy Agresta said …

Hi Michael,

I'm anxiously awaiting my copy of CARTOON MODERN from Amazon. I'm like a kid waiting for Christmas to come. I couldn't agree with you more about Mike Barrier's tome – I've lost count how many times I've re-read it or referred to it. Enlarging the images you posted from CARTOON MODERN gave me an artistic thrill – and all HAND drawn and painted – no computer stuff! Those guys were true pioneers and visionaries. Thanks for sharing with us. You, too, are an inspiration.
Leave a Reply