Daily post 12 May 2013 07:19 am
We haven't quite finished with the collection of photos John Canemaker loaned me; these were the images he took for his Raggedy Ann book. Not all were chosen, but all were snapped by John.
I've chosed to post the photos and use them as a way for me to reminisce on the subject at hand. Lots of looking back, memories and other photos in my mind.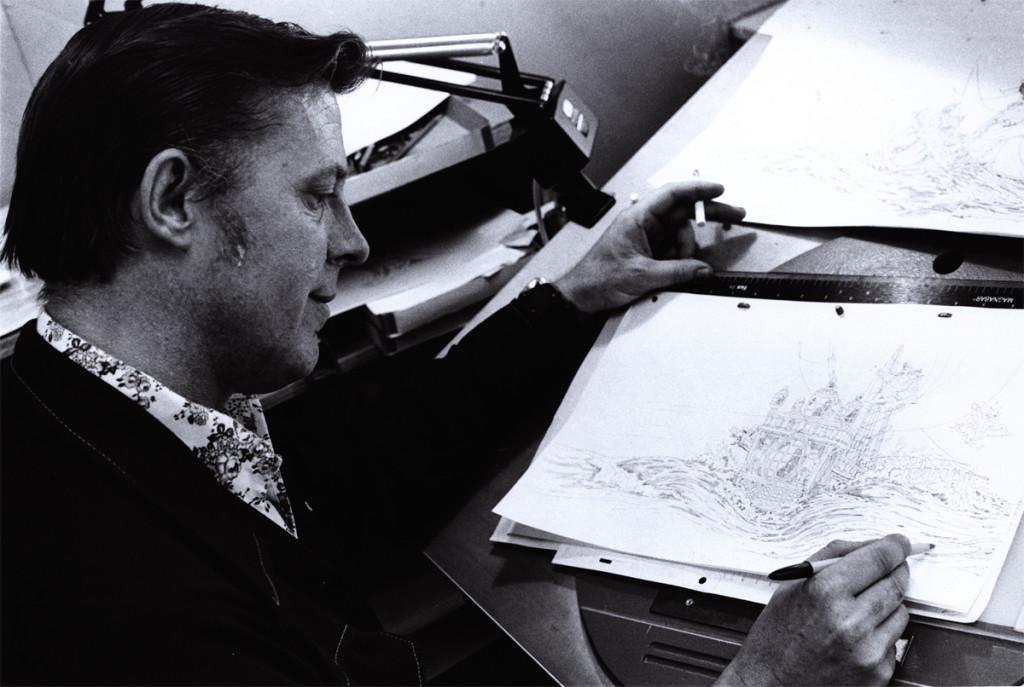 1
Here we have animator, Doug Crane. Doug has always specialized
in the details animated. Animated roads, moving crowds or
animated news papers. doug has animated these all as his forte.
In Raggedy Ann, Doug was to do much the same as those scenes that
were animated by Corny Cole. Lots of moving sea, ships and cross
hatching. His scenes all have the necessary dynamic of a vast sea
of lines.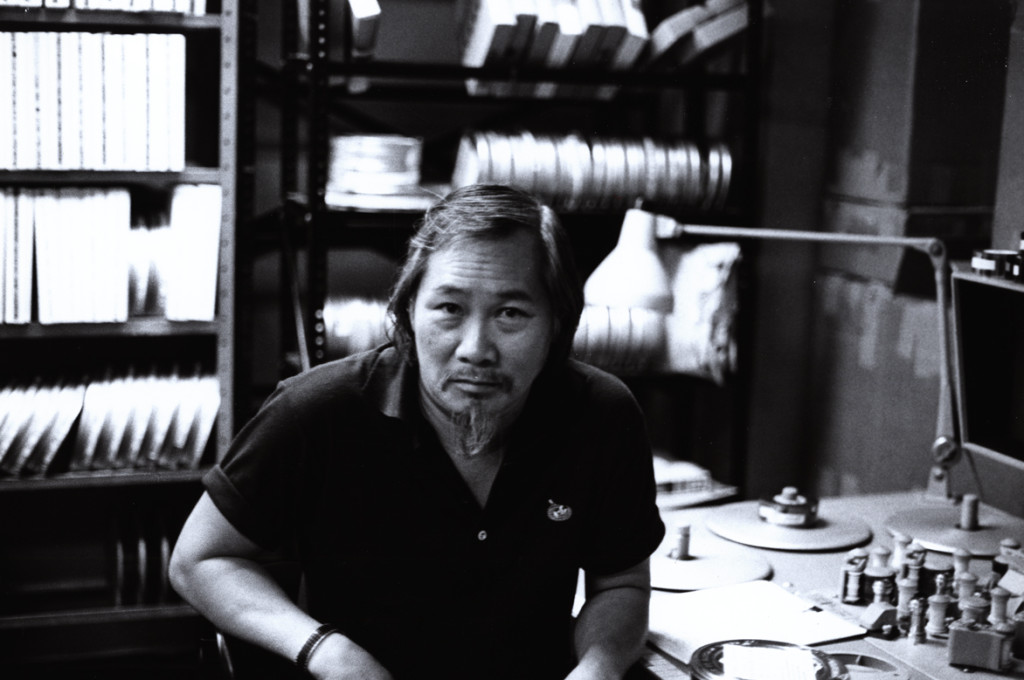 2
Harry Chang was a number 1 editor of animation in NYC prior to
his being hired by Dick WIlliams for this job. Harry maintained
his status, though they did pull an older editor out of retirement
to do the track readings. Max Seligsman was so
brilliant at the track reading that I still haven't found anyone who
did the job as meticulously as he. His music readings broke all the
sounds of the orchestra down to color-coded frames. Unfortunately,
there were no photos of Max in this collection.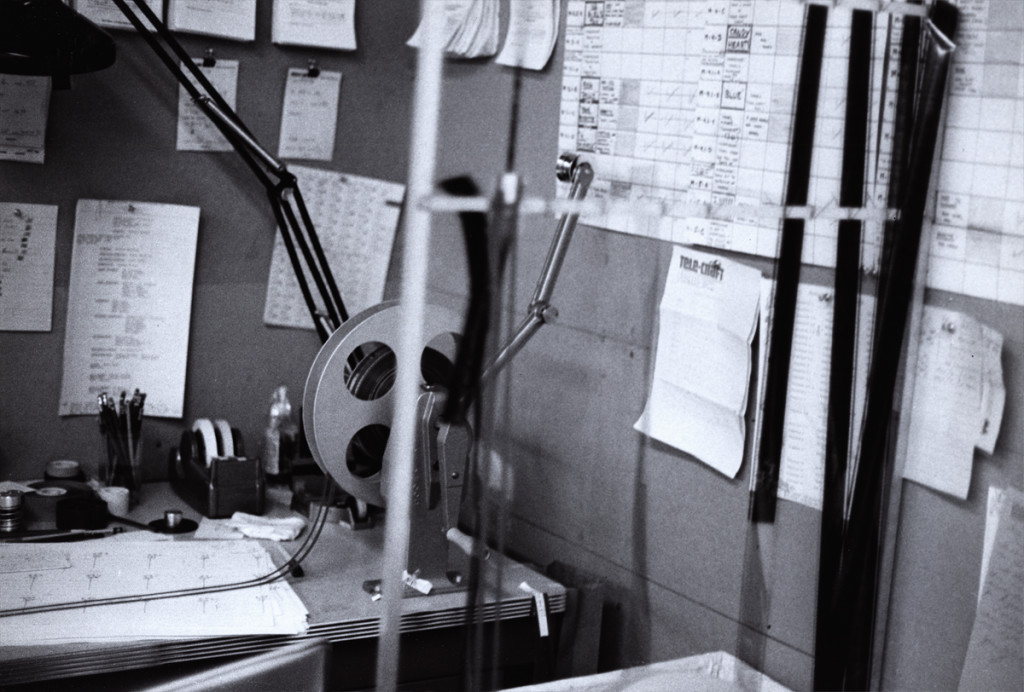 3
This is the editing table of the NY editor, and the film's
lead editor, Harry Chang. He was very particular
and kept a very neat editing room. I often spent hours working
with him and Dick as we analyzed what was wrong with some of the
early animation scenes.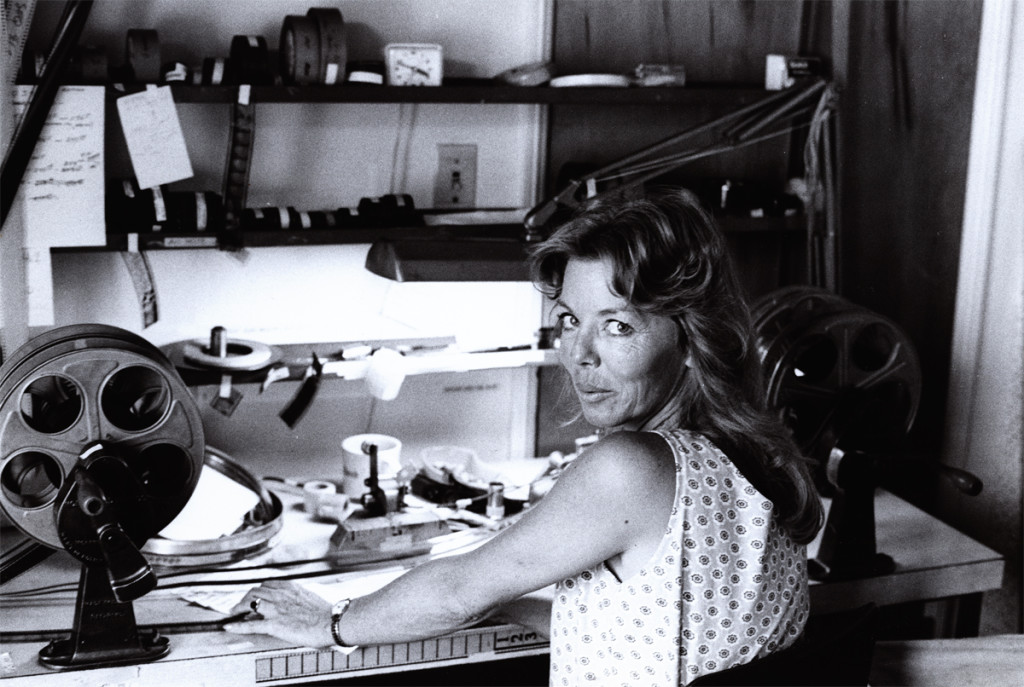 4
This is Lee Kent. She was the West Coast's animation editor.
She came to New York toward the end of the production when
it was decided to house the East & West Coast Units under the
one roof. Lee had to work with Harry to get everything in sync
and in place for the ever-growing movie.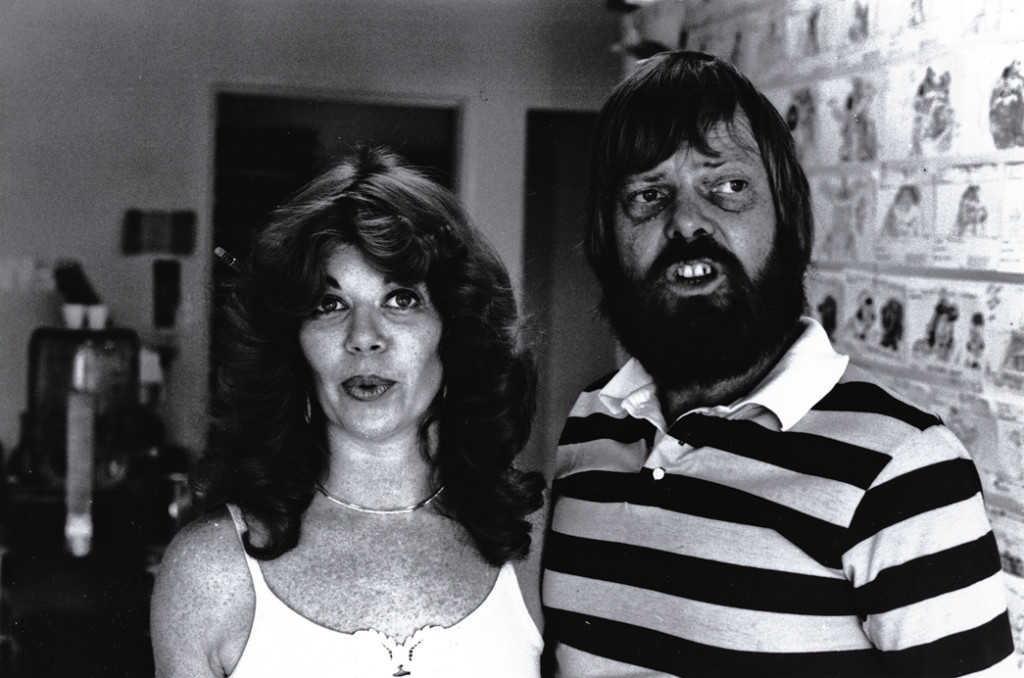 5
Paulette(assistant animator) and Charlie Downs (animator).
I looked forward to meeting Charlie. When Ward Kimball had
to pull a number of assistants up to being animators for
the Disneyland TV shows he had to rush out for Disney,
Charlie Downs was among that group. He made the rise just
slightly faster than he might have. There's no doubt he was
ready for the promotion.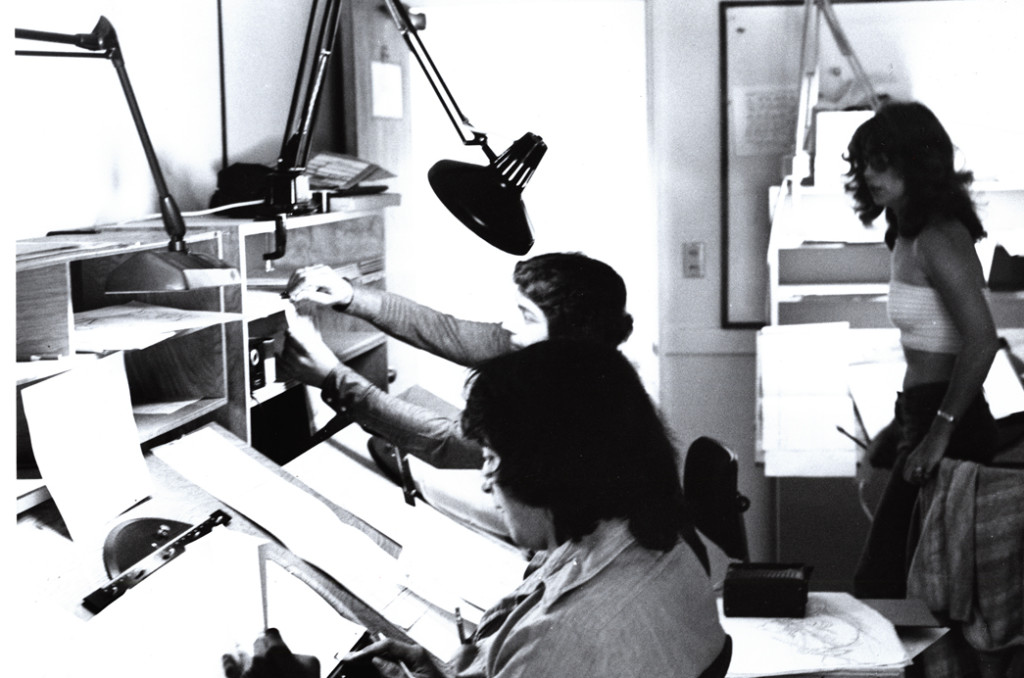 6
A photo from the West Coast's group of people:
Animators Art Vitello (foreground) and John Bruno (middle),
and assistant animator, Paulette Downs (in rear).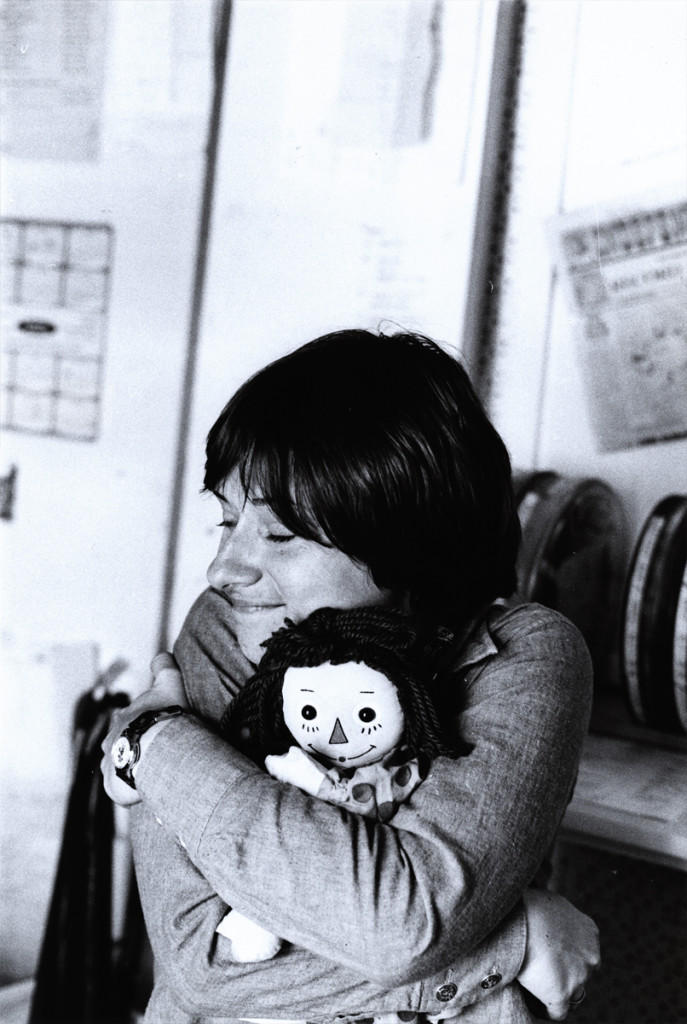 7
Animator, Crystal Russell rose quickly on Raggedy Ann. Her animation
style beautifully blended with Tissa's animation of Ann & Andy.
Crystal became important for picking up many of the scenes that Tissa
couldn't get to. She did many rich, ad strong scenes bringing a
lyricism to the work. Dick brought her to London on completion of
Raggedy Ann & Andy. She worked there for about six months before
heading back to LA where she did some great work on Lord of the Rings.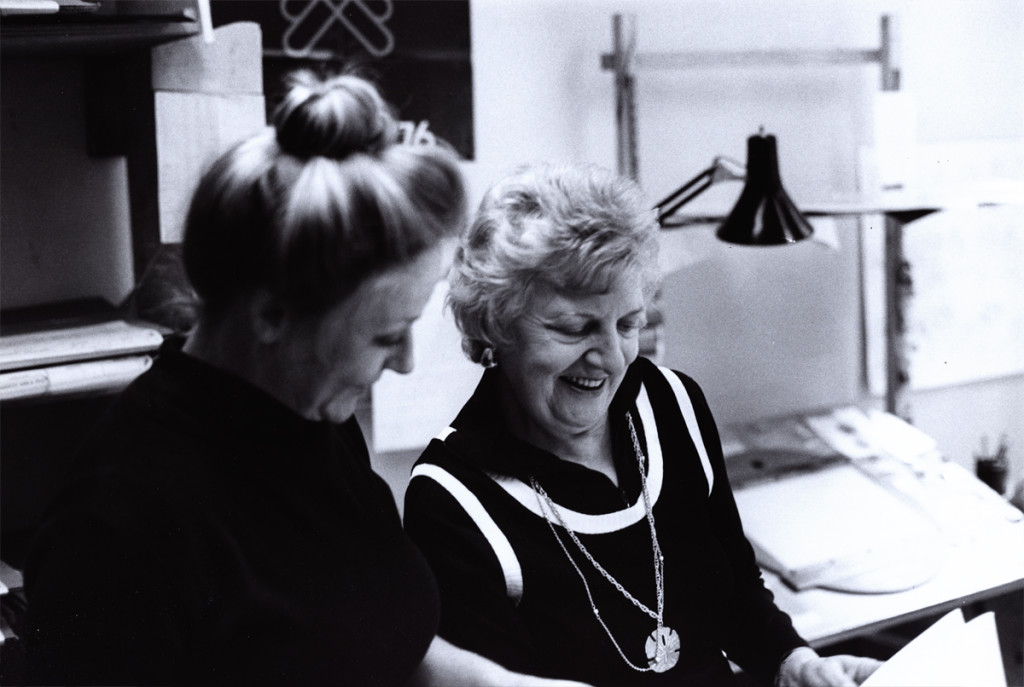 8
Ida Greenburg (right) and Nancy Lane (left).
Ida was the head of Ink and paint on the film. There were about
150 people working for her. Nancy Lane was Ida's 2nd in command.
I had worked closely with Ida at the Hubley studio on a few
projects. I really liked her enormously and enjoyed going down
to the I&Pt det to help clarify some problems their checkers would
find. I'd spend about an hour or two there each day depending on
complications they'd locate.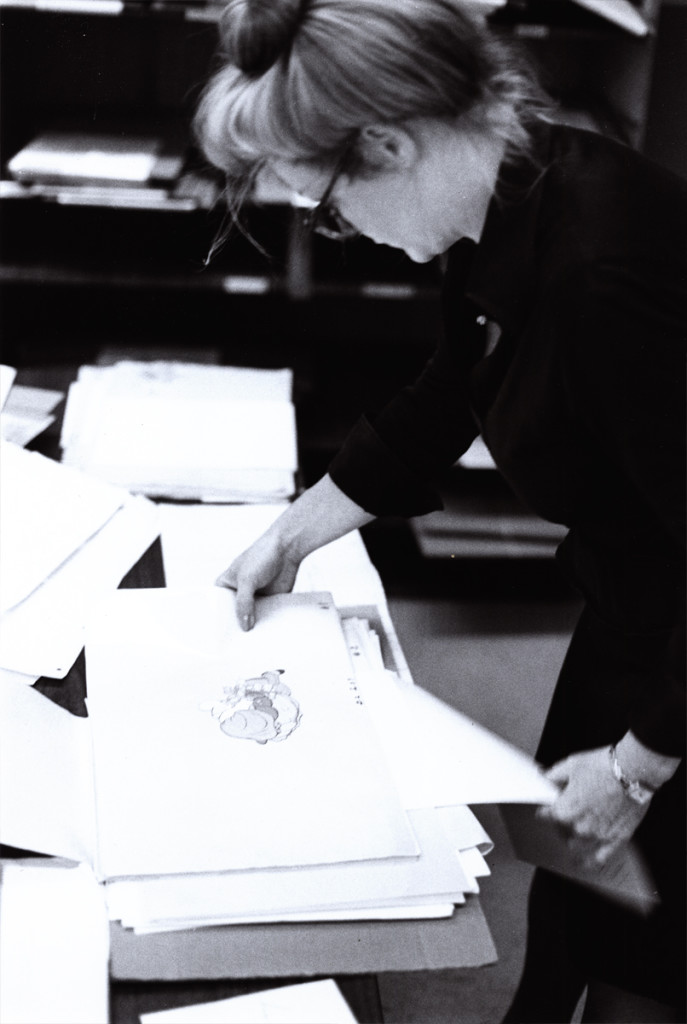 10
Nancy Lane. I'd been there when Nancy got her first promotion
to supervising a project. She was a real go getter who absolutely
took charge of anything job she was given.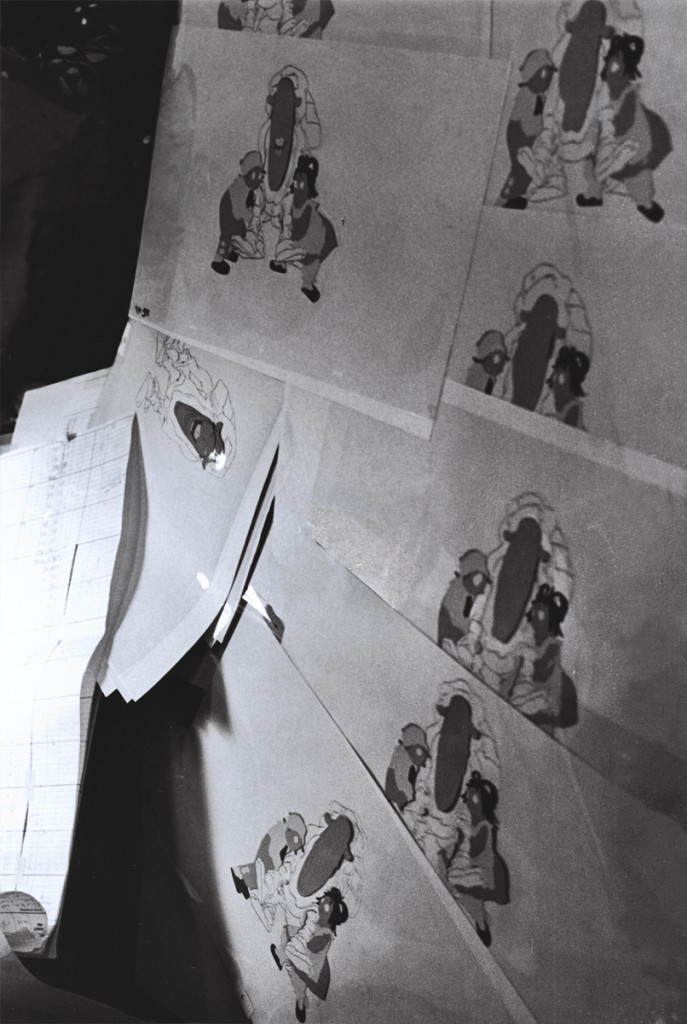 11
A wall of cels from Art Babbitt's sequence.
The Camel with the Wrinkled Knees. He also had bad feet.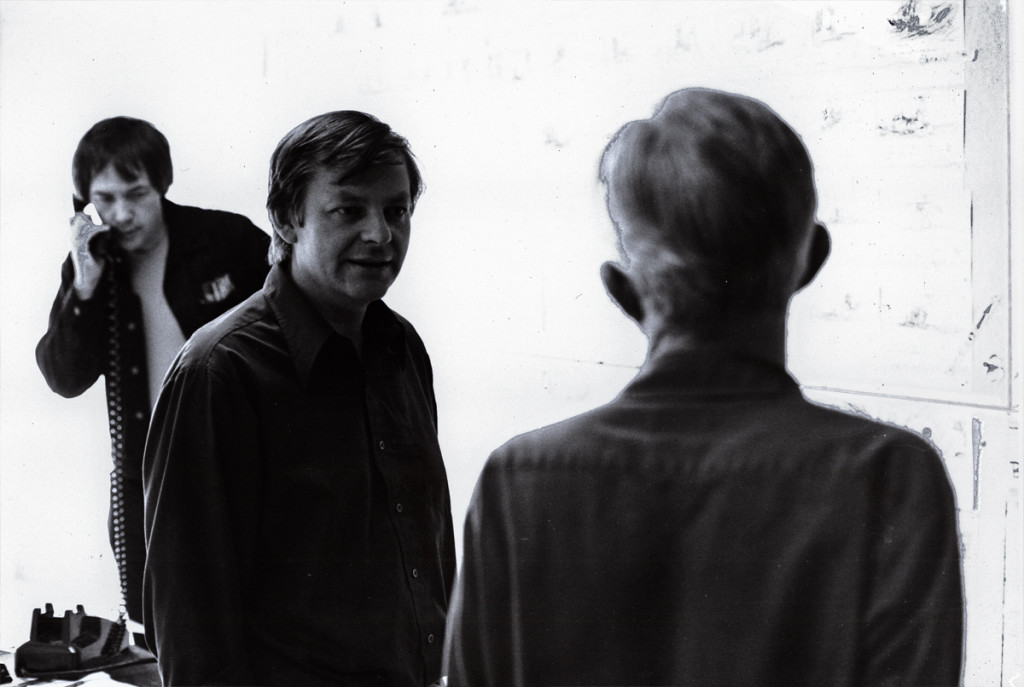 12
Art Babbitt with Dick Williams.
I always felt that they'd had similar animation styles. They
took different paths getting there, but the work was not too different.
That's production manager, Carl Bell, on the phone.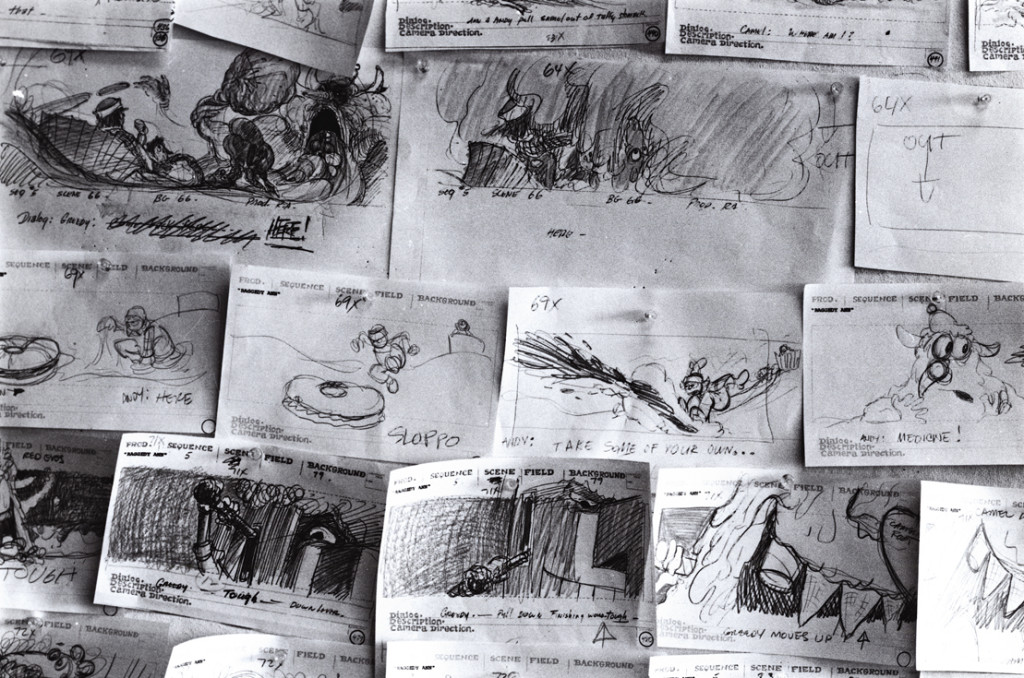 13
The storyboard. Andy has a problem in the taffy pit.
That was Emery Hawkins' sequence. He only made one
short trip to NY, and I didn't get to meet him. We
did speak on the phone a couple of times.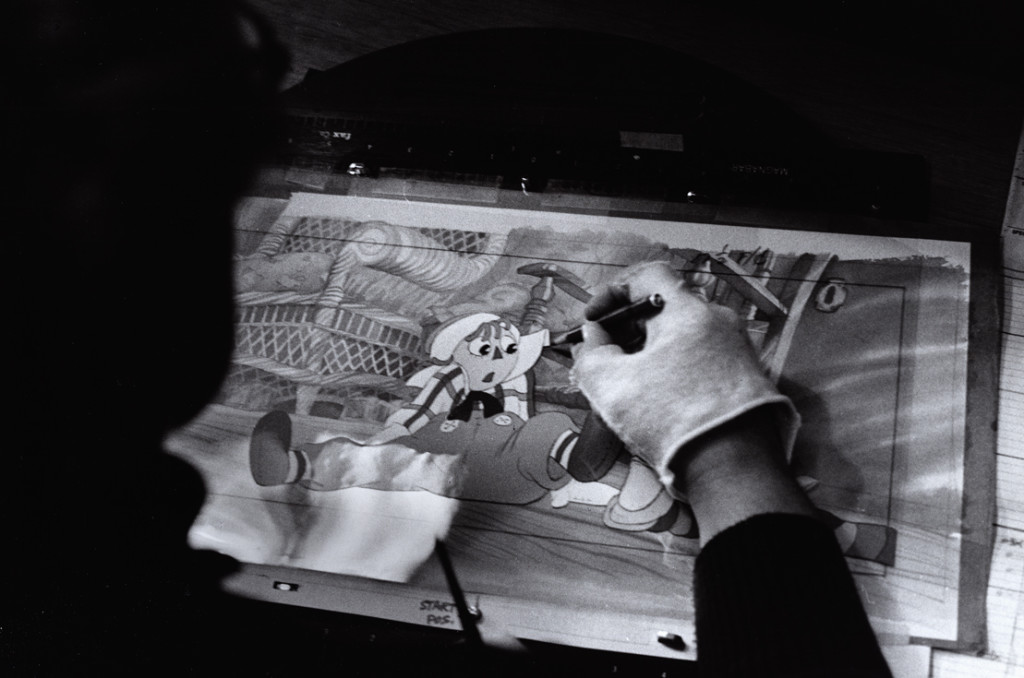 14
Andy lands on the floor to end a musical number. The days
when cels were painted. Here, an inker is doing touch up
work on the Xerox line. She's using a "lumograph" pencil.
These pencils were able to draw on cel. Dick would animate
on cel with these pencils. This is what he used to animate
the Jovan commercial.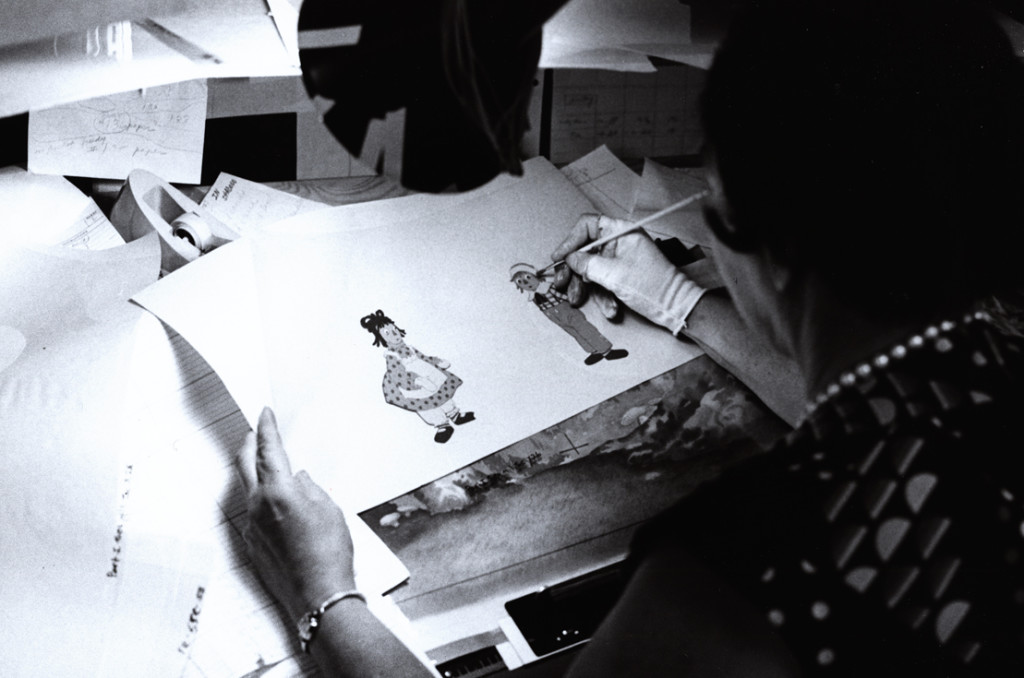 15
Here a checker makes a small touch-up on a cel.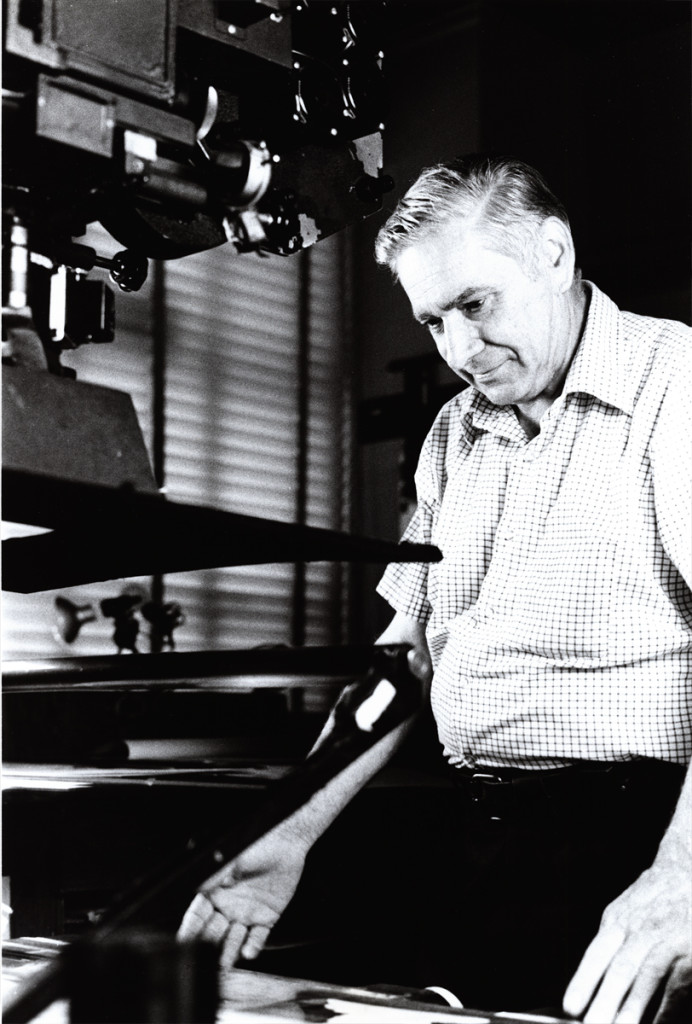 16
Here camera supervisor, Al Rezek, is shooting a scene
on the Oxberry camera.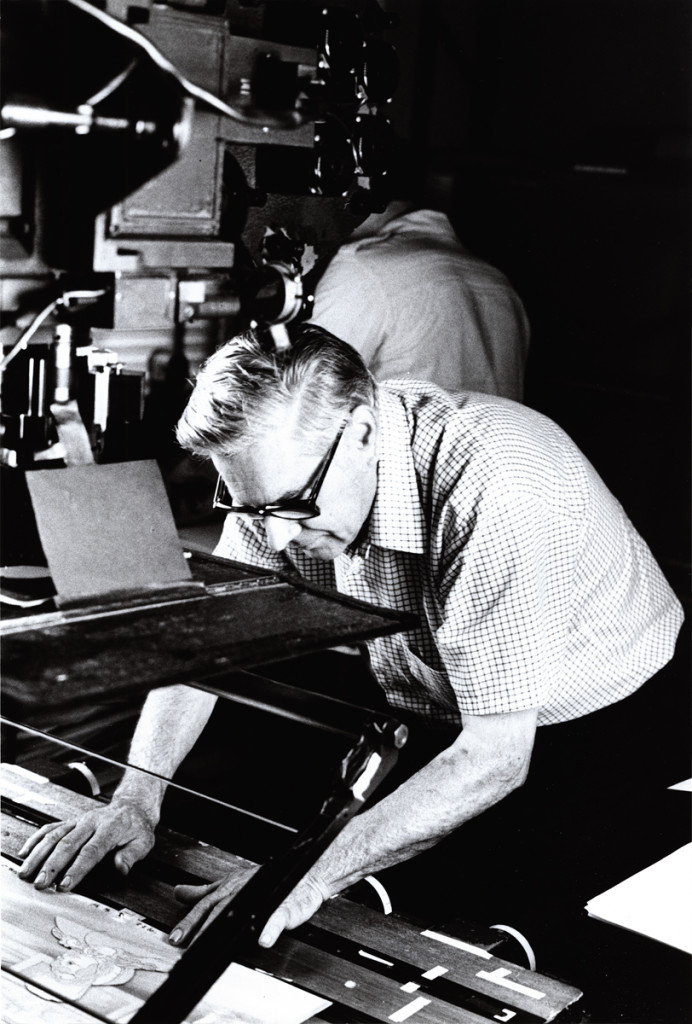 17
The camera was tricked out with a Panavision lens which was
rented from Panavision. At first there were a lot of problems
with the Cinemascope format, and a lot of tests were done for
the larger screen. However, when I saw it at a local theater.
They reduced the image and cut off the top and bottom.
Ultimately, the screen size was smaller – not larger.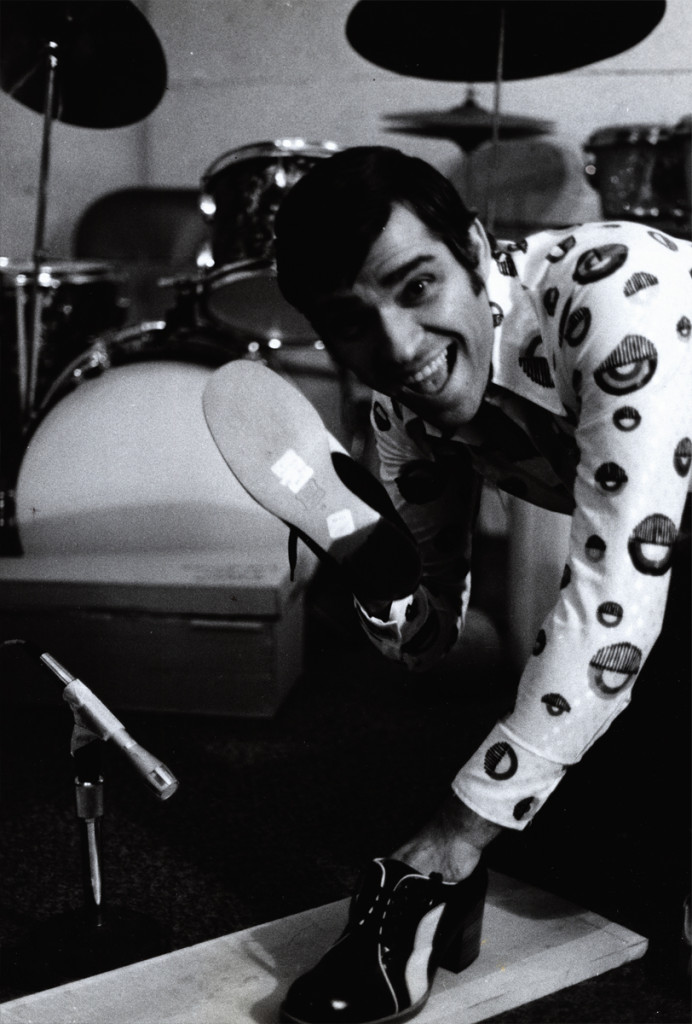 18
This is Jim Petries. He was this sound effects guy who
specialized in animation. He'd show up and would foley
the entire film on the spot in the mix studio. The film
makers got to watch quite a show a he pulled it off.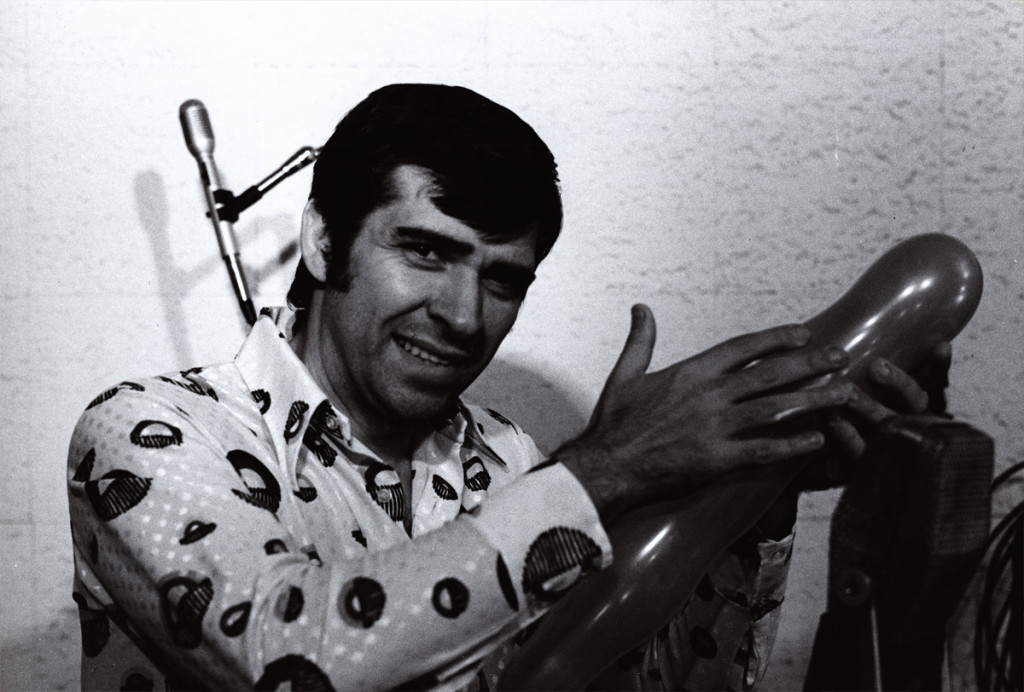 19
I believe Jim also did some work on Everybody Rides the
Carousel for John & Faith Hubley.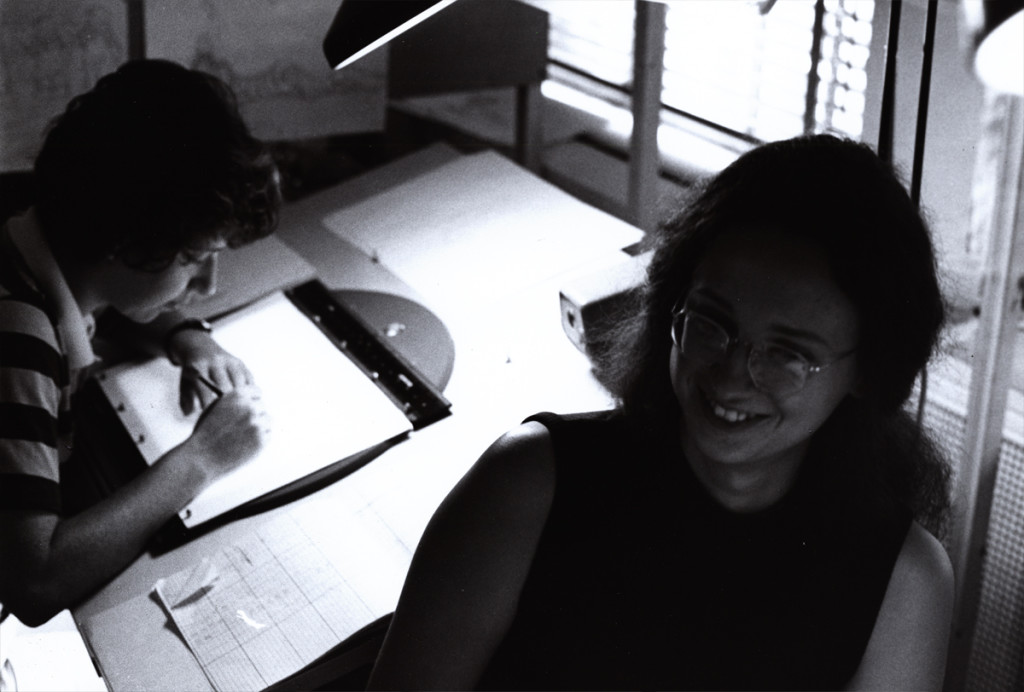 20
This shows two young inbetweeners that rose within the industry.
Mary Szilagyi is drawing at the desk, and Carol Millican is in
the foreground. Mary stayed in NY ultimately doing children's books
and Carol went to the West Coast working for many studios.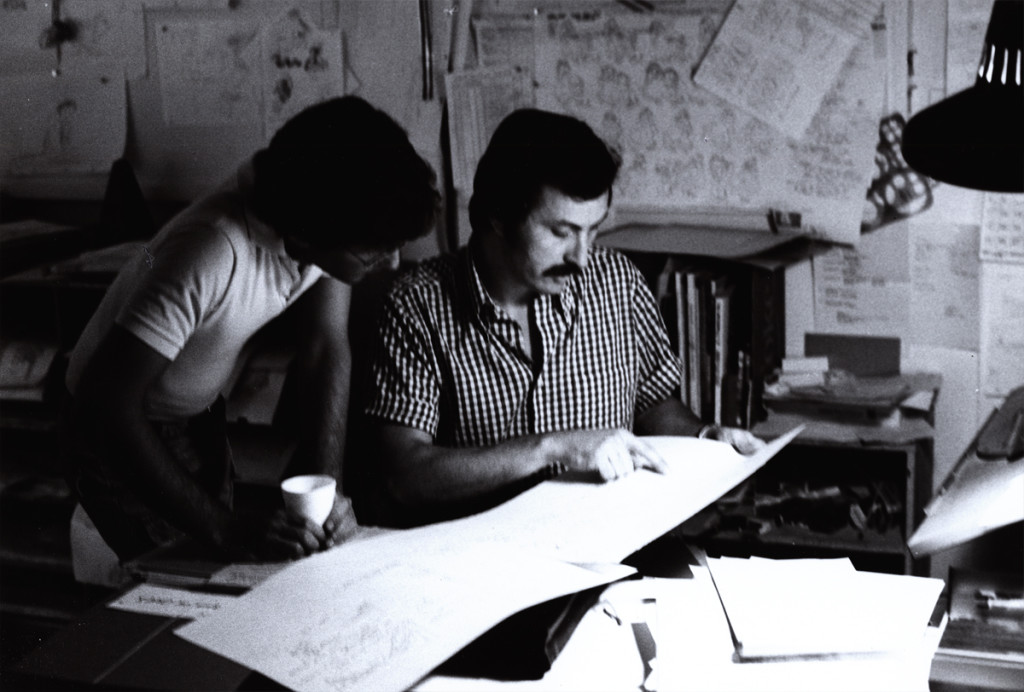 21
The Asst Director, Fred Berner, looks over the shoulder of
Associate Director, Cosmo Anzilotti. Fred left animation
and produced a number of excellent theatrical features before becoming the
lead producer on Law & Order: Criminal Intent. Cosmo went
out to the West Coast to take a lead position at Hanna Barbera before they
closed their doors. He helped during the transition period as the turned into
Turner Animation Studio. He retired notlong after.
They were both good friends. I still run into Fred every once in a while,
usually at Academy meetings.
2 Responses to "Even More Raggedy Photos – 3"
on 05 Jun 2013 at 11:31 am 1.Janet Benn said …

Hi Michael,

Great to see these Canemaker photos of the production crew. Of course, Ida Greenburg and Nancy Lane are very special to me. I had only worked at Hubley Studios, with markers on paper, before this ink-and-paint job. On my first day, since I was so friendly with Ida from past Hubley projects, I wasn't afraid to complain about the paint being too thick for the cels! She whirled around to face me from her usual crouch over whatever she was checking to say, sharply, "I thought you knew how to do this job!" I backed off quickly and another woman from the ink and paint corner helped me get started, adding water to get that famous "cream-like" consistency so important to efficient and effective ink and paint.
Janet

P.S. I can't find the second installment of the 3 of these photos. Can you tell me the date, or the monthand year, if you can?

on 05 Jun 2013 at 6:27 pm 2.Michael said …

Raggedy Ann Photos – part 2
Leave a Reply