Daily post &Festivals 19 Sep 2006 07:52 am
- In 1976 the first edition of the Ottawa Animation Festival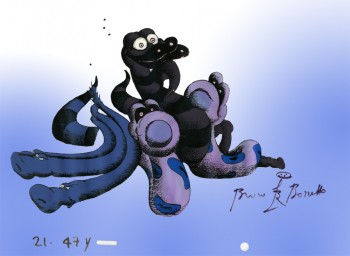 was held. I attended with a contingent of people who were working on Raggedy Ann & Andy, and we were there to be inspired, see a lot of great films and have a good time. One of those times when you felt connected to everyone there.
Bruno Bozzetto's , Allegro Non Troppo was a special midnight screening on the program. A surprise screening; a feature none of us had heard about.
(Click to enlarge.)
Of course, we all knew the work of Bruno Bozzetto. He was undoubtedly a master of comic animation. His films had won enormous prizes everywhere, and his output was large. There'd been many screenings of his films through ASIFA-East, and they were always popular.
The screening was one of the brightest I've ever sat through. It was hilarious, beautifully animated, and intelligent. The audience came out excited about animation, alive, and encouraged to party. It was a memorable night and it helped make that festival one of the stand-out Festivals I'd ever attended. I'm sure many there would say the same.
Now the question I have is whether the films of that 1976 festival were as great as I remember or that specific Festival so great? Or was it both? Caroline Leaf's masterpiece, The Street, won the grand prize and most of the films were brilliant (including Caroline's other film The Owl Who Married a Goose.
Allegro Non Troppo just served as the enormous cherry on top of the cake. It was a grand festival and I always hope that others I attend will reach that level.
I look forward to the coming Ottawa Animation Festival starting Wednesday, Sept. 20th. Bruno Bozzetto is both a judge and the recipient of a retrospective of his work. Maybe this will be the one that will match the first.
Tonight ASIFA-East will present a screening of Allegro Non Troppo.
I was scheduled to moderate a Q&A with Bruno Bozzetto, but due to some personal problems of mine Candy Kugel will host it. She's graciously stepped in to help me out at the last moment, and I have to thank her enormously.
At 6:30 pm – The School of Visual Arts, 209 East 23rd Street, 3rd floor amphitheatre. Admission is FREE.
2 Responses to "Bruno and Ottawa"
on 19 Sep 2006 at 2:06 pm 1.Jason said …

I was looking forward to seeing you interview Bruno. Did you give Candy your Questions? Or is she brining her own? Hope everything's well.

on 20 Sep 2006 at 1:40 pm 2.Tom Minton said …

I recall watching Bruno's very cool "Allegro Non Troppo" in Westwood, CA during its initial U.S. theatrical run in 1977. It was a pleasant shock to hear a contemporary audience laughing heartily because someone with talent had dared load a film with new gags. In the late 1970′s even certain seasoned animation pros were telling us (then) youngsters that that sort of approach simply would not work anymore. Bruno and Guido Manuli happily proved that it did.
Leave a Reply