Commentary &Independent Animation &Photos 11 May 2013 06:04 am
Idlewilding Gatsby
- I've been trying to think of what the new version of The Great Gatsby reminds me of, and in a conversation with Heidi, she smack dab put her finger on it. There was a film, called Idlewild, done in 2006 by hip hop artists, Andre 3000. That was it. I was in love with that film and wrote an exuberant review. See here.
Idlewild was a rich looking, spirited film about the mob in the 1920s. The screen burst with rhythm and excitement frame after frame. Animated objects appeared everywhere in George Pal like additions.
The difference between the two films – Ixdlewild and Gatsby – other than about $100 million, and the throng of "AAA" celebrities like Leonardo DiCaprio is that Idlewild has a hell of a lot more imagination. The two equal each other in exuberance and style, and Gatsby is adapted from one of the great books of the 20th Century. I suggest you rent a copy of this 2006 film from Netflix or whoever before or after or instead of seeing Gatsby. As a matter of fact it's time for me to see Idlewild again; I'll rent it, myself.

___________________________

Camp Levy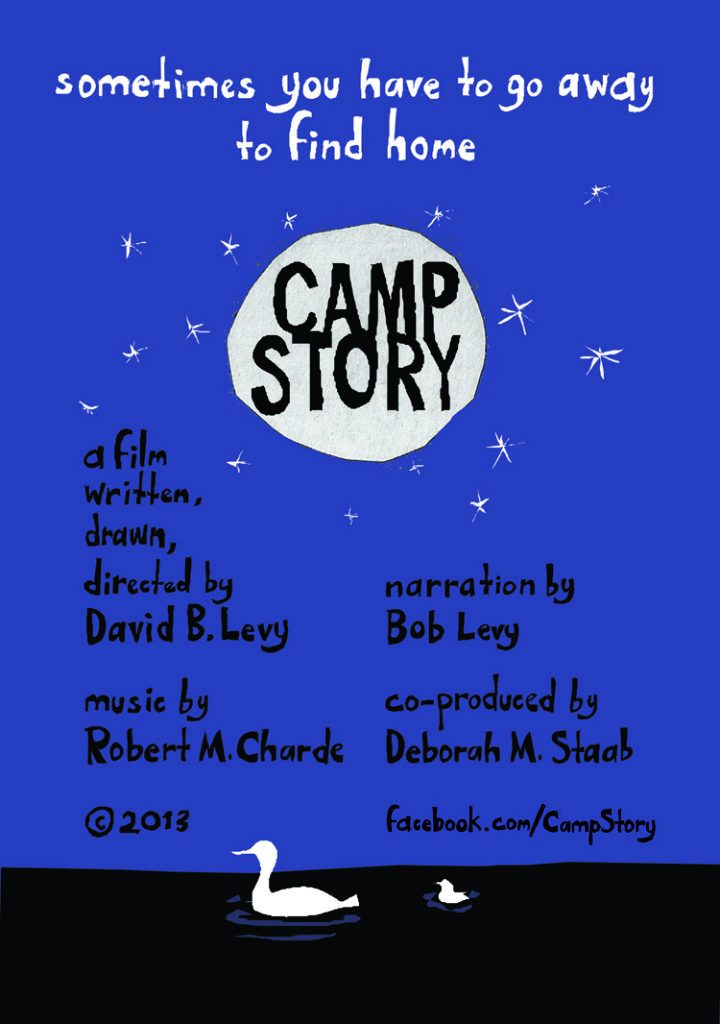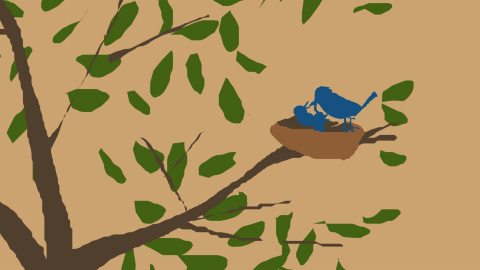 David Levy recently announced to the world that he'd completed a new film. This time it's a half hour movie animated to the narrated storytelling of Bob Levy's (Dave's father) story of his trip to camp. This was a service for inner city poor children. Dave's father actually received supprt to go for several summers, and tells the story of those Camp outs. He had a full $8 to spend for the first summer, and plays it to the max.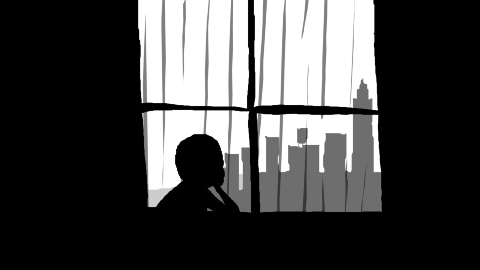 The film is the third, done in a strong graphic style and uses material from the memory of Dave's father.The other two films David animated: "Grandpa Looked Like William Powell," and "Turning a Corner," both made an impression. This short, "Camp Story," exploits the father's narrative without taking too many animation curves. Howard Beckerman used to say there was full animation and "Limited" animation, but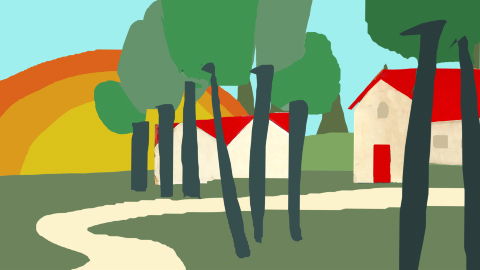 he'd discovered a third style – "Enough" animation. "Limited" when it can be and full when it has to be. This film is "Enough" animation. More of an iconic graphic trip, often depending on silhouttes to relay the story. Using bold colors and large solids, it uses its Flash animation to the max. (I'm pretty sure it's Flash though it might have been done on Toon Boom.)
The sound track is a solo guitar that's played pretty low on the track, so it's particularly unimposing. I don't hear many effects if there are any, so the track is somewhat simple. This helps put a focus on Bob Levy's voice as he narrates the qiet story.
The film will succeed in many festivals. The story roams a bit telling of many summers he'd experienced. There are times when it takes a bit too long to get there, so my preference is the last of the shorts David did, "Turning a Corner." But this is a fine addition to Dave's library. He's found his metier. I just wonder if the story supports the length. I have to give him credit, though. It takes some kind of fortitude and determination to come home from work daily only to start work on your animated film.
And to keep it up. As a matter of fact, Dave has me questioning my own enthusiasm. It's time for me to put some energy out there as well.
Keep your eyes open for this movie; it's a truly Independent film and needs support.

___________________________

Daily Motion and The Congress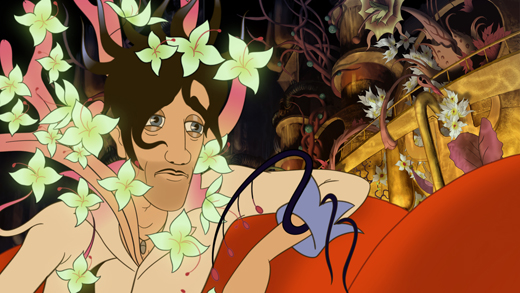 The last time I felt such inspiration was when I contemplated Yoni Goodman's daily animated pieces for his blog, the Dailymotion. Perhaps you'll remember my excitement for Mr. Goodman's daily animated tests which he offered us. Anyway, his output was so inspiring it actually had me doing some personal animation. Unfortunately that didn't last long enough to be productive.
I wondered what has happened to Yon Goodman's "Daily Motion" pieces, so I went back.
He was the animation director for the Israeli feature, Waltz with Bashir. His blog was a way for him to keep it going for himself. It turns out, Mr. Goodman has been the animation director for another feature film, The Congress. This film will make its debut at Cannes this coming weekend. You can see some stills and get some information here.
It's half animated and half live action. Stars include Robin Wright, Paul Giamatti, Jon Hamm and Harvey Keitel. It's an animated adaptation of Stanislaw Lem's novel "The Futurological Congress". (From thte short synopsis I've read, this sounds like a very imaginative idea for a film.)
It's another good film to watch for; one that was done in 2D. (Only in America are they afraid of that medium.)

___________________________

A Public Reading of an Unproduced Screenplay
About the Death of Walt Disney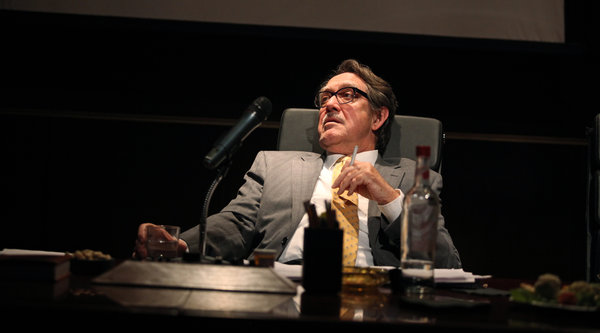 Yes, that is the title of the play which opened yesterday at the Soho Rep. A Public Reading of an Unproduced Screenplay About the Death of Walt Disney was written by Lucas Hnath and the play was directed by Sarah Benson, the artistic director of the Soho Rep. The show stars Larry Pine as Walt Disney. The actor has performed in many films and plays, usually as a positive role model of a character. Yesterday's review in the NYTimes, by Charles Isherwood, takes the play to task for re-imagining Walt as someone impatient to prop himself up into someone more important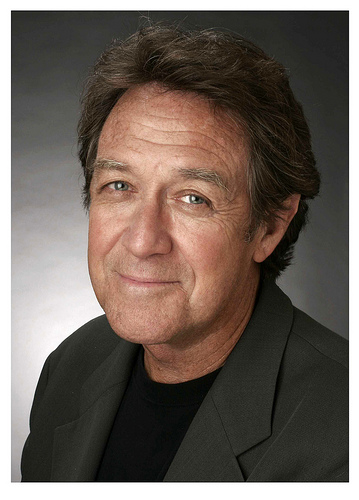 than he is. ". . . Walt is not "one of the most important people who ever lived," as he grandiosely aspires to be, but just a mortal like anyone else. While apparently devoting his public life to bringing pleasure to millions, Mr. Hnath's Walt Disney had a horror of being considered one of them."
The show is completely sold out for its limited run (likely these are subscribers who knew of the show in advance and pre-bought tickets as part of a package.
It'll be interesting if they do a filmed version of this play. I wonder what the rights are to such a thing. There's a book I always thought would make a good film about Walt: The Oranging of America by Max Apple.
Larry Pine as "Walt"
More information about the play can be found here.

___________________________

Coming Soon

I thought I'd give you an idea of what I'm planning for the coming week.
- We'll complete the Raggedy Ann photos which finish John Canemaker's collection of images he shot for this book, The Animated Raggedy Ann and Andy
- We revisit Norman McLaren with some odds and ends that he wrote in the last years of his life. Of course, he was a smart erudite guy right up to the end, and I believe that comes across in this writing.
- We'll also look back at the career of Lilian Friedman Astor, the first woman to have animated in a major U.S. studio. From 1933-1939 she worked for the Fleischer studios, and we have a list of all the scenes she did. Perhaps we can showcase some of them.
- And we'll begin to look at the Frank Thomas & Ollie Johnston book, The Illusion of Life. Bo do I have a couple of problems to discuss with these two masters.
- And of course there will be some surprises in store for both of us.
3 Responses to "Lookout"
on 11 May 2013 at 1:59 pm 1.Roberto Severino said …

I'm super excited for the posts you're going to do about the first major woman animator over at the Fleischers and where you disagree with Frank and Ollie. I know John K. has talked about The Illusion of Life many times over at his blog and has criticized them for being hypocritical about their message.

I have also never heard of Idlewild, but I'll definitely check that film out over at Netflix and perhaps change my rent 1 DVD out at a time plan to a rent 2 kind of plan. I also have the streaming version of the service so it would be even more convenient if it was on there. I don't keep up with that many new movies and if I want to see a film like The Great Gatsby, I can probably find a good torrent of it up somewhere or wait until it ends up on Netflix or Hulu Plus or whatever people use to stream stuff.

on 11 May 2013 at 10:03 pm 2.David Levy said …

I enjoyed your take on "Camp Story," Michael. Thanks for the thoughtful review. I love Howard's description of "enough animation," too. So true that this is a real third category to explore. Howard watched Camp Story too and he felt the simple graphic style leaves a lot of room for the audience to fill in the gaps with their imaginations and experiences.

You're right that there are no sound effects, although sharp ears will pick out a few fireworks (I recorded the interview during a Long Island summer day near 4th of July), and at one point you hear my dad's cat purring into the mic. The art medium was drawing with the lasso tool and fill bucket in photoshop and compositing in After Effects.

on 24 Jul 2013 at 9:00 am 3.Orvis Or mettawee said …

Clearly reading the info I like the above as it's true so it is nice to read from a man thats showing this on the internet to review.
Leave a Reply