Disney &Peet &Story & Storyboards 15 May 2013 05:54 am
- In yesterday's post, we saw artwork that Bill Peet had done. It was obviously art that was prepared for a book. Whether he was doing this for himself or the studio I can't say. I do know for sure that it didn't become a book, but I do know it did develop as a film completed in 1951.
That film was directed by Clyde Geronomi.
The Layout was by Don Griffith and Hugh Hennesy.
The animation was by Bob Carlson, Ollie Johnston, Hal King and Cliff Nordberg.
The backgrounds were by Ralph Hulett.
The music was composed by Paul Smith.
Thanks again to John Canemaker, I have the storyboard by Peet for this short Disney film.
As in the past I've broken the board down so that I could post it as large as possible so that you can read it when the images are enlarged. Enjoy.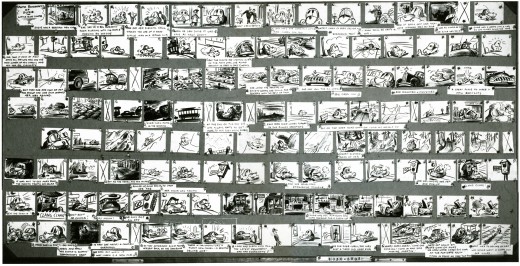 This is the complete board. I've broken up each individual row, they appear below.

A1a
(Click any image to enlarge.)

A1b

A2a

A2b

A3a

A3b

A4a

A4b

A5a

A5b

A6a

A6b

A7a

A7b

A8a

A8b

The following seem to be LO drawings and don't appear to be part of the storyboard. Perhaps it was prepared for a Leica reel? Regardless, the drawings are interesting, though I doubt Bill Peet did them all.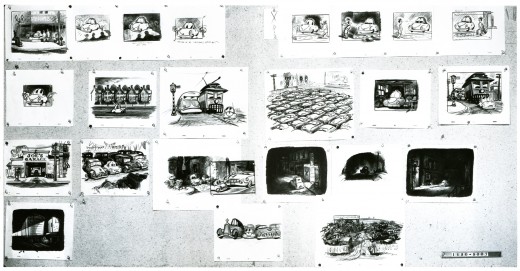 As with other recent posts of storyboard material, I've
broken it up and repositioned the images so that you can
enlarge them for better viewing. The above image represents
what the photo given me looks like.

1a

1b

2a

2b

3a

3b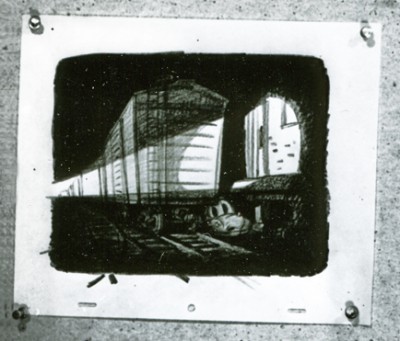 4a

4b
Finally, I wanted to give an indication of the film's color, so
I've gone back to John Canemaker's book,
The Art and Flair of Mary Blair,
and have taken this color sketch she did in styling
to represent the film as a whole.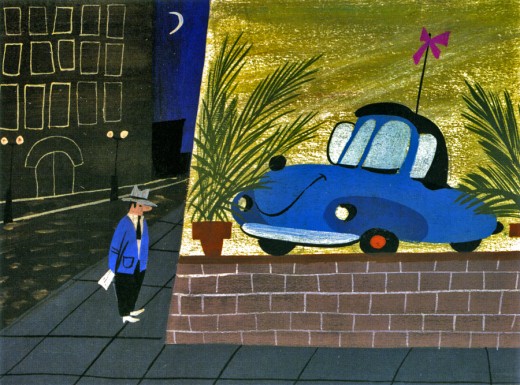 One Response to "Peet's Susie Board"
on 15 May 2013 at 4:05 pm 1.Mark Kausler said …

It's interesting that Bill Peet's basic design for eyes on cars (placing them in the windshield), is still being used today in all the Pixar "Cars" movies, and will be carried into the Airplane feature that they are doing. Bill's concepts have certainly had a long life!
Leave a Reply