Festivals 25 Sep 2006 04:15 pm
- I arrived at the Ottawa Animation Festival a day late. I'd also have to leave a day early, so I found out after-the-fact that my film, The Man Who Walks Between The Towers, won the award for Best Children's Short Film. A bonus treat.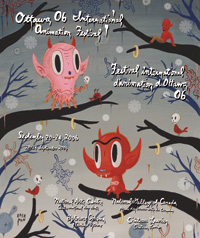 This Festival is one of my favorites, and I enjoy attending it so that I can catch up with a lot of friends I see too infrequently, meet some filmmakers whose work I admire, and even catch up with some New Yorkers I don't see often enough. This Festival is not too large, like Annecy, where you end up exhausted running ragged unable to keep up, nor is it too small that you spend much time trying to find things to do.
There are parties every night. Usually, I go and leave quickly. The thumping music, large crowds, dark lights, flashing spotlights and pulsating sound pushes me out. I understand the attraction, but I'm getting old. Give me some quiet conversation. This year an alternate to the parties was "Chez Ani" set up in a local bar filled with Constructivist Art posters and a manageable sound level with just the right crowd capacity to make things light but engender talk.
I met up with a lot of old friends I see too rarely. Some of these included: Amid Amidi, Mark Mayerson, Suzan Pitt, Jerry Beck, Emru Townsend, John Halfpenny, Janet Perlman, Skip Battaglia, Tamu Townsend, and Chris Robinson, himself.
There were new people to meet: Sabine Hitier, Julie Zammarchi, Peter Barg, David Nethery, Andrew Menter, John Libbey, and Konstantin Bronzit.
And there were the New Yorkers I see too infrequently: David Levy, George Griffin, Jeff Scher, Chris Boyce, and Pilar Newton. (I met too many people to mention, so please forgive if you don't see your name.)
I always like the film selection at this Festival. It's a touch on the dark side, which is generally to my taste. Some of the films I'd seen for the first time and enjoyed included:
Sabine Hitier's Step By Step, Svetlana Filippova's Sarah's Tale, Regina Pessoa's Tragic Story With Happy Ending, Simon Narath's Leviathan, Run Wracke's Rabbit, and Michaela Pavlatova's The Carnival of the Animals.
Films I'd seen before but enjoyed revisiting included: George Griffin's It Pains Me To Say This, Suzan Pitt's El Doctor, Skip Battaglia's Crossing The Stream, those United Airline ads, and Pes' Game Over. Actually there were too many good ones to include.
All in all it was a fine Festival with many highlights. I'm glad I went and I can't wait to get my hands on the award. Thanks to Dave Levy for accepting it for me; I couldn't have found a better surrogate.
Here are some snaps I took. Excuse the focus problems. I bought the camera on Wednesday and still haven't quite figured it out.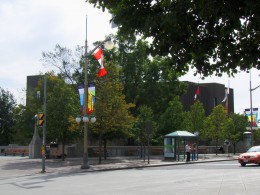 1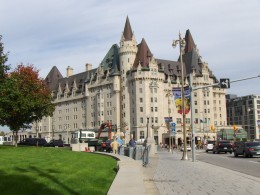 2
1. The National Arts Center is the center of the Festival after Friday. Most screenings, meetings, and events are held here.
2. Chateau Laurier is the hotel where the Television Arts Conferences are held. Daily meetings and talks about the business side of animation.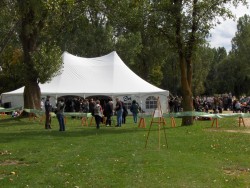 3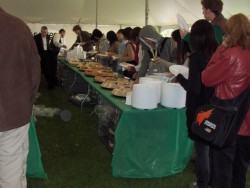 4
3. On Friday double-decker busses took us to this tent on the outskirts of town for the picnic. A lot of people are occupied with carving pumpkins for competion.
4. Inside, two lines of food are set up: sandwiches, chili, cake, beer. What more could we need?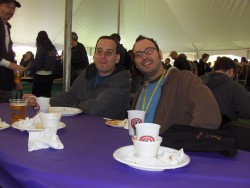 5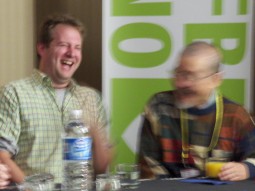 6
5. David Levy and Chris Boyce, with whom I ate, finishing their cake and beer.
6. In the mornings there's a Q&A for filmmakers about their films. Tom Warburton and Kihachiro Kawamoto appear out of focus (a bad photographer) but their answers were sharp.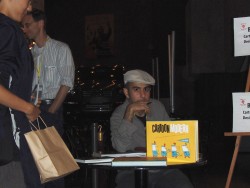 7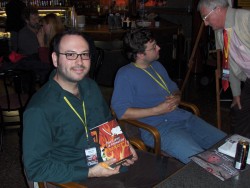 8
7. Amid Amidi signs books on Friday night in the lobby of the National Arts Center.
8. Dave Levy and Chris Robinson sign books on Saturday evening. Chris' publisher, John Libbey, confers with him.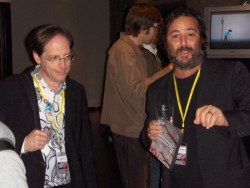 9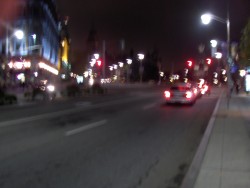 9. Jerry Beck and Robert Marianetti wait nearby for the start of the final shorts competition screening on Saturday.
10. The road from my taxi as I left on Sunday at 3:30 am. Long customs lines, stopovers in Philadelphia, lost and missing luggage all contributed to the Festival experience.
10 Responses to "A Fine Festival"
Leave a Reply