Animation Artifacts &Hubley &Tissa David &walk cycle 10 Oct 2006 07:55 am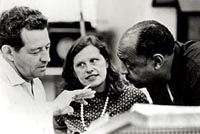 – Back in 1973, the Hubleys produced Upkeep, a short film for IBM. It chronicled the history of the service repairman in a light hearted way. Actually an industrial, it was treated like a personal film. (There's a thin line between some of their industrials and their personal films.) Of Men and Demons was done for IBM though they considered it a personal film; it instructed in the positive aspects of the binary code and was nominated for an Oscar.
(John & Faith Hubley with
composer, Benny Carter)
Tissa David did the lion's share of the animation for Upkeep. Phil Duncan, Lu Guarnier and Jack Schnerk were the other key animators on it. Helen Komar and I assisted all of them, and I inked the whole film. Gen Hirsch and I colored it. John did all the Bg's.
The initial animation on the service man was done by Phil Duncan. Tissa had to pick up the character, and she found the walk Phil had done so funny that she kept it throughout the film adding shades and tones to it as she thought appropriate.
The art was inked with a sharpie, bled with thinner, then colored with magic markers. Each drawing was then cut out and pasted to cels. Hubley's Bg's followed the same style: sharpie on board, washed & bled with thinner, added watercolor washes.
Posted below are the drawings for that 18 drawing walk cycle.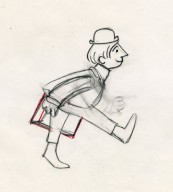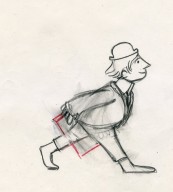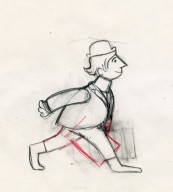 (Click any image to enlarge them.)
4 Responses to "Upkeep Cycles"
Leave a Reply