Animation 17 Oct 2006 08:38 am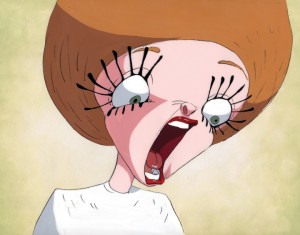 Hair High, Bill Plympton's most recent animated feature finally opens in NYC on Wednesday. It runs from Oct 18 through Oct 25 at the Two Boots Pioneer theater .
Plympton will make personal appearances at the theater; every guest at the premiere will receive a drawing from Bill.
Cast members and other guests (including the "Krazy Kock" chicken mascot) will appear at the premiere.
(Read the NYTimes review.)
Hair High is the legend of a 1950′s teenage couple murdered on prom night who return as undead skeletons one year later for revenge. The film's a romantic comedy with a zombie-horror twist. NY's own independent animator, Bill Plympton. self-financed the film, co-produced by his friend and distant cousin, actress Martha Plimpton.
Hair High features an all-star cast including the voice talents of Dermot Mulroney, Sarah Silverman, David Carradine, Keith Carradine, Beverly D'Angelo, Martha Plimpton, Eric Gilliland, Ed Begley Jr., Michael Showalter, Zak Orth, Justin Long, Craig Bierko, Tom Noonan and animators Matt Groening and Don Hertzfeldt.
Also included in the screening will be Bill Plympton's Oscar-nominated animated short Guard Dog, and its sequel, Guide Dog.
Pioneer Two Boots Theater
155 East 3rd St. (between Ave. A + B)
New York NY 10019
Showtimes: 212-591-0434
Advance Tickets: www.twoboots.com/pioneer/hairhigh.htm
For more information about the film:
www.hairhigh.com or www.plymptoons.com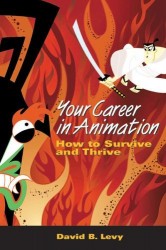 – On the ASIFA-East newsletter & site, ASIFA-East President, David Levy comments on making Independent short films as opposed to sample/pilots for pitches you want to make.
This grew out of Amid Amidi's comments on Cartoon Brew regarding a statement Pat had made on AWN.
It takes three sites to track it all down, but it's interesting to follow the thread. To read it all chronologically go: here, then here, then here.
- Speaking of Dave Levy, his book, Your Career In Animation continues to garner positive reviews. Everyone from Michael Barrier (06/29/06) to Jerry Beck to Tom Sito has said nice things about it.
The book is a good, easy read with much to offer anyone interestedkin animation.
Speaking of ASIFA-East, they have an open screening scheduled for Thursday night at 7PM at the School of Visual Arts.209 East 23rd Street, Rm. 502 Bet. 2nd & 3rd Ave
and then on Halloween (Oct. 31st) they show the The Best of British Animation Awards. Among those shown will be Rabbit which won the top short film prize at Annecy.
Same place; same time; different day. Come in costume.
6 Responses to "Plymptonia & Levymania"
Leave a Reply