Photos 22 Oct 2006 07:59 am
- As I said last Sunday, I'm going to use Sunday posts for photos. I have a lot of shots of crews from many of my films. Everyone worked enthusiastically over the years, and I like giving attention.
So, this is the group in 1987 on Lyle Lyle Crocodile: the House on East 88th St. that worked in house. The studio at the time was located between Fifth & Sixth Aves, and I was there from 1985 thru 1988.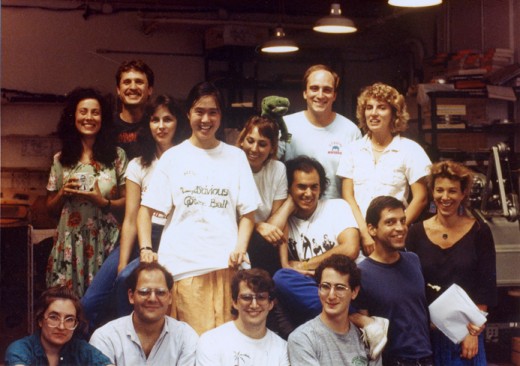 These are, Back row L to R : Lisa Crafts – animator, Tom Repasky – coloring, Susan Tremblay – coloring, Madeline Fan (full pic w/T-shirt) coloring, Caroline Skaife (leaning on Madeline) – coloring, Mark Baldo (w/puppet Lyle) coloring, Doug Vitarelli (leaning on Caroline) runner, Theresa Smythe – asst. animator.
Front row, sitting, L to R: Caroline Zegart – coloring, Steven Dovas – animator, John Schnall – Prod. Coordinator/Animator, Ray Kosarin – Asst. Animator/coloring, Michael Zodorozny – Layout, Bridget Thorne – Art Director/Bgs.
Some of the others who worked in the studio and not pictured in the group are: Elizabeth Seidman – ran the rendering and supervised the production, Greg Perler – editor, Kit Hawkins – studio coordinator, and me.
Working out of the studio on the artwork were: Tissa David – animator, John Dilworth – animator, John Canemaker – animator. Of course there were also actors, musicians, camera guys, and engineers.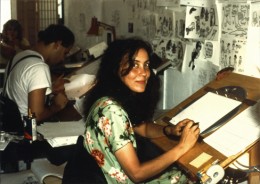 1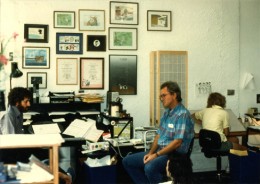 2
(Click on any image to enlarge.)
1) Lisa Crafts animating at her desk. Steve Dovas behind her.
2) Me at my desk with Mark Sottnick a producer of Santa Bear. Theresa Smythe on the right.
The studio was a good one. It was just over a music rehearsal studio where Tito Puente's group practiced every afternoon. All we could hear was the endless bass line over and over and over and over and over and over. At one point, late night, we heard Bob Dylan and Mark Knopfler rehearsing the new album they'd just done.
Unfortunately, the large skylight made it easy for people to break in. It happened three times in one month, and all that was stolen were walkman radios from the crew. Ultimately, I gave up, and we moved downtown.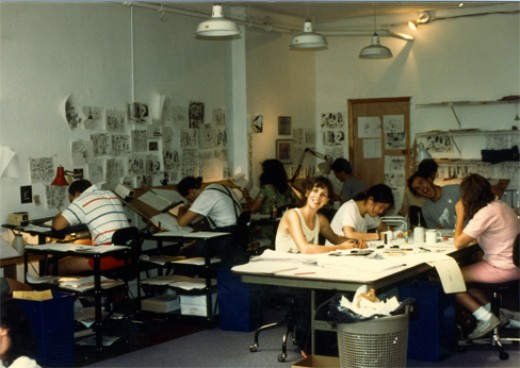 A shot of the whole studio from the door. (Things were tight.)
In the BG from L to R: Mark Baldo, Steve Dovas, Lisa Crafts, Ray Kosarin.
At the center table L to R: Susan Tremblay, Madeline Fan, Doug Vitarelli, John Schnall – behind Doug and Liz Seidman (in pink).
7 Responses to "Photo Sunday: Lyle Crew"
Leave a Reply