Animation Artifacts 24 Oct 2006 07:33 am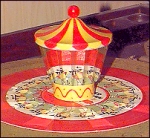 – Yesterday, I noticed on-line a toy that I had as a kid. It was a praxinoscope that was designed to play on your phonograph. You placed a record on the turntable (called a hi-fi back then) and over the spindle went this mirrored object. As the childrens record played, you watched the animation play out in the mirrors.
Of course, I made my own animations, too. They didn't work as fluently, but they gave an indication of what was possible.
Somehow, back then, all our toys seemed more designed to develop and exploit our imaginations.
As a matter of fact, that goes for movies too. These days everything is told to us, nothing is designed to use our imaginations. Take a look at Flags Of Our Fathers. Every simple idea in that film is driven home a dozen times. The message at the end of the film is told us by a VoiceOver narrator. There's nothing left for us to think about. Animated films are the same; any substance is on the surface.
Where are the terror of Snow White, or the desperation in Pinocchio, or the tears of Dumbo in modern animation?
Open Season, Over The Hedge, Cars, The Ant Bully, Monster House, Hoodwinked. Do any of them leave anything to the imagination for the children in any of us? (The only animated film I remember from this year that left anything for me to expand on was A Scanner Darkly with the veil of invisibility the characters wore.) The last 2D film that gave me something more was The Iron Giant. That's a long time.
Don't get me wrong; it's not just an animation thing. It's a sign of our times where every move by a child is plotted out in some video game. Everything is black and white. There's the Axis of Evil, the Good Guys, and the French. There don't seem to be any shades of gray anymore.
4 Responses to "Imagination Machines"
Leave a Reply