Animation 27 Oct 2006 09:18 am
Yesterday, I went to Philadelphia to the University of Pennsylvania School of Design (or Penn Design) to meet with students, talk about my work, show a couple of films and answer any questions. I went as the guest of Paul Fierlinger who has set up a beautiful preparatory school for 2D animation. Because Paul is an ardent supporter of the Bauhaus Mirage system, he is teaching his students to animate on that program. (I only saw a couple of small examples, but I was impressed with the work.)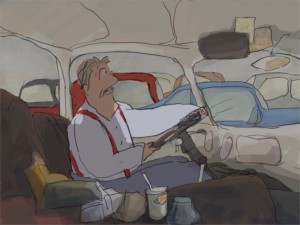 The highlight of the trip, for me, was to meet up with Paul and his wife, Sandra. I have been a long and enthusiastic lover and supporter of their work.
After seeing so many of his films and knowing a lot about him, I finally met Paul back in 1985 at Annecy. We found that we had a lot in common. (My first short was done for a company called the Learning Corporation of America – LCA. Paul had already been producing a number of films for them. One of them, It's so Nice to Have a Wolf Around the House, had been nominated for the Oscar in 1979.)
After Annecy, I went down to Wynnewood, Pennsylvania in the suburbs of Philadelphia to spend a day with Paul and his family. We went out on his boat for the day, and we had lots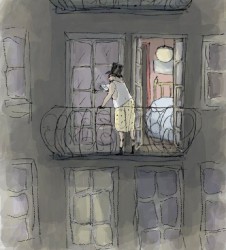 of long conversations about animation and our working methods. It was a memorable day for me just spending the day in such enjoyable company. Both of us talked about our ambition to make longer films.
In 1993, Paul succeeded on the highest level with the American Playhouse show Drawn from Memory, an animated autobiography Paul wrote, directed and animated. (See the AWN interview with Paul here or the NYTimes review here.)
His next film, a half-hour show for PBS called Still Life With Animated Dogs became his most successful. He and Sandra Fierlinger won the Peabody Award for this work, and they deserved quite a few more awards as well.
A Room Nearby premiered on PBS in 2005 (though it actually premiered at the Margaret Meade film festival November 2003.) This told the stories of five people and how they dealt with loneliness. It's a beautifully animated, and, I think it's the deepest of the works of the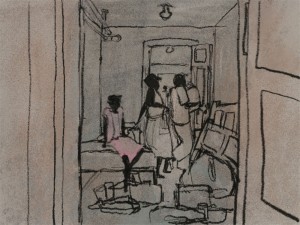 Fierlingers. this is a magnificent film which has deservedly won lots of awards but not enough.
Currently, they're working on an animated feature length film, My Dog Tulip, which is adapted from the book by J.R. Ackerly. They expect to complete this theatrical in 2008 with the two of them doing all work on the film, themselves. Paul adapted the book, is directing and animating. Sandra is doing all rendering and backgrounds.
Once again, I had a wonderful time with Paul. Sharing moments with a real artist enables you to embrace the films all the more. I can't wait to check out the dvd he gave me showing some clips from the feature in progress. It was an inspiring day.
3 Responses to "Paul & Sandra Fierlinger"
on 27 Oct 2006 at 5:48 pm 1.Ward said …

I saw A Room Nearby at Ottawa in 2004 and was very impressed. At the time, I always had a problem with sitting through long (10 minutes or more) animated films, but this film proved that I was being naive and ignorant for thinking such a way. It was engaging and heartfelt all at once. And I enjoyed it all the more the second time, during the Best of the Fest screening on the last night of the festival. The animation was subtle and the stories from the subjects were fascinating to listen to. I'd love to see more of Paul and Sandra's work. Looking forward to seeing their film.

on 27 Oct 2006 at 7:12 pm 2.Mark Mayerson said …

I'm also a huge admirer of the Fierlingers. In grad school, I did a paper on their work for a Contemporary Documentary course and Paul was kind enough to answer many questions via email. I'm really looking forward to his feature. I think that the Fierlingers are among the most interesting animation filmmakers working today.

on 10 Sep 2010 at 1:12 am 3.Stefanie Weiss said …

A couple of weeks ago my mother and I were walking my dog in Wynnewood, PA, when I met a woman kind enough to show me where I could walk my dog in the woods. When I told her I lived in NYC she said her movie was opening that week–it was My Dog Tulip. I went to see the film tonight and just loved it. What a charming, beautiful movie! It portrayed so well how we fall in love with our dogs.
Leave a Reply