Photos 29 Oct 2006 08:40 am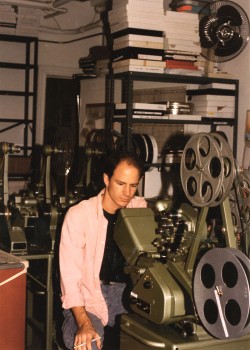 - Continuing with the photo display I put up last Sunday, I wanted to show off two more corners of the room in my 38th Street studio, back in 1988.
Greg Perler had a particularly crowded corner of the studio where he edited all of the films we were producing. You'll note that he was using an upright movieola. (I prized those two uprights and have kept them to this day, though they're used predominantly for holding things upright.)
Greg, at the time of these photos, was editing Abel's Island. There was a hurried rush for the mix which was fast approaching, and I was encroaching on his day to take these snaps.
Greg left NY to go to LA. He started as the Asst. Editor on Beauty & The Beast and became top dog on Tarzan. Currently, he's editing Enchanted for Disney.
(Click any image to enlarge.)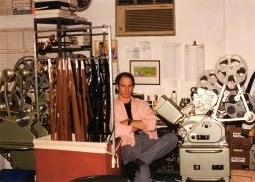 1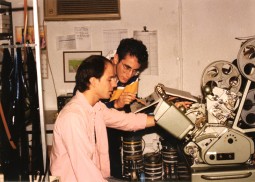 2
1. Greg's corner from another angle
2. Greg and Ray Kosarin, an assistant in the studio. who worked with Greg in assisting him in the rush to the mix.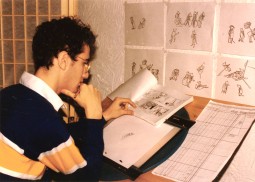 3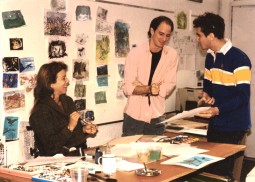 4
3. Ray Kosarin drawing on Abel's Island.
4. Bridget Thorne's corner – diagonally across the studio from Greg's – where she did backgrounds. Bridget, Greg and Ray.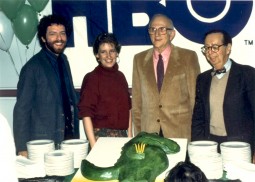 5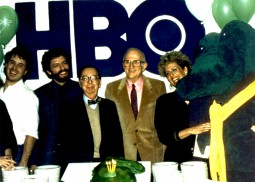 6
5. HBO threw a party to screen Lyle Lyle Crocodile. Pictured here L to R: me, Liz Callaway (the singing voice of Mrs. Primm), Bernard Waber (the author, illustrator of the book), and Arnold Stang (the voice of a parrot – he was also the voice of Top Cat among hundreds of voices he's done over the years.)
6. Pictured L to R: Rick Parks (multiple voices), me, Arnold Stang, Bernard Waber, Carole Rosen (an Exec from HBO with whom I did many films), and someone dressed as Lyle.
We're about to cut a cake shaped to look like Lyle, the crocodile. The knife was given to Bernard Waber who said he couldn't cut into his own creation. We had the costumed Lyle cut himself – the cake, I mean. (The head went first!)
3 Responses to "More Lyle Pics"
on 06 Nov 2006 at 12:36 am 1.Norma Rivera said …

I remember when Lyle was being done…I along with my brother Ed, Doug Frankel, Mike "Shep" Shepard, George McClemants, Jeff Shelley, John Lopez, Robert Marionetti and a few others were busily animating on the "santa Bear's High Flying Adventure" over on 38th and 9th Avenue. That was a very memorable and pretty exciting time for the bunch of us just starting in the animation biz.

on 06 Nov 2006 at 12:41 am 2.Michael said …

Hi, Norma. I look for you whenever I see feature animation credits. I've seen your name a bunch of times and wonder how you're doing. Great to hear from you.

on 06 Nov 2006 at 8:32 pm 3.Norma Rivera said …

Hi Michael,
I'm so glad to hear from you. Yes, I've had my name in features a few times, but I've also gotten credits on a bunch of TV work for Warners, Disney, Mike Young and others doing storyboards, of which I received an Emmy for an Animaniacs episode 10 years ago—it seems like a lifetime ago. I was living in L.A. up until '02…I'm currently in Texas where I worked on a CG feature for DNA Productions, but in a 2D capacity. The studio is in a temporary(?) shutdown. I am currently doing freelance for 2 studios. I saw the Man who walked between towers….cool…I remember when he did that.

Norma
Leave a Reply