Animation Artifacts &Story & Storyboards 07 Nov 2006 08:44 am
- Here's the material for a Jax Beer commercial. It was done by a NY studio named Pelican in 1962. There were about 75 people on staff at Pelican back then.
This spot was directed by Mordi (Mordicai) Gerstein. He left animation to write & illustrate children's books in th 70′s. (He won the Caldecott Medal for his book, The Man Who Walked Between The Towers. This was the book I adapted to animation last year.)
What follows is the storyboard and the director's workbook. (It appears to be an agency board, though it's drawn in a style that looks to be Mordi Gerstein's. Perhaps boards from the agency were drawn by the studios back in 1964; I'm not sure. The layouts were drawn by the same artist.)
Tomorrow I'll post some of those layouts.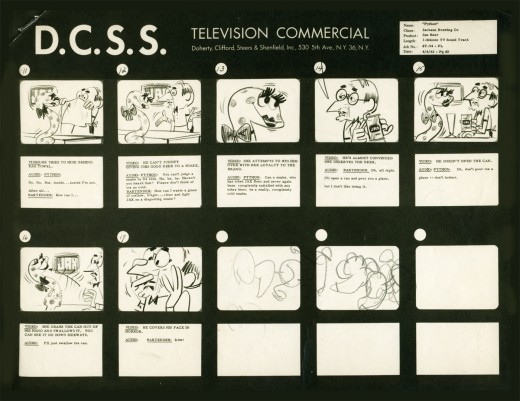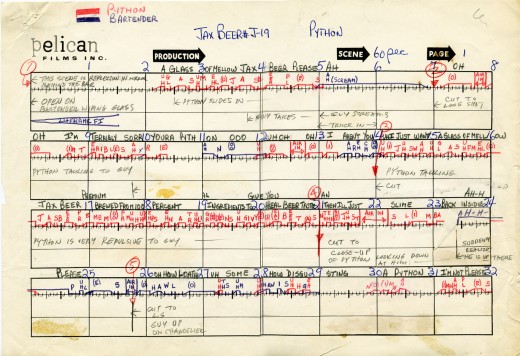 The workbook has several flaps on it that indicate changes in timings. There are also glue stains where I assume other flaps fell off. (See page one, last row, first column.) Each column represents 16 frames/one foot of film. Odd numbers are marked off.
Each row contains 8 feet of film/128 frames. Each page represents 32 feet/512 frames. It would have been smarter to keep to even numbers.
More modern exposure sheets generally have 80 frames/five feet per page. This also divides into two feet of 16mm film. (Handy.) The numbers add and divide smartly and easily. But then most people don't use exposure sheets anymore.
11 Responses to "Jax Beer Spot"
Leave a Reply