Books &Commentary 30 May 2013 04:36 am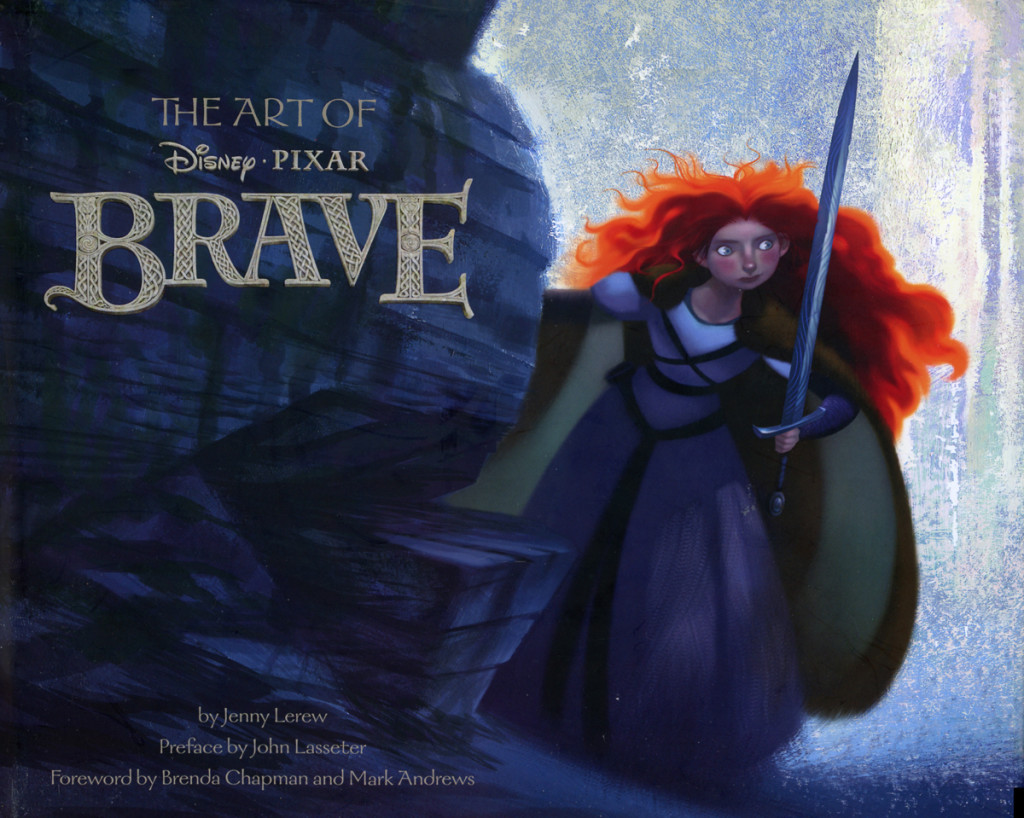 I didn't get to review an animation book last year and have sorely wanted to. The publisher was going to send a copy, then they couldn't, then it was too late, and then, lo an behold, I received a copy of Art of Brave by Jenny Lerew. Chronicle books has long been a favored publisher of mine – at least of art books, particularly animation art books. Their attention to detail is usually great and meticulous. That's definitely true of this volume.
I'm delighted to finally have a copy for my library, The book is a beauty. The Production Designer, Steve Pilcher has an enormous volume of art here and all of it's incredible. Whether pen and ink, chalk, acrylic or digital his artwork is jaw-droppingly beautiful, and the bulk of the work seems to be his. Others such as Noah Klocck for his digital renderings, Mike Mignola and his great ink & paint character sketches, or Matt Nolte's pencil sketches, Mark Andrews' sketchbook drawings or Nelson Read's castle details; they're all terrific artwork. Cassandra Smolcie gives complex Celtic Graphics, and, of course, Tony Fucile offers beautiful character drawings. The Art backing up Brave is overwhelming. How could they NOT make such a beautiful film?
Jenny Lerew, the book's author, comes in quietly and before we know it we're reading about the film's beginnings and its make up. We get a good picture of Brenda Chapman who originated the film almost fully formed, and, because of the steady writing of Jenny Lerew we can easily see how the film grew. Unlike many other books of this sort Jenny doesn't shout out her writing, but she just goes about the business and articulately explains the production for us. We see past the initial pitch meetings right to the green light.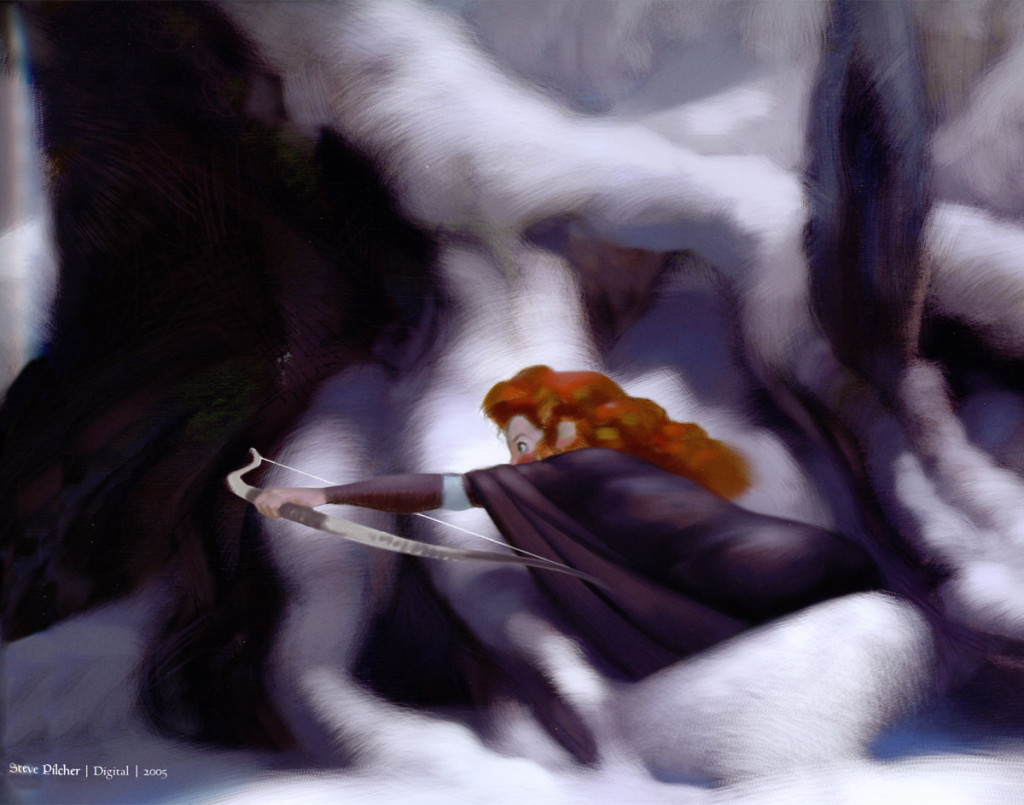 1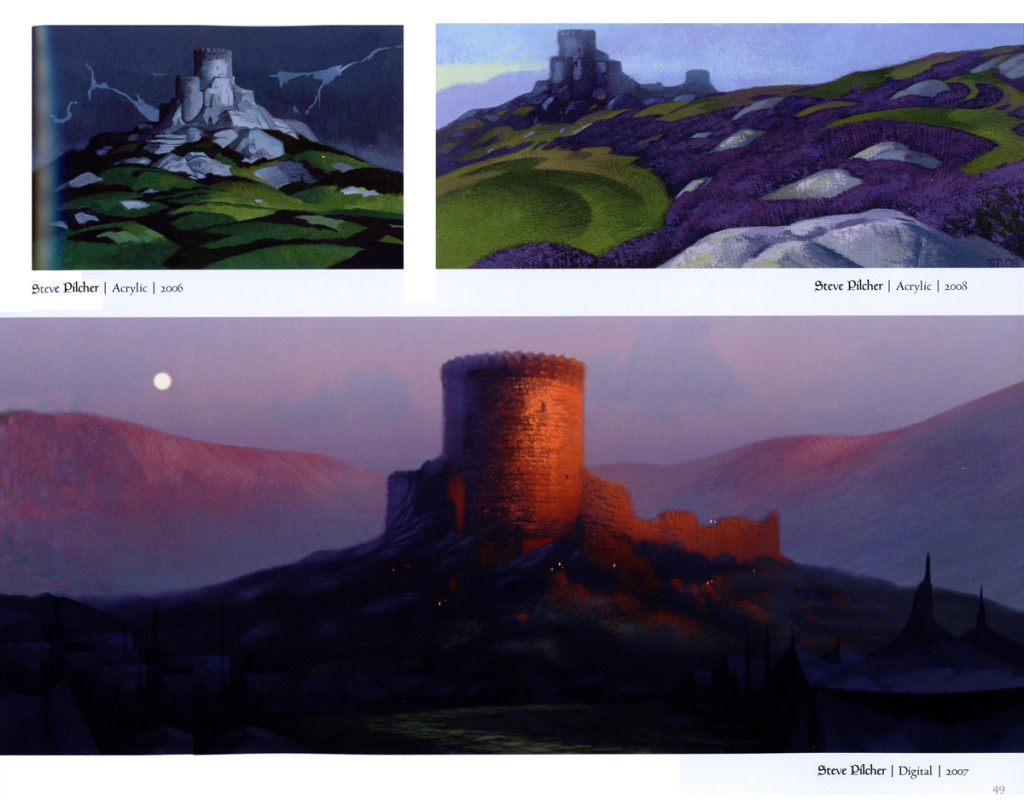 2
The heavy duty politics that must have accompanied this movie – Brenda Chapman having been replaced midstream as director – isn't even discussed (or maybe I missed it). What is detailed is the development of the film, particularly its story, and even more pointedly the "Art".
We do learn that the imagery goes from almost 100% snowbound settings to a wider variation. This is most definitely one of Mark Andrews' directions in taking the reigns. And with that knowledge I can't but help wonder whether it was a good change.
I might have enjoyed seeing the book go a bit more into the cgi realm. We have all these glorious hand-painted images, but when does it get interpreted into the digital? Not even much discussion of the true heart of this film's story – the hair. Merida's beautifully flowing mane of curls. It's a wonder of computer animation that they pulled it off. Ang Lee had Richard Parker, Brave had that red hair! Both won Oscars for their achievements.
As a gossip-hound I would have liked seeing some of the dirt to know what happened, but the plan and the method is to just tell about the art of Brave. In her closing acknowledgement, Jenny Lerew says she went directly to Brenda Chapman to ask what she wanted seen in the book. Chapman said that ". . . what mattered most to her was that the book would shine a light on the artists, the crew who had worked so hard and for so long and achieved such beautiful results." This is definitely the book Lerew has written.
A Couple of Models from the Book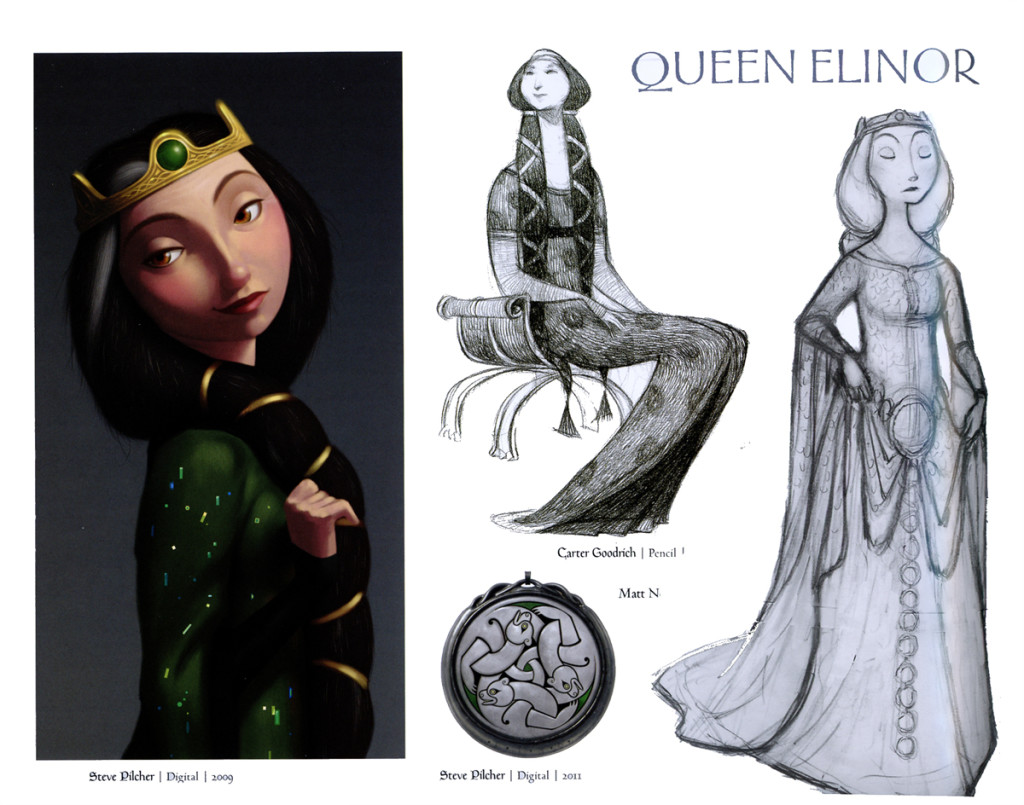 3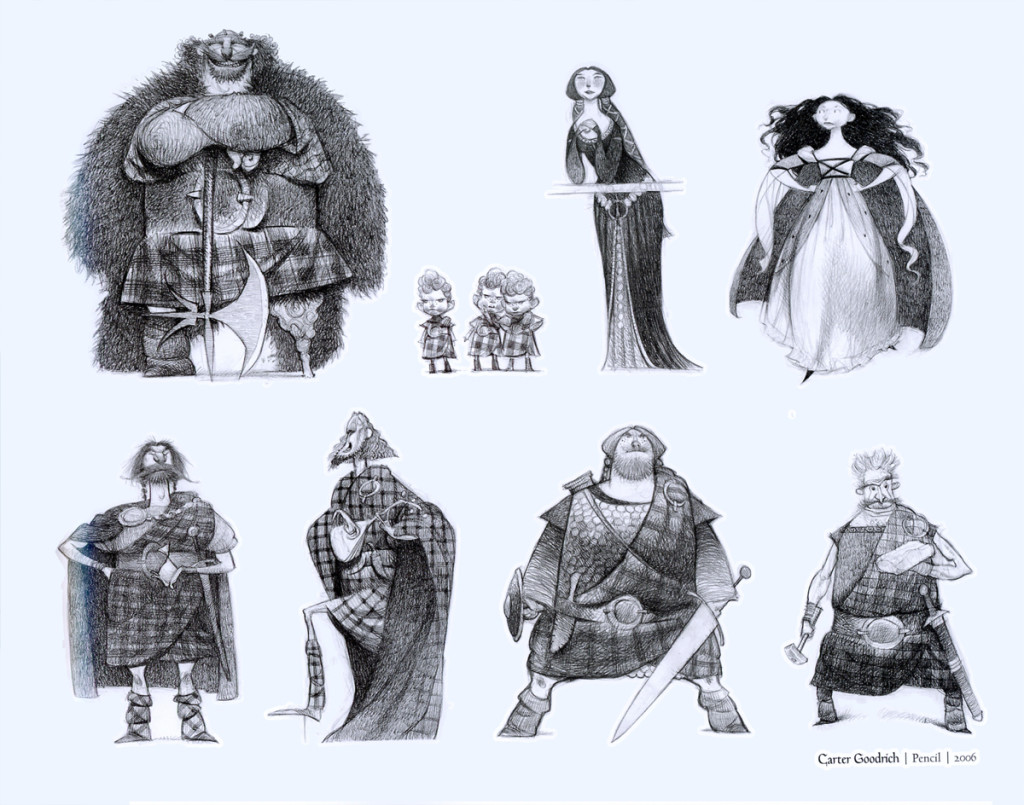 4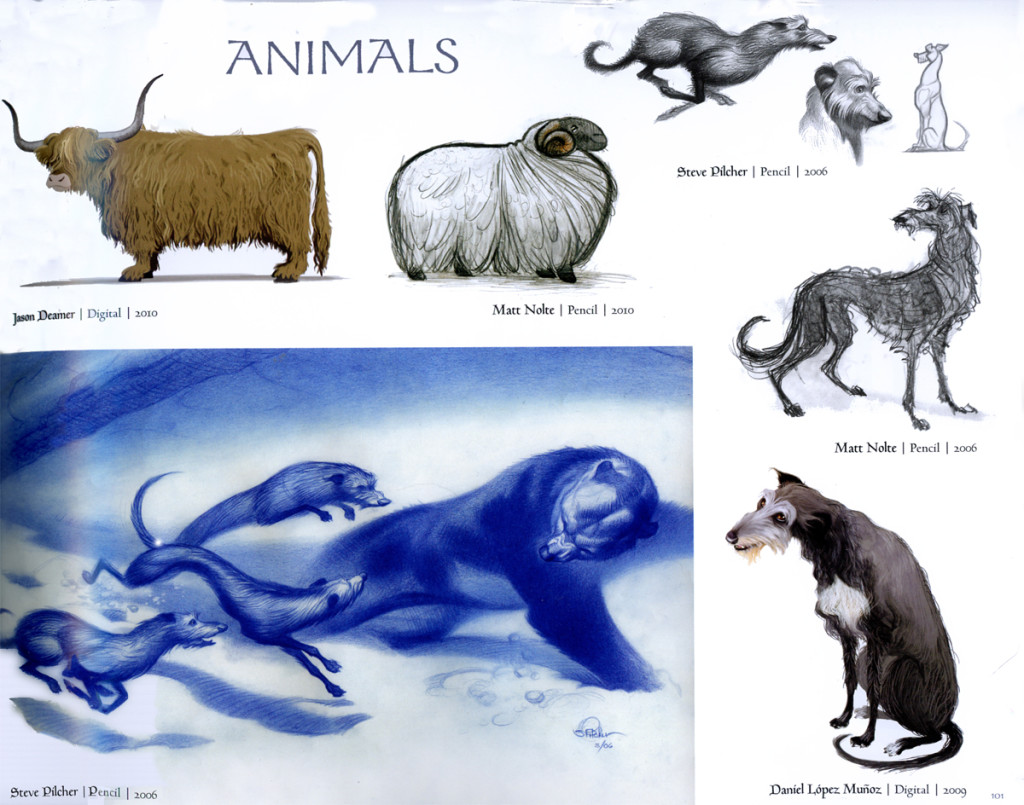 5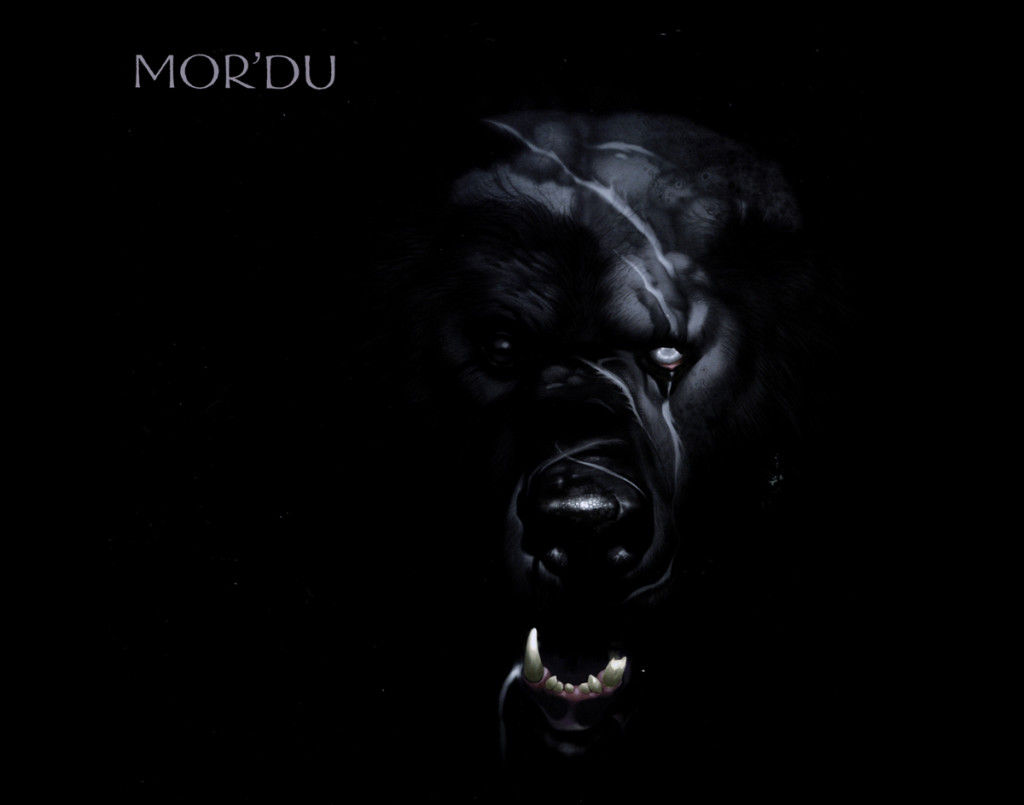 6
Storyboards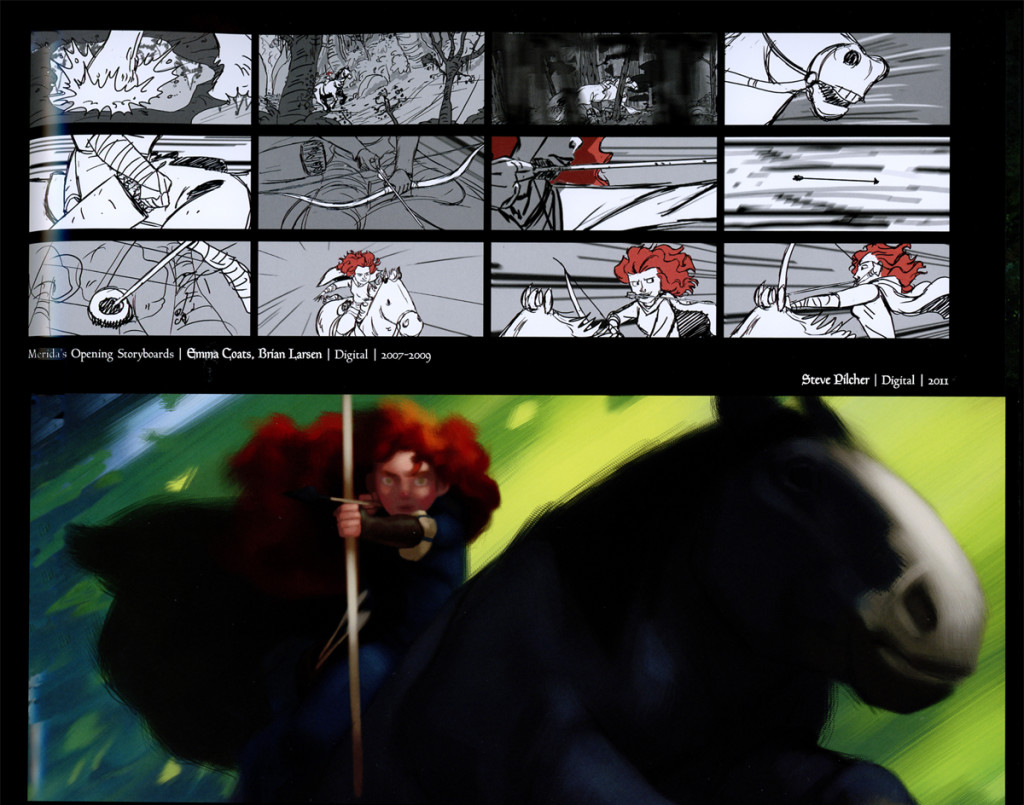 7
It's only natural that a good number of illustrations display
the storyboard. Jenny Lerew, the book's author, is
a talented storyboard artist.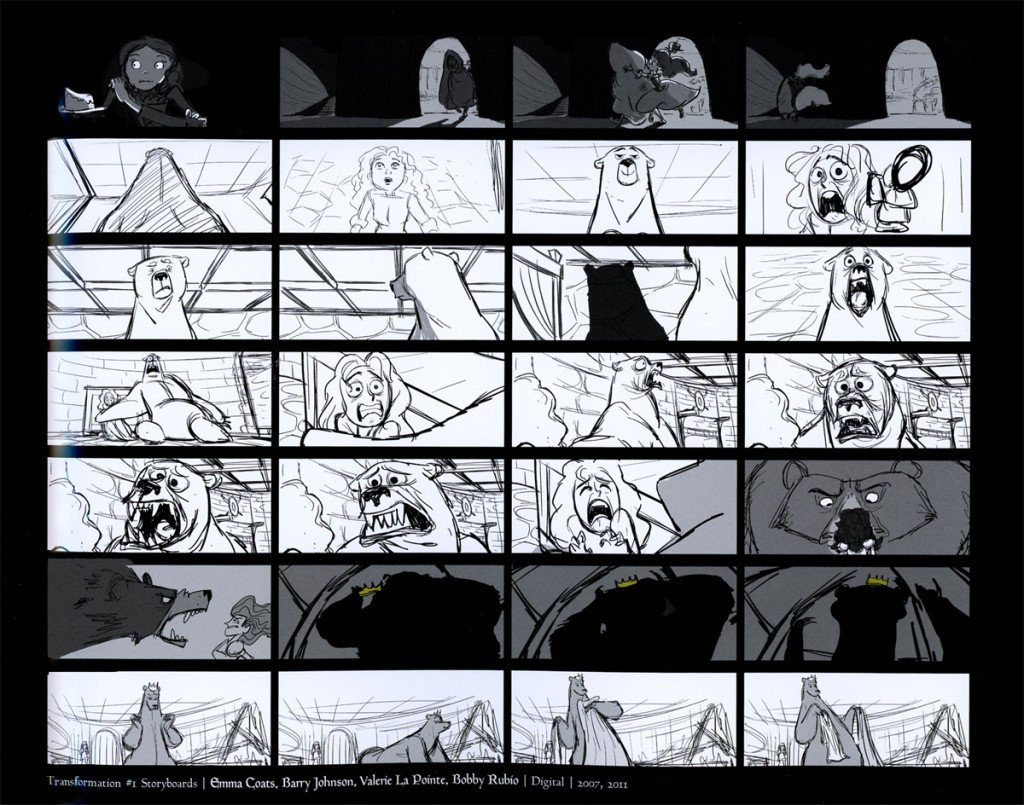 8

The stunning artwork and the confident writing of Jenny Lerew make this, for me, a valuable book that I'm glad to have as part of my animation library.
.
6 Responses to "Art of Brave"
Leave a Reply