Hubley &Models 24 Nov 2006 08:27 am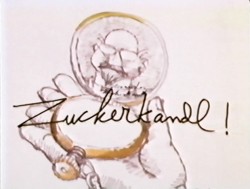 - One of my favorite Hubley shorts is a lesser known film, Zuckerkandl.
It is an animated version of the satirical lecture Robert M. Hutchins gives annually to discuss the life and philosophy of the fictitious Dr. Alexander Zuckerkandl and his philosophy that the goal of life is to get through it without feeling, in the belief that true happiness can be achieved only by becoming unconscious of our conscious.
The life and philosophy of Zuckerkandl is depicted and constructed.
I also have a couple of models of the speaker, Hutchins, done by John Hubley and I'm posting them here.
The following are frame grabs (from not the best copy of the film.)
The film was also made into a book. It's illustrated with images from the film that have been reshaped. Here are a couple of them. The colors in the book are probably closer to the actual film.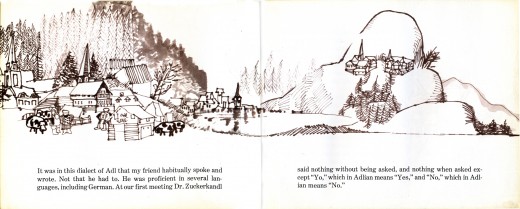 3 Responses to "Zuckerkandl Models"
on 24 Nov 2006 at 3:03 pm 1.Janet Benn said …

Michael, I also love this film. I have shown it many times to my students with varying degrees of success. One has to really pay attention and follow the thoughts expressed in order to get the full impact, and I find that the attention span of students is very short sometimes.

When I watch it, I listen and can see several shots of the hall, the audience and the speaker following one another seemingly randomly: it reminds me of my own wandering eyes as I listened to so many hours of lectures in school and looked around for any bit of visual interest that would save me from staring relentlessly at the speaker. This little touch of genius in visual interpretation of difficult material is so characteristic of John Hubley's films.

on 04 Sep 2009 at 5:55 pm 2.Tom Shea said …

I viewed "Zuckerkandl" once in summer l970, and one panel is burned in my mind. The picture (prediction) of a society of people behind high walls each of them peering into a t.v. (probably then, but could be a computer today). Outside the walls, a ragged people crawling on the ground reaching out as if to hail attention or welcome into the walled elites wedded to their screens.
Do I have the right film? If so, is the film or the book (with same scene) available. Please respond thanks. Tom Shea

on 05 Sep 2009 at 9:55 am 3.Michael said …

I'll try to post the rest of the book later this week – with those images.
Leave a Reply