Animation &Mary Blair 25 Nov 2006 08:37 am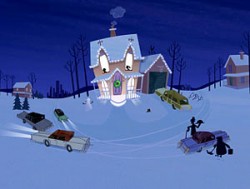 – An animated commercial, Mastercard – Full House was introduced last year during the holiday season. It's making it back this year in a slightly larger way. I noticed this spot had been revived when it first started airing before Thanksgiving.
The ad was produced in England for McCann Erickson by the production house, Sherbet, a company set up in 1996 by producer, Jonathan Barstow, and director, Jonathan Hodgson. The company has won many international film awards including a BAFTA for best animation in 2000 for Hodgson's short film, The Man With The Beautiful Eyes. Billy Crudup does the VO for the spot which AdWeek awarded with a "Spot of the Month."
Go here to see the animated ad.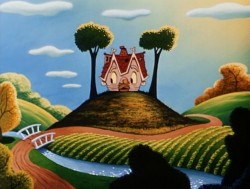 The spot originally caught my eye last year because it feels so much like the Disney short, The Little House, very much a product of Mary Blair's design.
Amid Amidi wrote about it on his Cartoon Brew site and that led to the Sherbet site.
To me, the color design of this commercial doesn't feel at all like Mary Blair's work, although the film obviously was an influence. The charm of the spot is in the very modern approach taken while giving a retro nod to the classic short.
The director and designer of the spot was Sarah Roper, and the Animation Director was Robin Shaw. The Sherbet site gives only this information about Ms. Roper:
Sarah's work is characterized by her elegant use of collage. She creates charming and appealing characters and has a great feeling for shape, texture and color. Her short film The Apartment Cat and her United Airlines commercial Legs use body language and facial expression to tell warm and witty stories.
She studied animation at the Royal College of Art. There, she worked with a personal technique using rubber stamps. In 1993, she won the MTV Free Your Mind competition. She did other shorts including Chicken Wire and animated for Astley Baker Davies on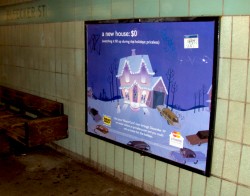 Peppa Pig and on Mark Baker's The Jolly Roger, prior to joining Sherbet.
The commercial has made a comeback of sorts. It's not only on television, but the campaign has grown to signage about town. Posters featuring an image from the ad are in the NYC subway system (it's hard to find one that doesn't have graffiti or a sticker pasted onto it.) I have to assume that they're not only advertising in NYC, but that posters appear elsewhere. High honors for an animated spot.
(Click on any image to enlarge.)
One Response to "Mastercard Sherbet"
Leave a Reply