Bill Peckmann &Books &Rowland B. Wilson 31 May 2013 05:28 am
- Bill Peckmann collaborated with Rowland Wilson, back in the early '80s, on a charming little book for children that never found a publisher and, consequently, never was completed. Bill had a bound copy of the book – in a mockup form – and sent it to me. I, naturally, would like to share it.
First, here's the note on the inner sleeve of the cover:
ABOUT BEDTIME FOR ROBERT, A WORDLESS BOOK
Bedtime for Robert is intended to bring to small children an early experience of the special personal relationship one has to a book; the availability and flexibility that a book enjoys over a fixed-time medium such as television.

Being wordless, the book needs no translation. The child has access to it at any time without relying on adults. This early exposure to the physical reality of books will, we believe, enhance the experience of reading later on.

The story combines the pull of a narrative with information that appeals to a child's curiosity: in this case what goes on at night in the adult world. Although the child must go to bed (reluctantly), Robert the cat's curiosity leads him into this forbidden adult world. Robert is all cat with cat qualities, not a little person in a cat suit as most cartoon cats are. The child can project his own emotions into the character.

The authors are booklovers with extensive experience in both print and film. We have both won Emrnys and other awards for our animation designs for educational TV.

We believe this is the first book to utilize the principles of film continuity in a printed form. This continuity is vital to the understanding of a narrative without the aid of words.

The use of film pacing supports the unfolding of adventure and humor in a wordless story.

The book is planned to be in color. The pages up to 17 are in finished linework and the rest is in rough layout form.

Robert is conceived as a series. The character and structure would remain constant. The variables would be in the cat's adventures in various places, seasons, times of the day, and occupations.

Please contact either of us at the addresses below. This is a simultaneous submission.

Yours truly,
Rowland Wilson
Willi Peckmann
You'll see immediately how original this book is: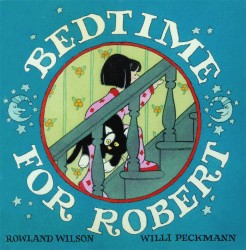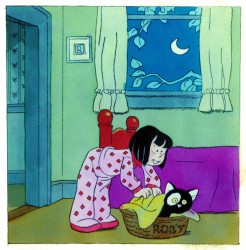 3
(Click any image to enlarge.)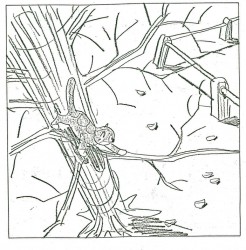 28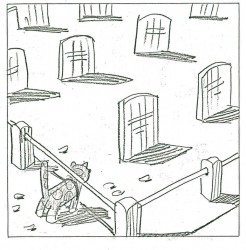 29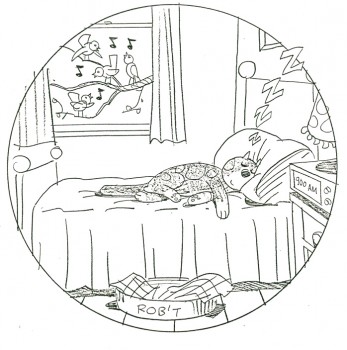 88
And just to put everything in proper perspective, here's a letter they received from Houghton Mifflin rejecting the book. He was Rowland B. Wilson, for god's sake!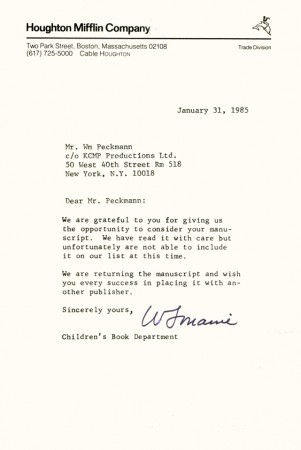 Bill Peckmann added this background info: "The rejection slip from
Houghton Mifflen really hurt the most because our thinking at the time
was that since they were publishing Bill Peet's books (my all time
favorites), we thought they would understand the concept of "Robert"
better than anyone else. Go figure"
9 Responses to "Bedtime for Robert"
Leave a Reply