Daily post 23 Dec 2006 08:15 am
- You can see an interesting asssortment of Christmas cards sent to Dick Huemer and family over the years by going here.
-You can see another set sent to Ken Harris by going here.
Speaking of Ken Harris, the Richard Williams Christmas Carol can be seen in its entirety here on Google video.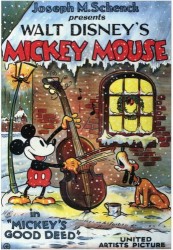 - My favorite Christmas cartoon of the pre-TV era has got to be Mickey's Good Deed. This film gets me laughing every time. Every bit of it is funny, from the constantly turning story to the witty animation. How hilarious when Mickey has to sell Pluto for a Christmas present !
That's not on YouTube, but it is on the dvd compilation, Walt Disney Treasures – Mickey Mouse in Black and White, Volume Two. This is a good set of shorts (I like the early Mickey's more than the later ones in color.)
- There are a couple of good Christmas shorts available on YouTube now. I'm only pointing to some early cartoons, because I like them. They seem less devisive and more innocent. (Hurry, before copyright holders wake up and pull them from the site.)
The Night Before Christmas from Disney 1933:

Tom & Jerry in The Night Before Christmas

The Little King in Christmas Night

Disney's 1932 Santa's Workshop

- Finally, there's the card Tom Sito pointed me toward. Here. It shows a VO recording starring Santa, and it's pretty funny.
2 Responses to "Christmas Cartoons"
on 24 Mar 2007 at 2:12 pm 1.Travis Martin said …

Hello My name is Travis Martin. I have a few old annimated cells from an early disney production. We thought that they were from the "Night Before Christmas" but they look more like the frame above from "Santa's Workshop" 1932. The video is no longer available. Any idea where I could find it?

Thanks
Leave a Reply