Animation Artifacts 22 Dec 2006 10:22 am
- I make no bones about the fact that I have been a fan of Ub Iwerks' work as long as I've been a fan of animation.
The first 8mm short that I owned (at age 12) was a Castle Film version of Iwerks' Jack and the Beanstalk. I studied that film frame by frame by frame, over and over again. Of course, it was directed by Grim Natwick with whom I discussed the film in the 70′s.

When I saw this issue of a 1968 Film Fan Monthly available, I had to buy it for the Mark Kausler article about Iwerks. (I have this desperate need to own things I love.) So, with apologies to Mr. Kausler, I'm posting the short, three page article. Since the magazine is long out of print – I felt it something worth sharing.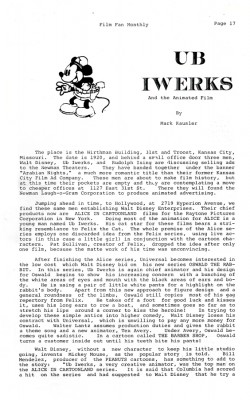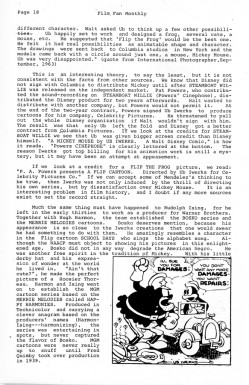 (Click any image to enlarge to a readable size.)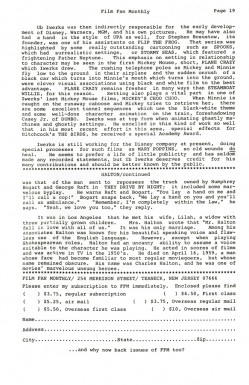 - I no sooner posted this article than I thought that perhaps I would put up the Film Dope piece on Iwerks as well. This Briish publication, as I mentioned before on this site, was a favorite of mine. I've tried to collect as many issues as I could locate. I've posted this once before in June, but it doesn't hurt to connect the two articles.
The four page entry for Ub Iwerks follows: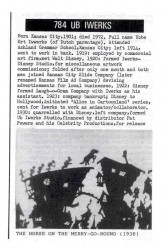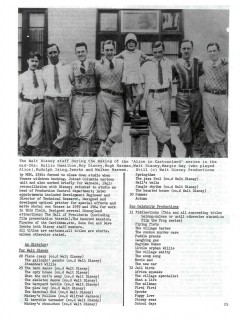 One Response to "Iwerks – Film Fan Dope"
on 13 Jul 2007 at 1:39 pm 1.Vic Portaro said …

I just wanted to comment about the web site on Ub Iwerks. I've been listening to the "Walt Disney: the Triumph of American Imagination" by Neal Gabler on an audio recording. It's been facinating hearing about the weaving in and out of Ub Iwerks' involvement in the Disney story. I'm only on disk 14 of 26, but I was compelled to find out more about him. I found your website was very informative and meaningful about his life and career. Thanks for your efforts.

Vic Portaro
Leave a Reply