Animation Artifacts &Daily post 27 Dec 2006 08:38 am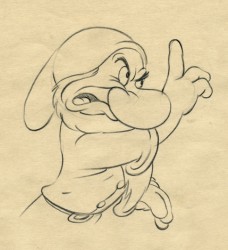 – In 1994 John Canemaker organized an exhibit for the Katonah Museum of Art. It showcased in great detail the work of animation's, Bill Tytla. The Hollywood Animation Archive Blog now posts the catalog for that show in the first of two parts.
I remember the show as quite remarkable. Any enormous respect I had had for Bill Tytla's work was magnified exponetially.
Viewing the catalog again reminds me of the fabulous work that John Canemaker had done in organizing the show. Thanks, yet again, to the work of Stephen Worth in making this available at the site.
A Tytla drawing from my collection.
(click on image to enlarge.)
______________________________
- This list of the Best Children's films of 2006 includes my film, The Man Who Walked Between The Towers, and the feature Monster House as the only two animated films on their list of "bests."
To show how ridiculous this list from Scripps Howard News Service is, the new dvd of Dumbo is on their "worst" of 2006 list. They describe one of my favorite Disney features as, "a relic, with a number of racist and stereotyped characters and overwrought emotion."
The scene Tytla animated of Dumbo playing in the legs of his mother is, in my opinion, one of the best scenes ever animated. Every child should be made to watch this scene and this film. John Canemaker's commentary for the dvd is, as I've said several times on this blog, one of my favorites. It's the premiere example, to me, of what all commentary tracks should be.
- For those who haven't yet seen it, David Nethery has posted on his site a 1966 Christmas Bumper R.O. Blechman did for CBS. It's a beautiful, music card of a piece that shows all the poetry Blechman got into his films. Ed Smith animated this rich, short film.
______________________________
- Finally, today, I'd like to quote a paragraph from
Michael Musto
's lookback-at-2006 column in today's
Village Voice
. He reviews most of the animated features, and I thought it amusing:
We pause now for a brief rant: Much as I adore animated films, the plethora of them
that came out this year with inspiring messages about how critters (or vehicles) are
good and people are bad made me feel their ka-chinging creators should be forced
to live by their own patronizing idealism or die. Cars should have been dumped onto
DVD with no hoopla whatsoever (it's more important to be a good soul than to
succeed, remember?); the Ant Bully people should find their houses infested with
bugs and then be made to join them to learn the importance of community; and the
Barnyard bunch, who preached that responsibility is superior to having a messy good time, should never be allowed to make another movie. Otherwise we're destroying
our children with hypocrisy and lies!

But how dare anyone suggest that: Happy Feet ripped off March of the Penguins:
It ripped off Billy Elliot!
One Response to "Tytla and the Best"
on 31 Dec 2006 at 12:21 am 1.David N said …

The Tytla catalog posted on the ASIFA site has this :

[Disney] noted that in one scene "something was started …which was what we are striving for . That is, doing things in the dance which humans are unable to do."

Precisely.
Leave a Reply