Commentary 28 Dec 2006 09:02 am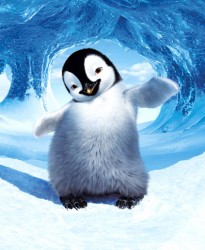 - Last night, I watched the Academy screener of Happy Feet. I'm sorry I hadn't seen it initially in a theater, and I know I'll go back to see it on a big screen soon.
There's no doubt this is the best of the films on the short list in the animated feature category. I've made myself obvious about my dislike of MoCap, but this is a good film. Regardless of whether it was done 2D, keyframe, live action or MoCap, it's a well made film. It is a musical in the truest sense of the word; it thrives on the music.
I believe animation should be tied tightly to music (even the absence of music in animation is a critical choice that has sometimes worked.) This film is dependent on and in love with the music constantly remixing on its soundtrack; there is no possibility of separating the action, camera moves or story from the music.
They use a lot of songs from the 70′s-90′s to accent a tempo, but the score by John Powell is one of the best film scores of the year. Listen to the underscoring of a couple of the opening numbers; it's amazing. Powell scored my short for HBO, Goodnight Moon, back in 1999. He was just starting back then, but he came fully developed. He went on to Disney where he scored The Emperor's New Groove; then to Robots and Ice Age II. He's written many other excellent film scores. Here, in Happy Feet, he is at the top of his game.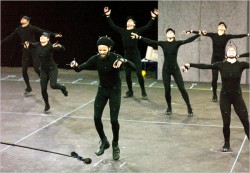 I think of MoCap as more a form of digital puppetry than animation, and the movement in this film is fine. Savion Glover can be seen in all the dancing, but the acting is expressive – especially given the lack of expression on a penguin's face. I thought there were some scenes with the father character (voiced by Hugh Jackman) that were just excellent. Equally interesting is Nicole Kidman, though her character has no stand-out action.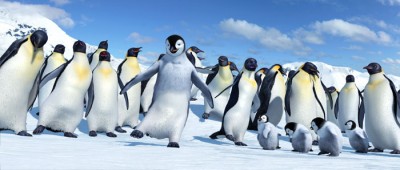 The same is true for Brittany Murphy; she's extraordinary, though her part doesn't require enormous depth. She also does most of her own singing, and she does it well. After all those years at King of the Hill, she certainly has proven herself, and displays her talent well in this film.
Actually, all of the voice work is good – though I sometimes had trouble telling some of the males apart. None of the voices are star turns that dominate the film. They all sound appropriate for the roles.
I liked the use of live action in the end, and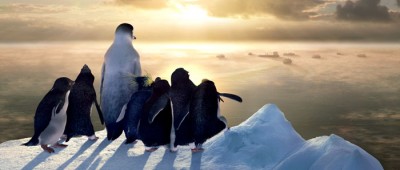 thought it would have been the only real way to get their point across. It, like everything else in this film, was done well. A delicate mix of live action embedded into the MoCap drawn world. It was just good ol' plain, film making know how. George Miller is a director who knows how.

______________________________
Today's
NYTimes
features an article on
Savion Glover
's dancing for this film.
I also suggest you read Mark Mayerson's comment today about this and other articles. Mark has some excellent thoughts worth digesting.
______________________________
To see artwork from another animal film, the
ASIFA Hollywood Animation Blog
has posted some beautiful pieces from
Mark Kirkland
's collection of artwork from
Bambi
.

(Click any image to enlarge.)
8 Responses to "Happy Feet"
Leave a Reply