Art Art &Theater 30 Dec 2006 08:18 am
Prescott Wright died on December 28th. He was one of the founders of ASIFA-San Francisco, the producer of The Tournee of Animation for many years and a founder of the Ottawa Animation Festival. Jerry Beck has some good comments on Cartoon Brew.
______________________________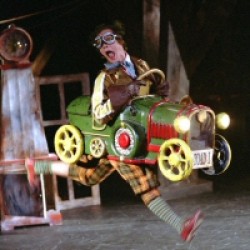 - The
Quay Brothers
are currently represented on the London theater scene. The dance program of
The Wind In The Willows
is playing to good reviews.
Time Out London
reports, Will "Tuckett and his designers, the Quay brothers (who are not just siblings but identical twins), turn those memories into a journey of the imagination that comes spilling out of an old chiffonier. A length of silk pulled from its drawers becomes a rippling river, a dusted-off rocking horse pulls a Gypsy caravan, an upturned spindle-backed chair turns into Toad's jail cell, a toy train is his means of escape from prison."
David Benedict wrote in Variety, "All of them are in the childlike world of the Brothers Quay, whose set designs cunningly echo the way children turn everything at hand to imaginative advantage. Thus, attic furniture plays multiple roles. One minute, a flowing blue tablecloth is being pulled from a drawer in the bottom of a wardrobe to become the river; the next, the wardrobe is wheeled around to become a gypsy caravan driven by a rocking-horse. The giant wooden chair that Toad flings himself about in is overturned to form the bars of a cage when he's imprisoned."
Sarah Frater in This Is London says, "Willows owes much of its success to the excellent sets by The Quay Brothers and the sensational costumes by Nicky Gillibrand."
John Percival in his review in The Stage says, "Absolutely brilliant are the Quay Brothers' settings, objects which transform almost miraculously from one purpose to another."
You can see about 2 minutes of the rehearsal here.
______________________________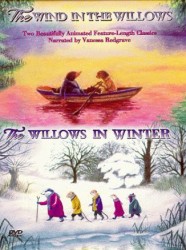 Last night STARZ ran the
Dave Unwin
directed version of
The Wind In The Willows
. This was a beautifully animated feature version done in 1995 and followed up by
The Willows In Winter
. Mr. Unwin had directed a number of the films produced by
John Coates
at
TVC London
.
It's unfortunate that this company folded in 1997 after producing the stunningly beautiful Beatrix Potter series. They were one of the few dependable production companies out there. Coates had been one of the founders along with George Dunning. He was also one of the producers of The Yellow Submarine. After Dunning died, Coates carried the studio into a wholly new future.
Alan Bennett voiced the Mole in both of these shows. He had written a play adaptation of the book at about the same time and appeared in his own play as the Mole. There have many and varied versions of the Kenneth Grahame book. (If you haven't read this book, or haven't read it in a while, I suggest you do. It's one of the greats. There can be no wonder that there are so many adaptations.)
______________________________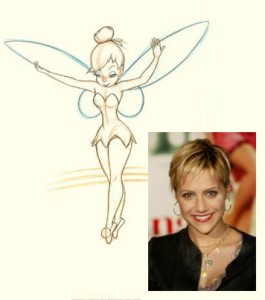 -
Brittany Murphy
, voice of Luanne in
King of the Hill
and Gloria in
Happy Feet
will soon be the voice of Tinkerbell. The character was designed by the author
J.M. Barrie
to be silent and captured that way in animation – for the past fifty years – by the
MASTERS
at Disney.
Now she'll talk, she'll be redesigned as a MoCap character, and it sounds like she'll look a bit like her new voice. Here's a bit of an interview with Murphy:
"One of the oddest happy things I've seen in my life was seeing this face that I was raised with and this feisty personality, which is the character of Tink, who is an icon, with my voice coming out of her mouth," Murphy said. "And she looks how we all know she looks, but she has my facial expressions. That was very odd to see. All of a sudden her eyes grow to half of her face. She does little things that I do, and, really, it's very strange."
Strange, indeed.
5 Responses to "Quay Bros In The Willows & Tinker w/Tinkerbell"
Leave a Reply