Animation Artifacts &Daily post 15 Jan 2007 08:59 am
- Back in the mid-Fifties, a young boy, I was a fan of several people in the Disney studio. Like any kid who was a fan 3000 miles from a movie studio, I sent fan letters to my stars. Eyvind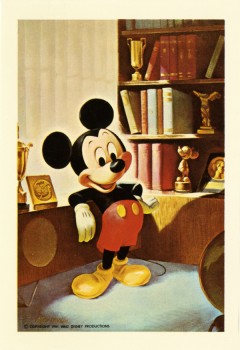 Earle, Joshua Meador, Marc Davis and others received my kid fan mail. Maybe once every four or five months I'd send off another letter.
I started getting postcards back from what I presume was the mailroom at the studio. Just as Lana Turner would have sent back an 8×10 glossy with a signature by someone, the Disney studio sent out postcards.
Somehow, none of these were saved. I recently found one such card on ebay and sucked it for memorabilia's sake. This card, to the left, is smaller than the ones originally sent out, but the picture's the same. I remember one which was very different. It must have had fifty characters in it – a lot of the feature characters (somehow I remember Brer Rabbit) – were set within drawn frames and gathered on this card. That's right, about fifty frames on a little card – maybe 5×7 – so all the characters were small. Just right for a kid's small hands.
.
(Click on images to enlarge.)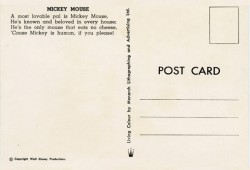 There was always some innocuous writing on the back of the card. "Best wishes from Walt Disney," or some such phrase. After the first card, I lost interest in the printed signature. Anyway, I had sent my letter to Ward Kimball; why did Disney sign it!
My favorite return was something I'd gotten from a letter sent to Joshua Meador.
Aside from the postcard there was a xerox copy of an article written in 1933. "The History of the Animated Cartoon" by Earl Thieson was written for the journal of the Society of Motion Picture Engineers. A nicely printed copy of the article was sent to me anonymously. It took a while to see that the document was written so early and excluded 2/3 of the history of animation that I knew. It made me feel that my one fan letter had hit home and was read by someone other than the studio gate guard.
___________________________
- Yesterday, the New York Times featured an article about comic strip collectors and shows how some individuals are helping to save a medium that is in danger of dying. Gasoline Alley serves as the example of strips that are kept alive by these fans. You can purchase volumes of Gasoline Alley from Drawn and Quarterly or Amazon.
4 Responses to "A Bit of History"
Leave a Reply