Daily post &SpornFilms 31 Jan 2007 08:18 am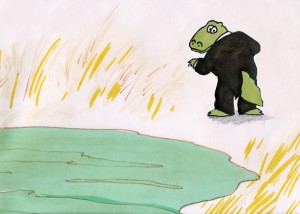 - Yesterday I pointed to some Casper shorts on line. I was amused to find two of my old Sesame Street spots on YouTube.
Chicken Crossing here.
Crocodile Smiles here.
I did both of these after just starting my company. These are two of the first three spots I produced for Sesame Street. I think they were done in 1982. Edith Zornow was the genius at Sesame Street who did magnificent work with all the different animators. For the longest time, I considered her my guardian angel. Just when business had gotten at its worst, she would call out of the blue with a half dozen spots to do. I had lots of freedom in all of them and really learned my business doing them. She died in 1991, and I still miss her.
Maxine Fisher wrote lyrics and stories for both of these spots (and about 30 more.)
Chicken Crossing has a funny soundtrack that Harrison Fisher put together for me.
Crocodile Smiles has a great score by Ernest Troost. He mimicked grand opera as if it were recorded in 1936, and it's hilarious. Ernest and I have teamed up many times; I'm a big fan.
___________________________________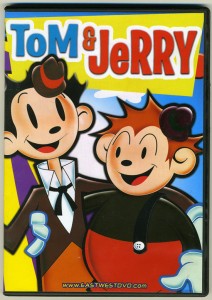 - Animator, Larry Ruppel brought an interesting little find to me last week. When we met after the panel session at the Museum of the Moving Image, he showed me three dvd's (one of them is pictured here.)
Apparently, some of the stores, called generically "99 cent stores," have been selling some interesting video finds. I'm going to quote Larry who sent me a follow-up letter:
you have to be careful and only get either the "Cartoon Craze" series from Digiview Productions (these are the best – they have a great Superman series as well), or from East West Entertainment.

It's quite a crappy minefield in the 99 cent DVD world, you really have to be careful. Felix and Popeye cartoons are most likely their 60′s TV incarnations – always check the titles.

I always treat my search as a treasure hunt. You never know what you'll
find.
There are two links with information that Larry sent me, and they're worth sharing. Accelerated Decripitude and Community Live Journal which gives titles.
If your local community doesn't have a "99 cent store," check out Walmart. Apparently a lot of these can also be found there.
Talk about Happy Feet. Here are some frame grabs from the first of the Van Buren shorts on this "Tom & Jerry" dvd:
2 Responses to "Cheep, cheep, cheap"
on 31 Jan 2007 at 8:46 am 1.Rudy Agresta said …

Hi Michael,

Your SESAME STREET animations are charming. It's refreshing to see such beautifully animated spots. The craftsmanship is so magnificently evident – the same that is lacking in today's computer generated fare. Keep the splog going, it's the best!

Rudy Agresta
Leave a Reply