Animation Artifacts &Luzzati & Gianini 03 Feb 2007 08:27 am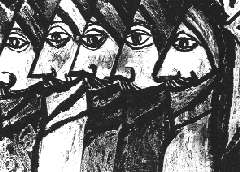 Emanuele Luzzati has died. He was the brilliant Italian designer, who worked with Giulio Gianini in creating some wonderful animated cut-out films.
Their films adapted operatic overtures in reworking the operas themselves. The two were nominated for the Oscar for "The Thieving Magpie," done in 1965 an interpretation of Rossini's opera and again in 1973 for "Pulcinella."
Luzzati died Jan. 26th, 2007 on the way home from work. He collapsed just outside his home. He hadn't been ill prior to this. He spoke on the phone with Giulio Gianini, who has been very ill for some time, that very morning.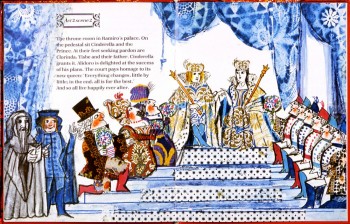 Luzzati designed sets and costumes for stage productions and operas, including the 1963 production he designed for Mozart's "The Magic Flute." Fifteen years later he turned the opera into an animated feature that remains one of his most famous works.
He's illustrated and written quite a few books. See this list on Amazon.
(Above: an image from his children's book, Cinderella.)
The only Obituary I've seen for him was this one for the AP. It does give rather complete details of his life and work. AP Obituary.
______________
I got to meet Mr. Luzzati years ago at a function given by the Italian Embassy in his honor. He signed a copy of his book by drawing a beautiful drawing for me (which is currently in storage). Someday I'll post it.
As someone who loves the combination of animation with music, I have long had an enormous fondness for the works of Luzzati and Gianini. It was an honor to have met him and I continue to appreciate his films. My regret his never having seen one of the many operas he designed.
His work is wildly colorful and beautifully designed. I wish I had on hand some of his images in color. I will have some images later this week and will post them. It's amazing how little there is about him on line.
You can get a bit more information about Luzzati and Gianini from the website to the Luzzati Museum.
6 Responses to "Emanuele Luzzati"
Leave a Reply