Animation Artifacts &Articles on Animation &Hubley &Independent Animation &John Canemaker 16 Jun 2013 04:53 am
This article by John Canemaker is, to me, one of the most important pieces I've ever posted. I want to continue to give it some fresh air time, and I think today's the day to post it anew. It's one of the great articles ever printed in Print Magazine and a brilliant piece of historic recreation by John Canemaker. I've read it a couple dozen times, and am about to read it again, now. (Yesterday, I heard Duke Ellington perform "Tenderly" on the radio and that was enough to prompt me to repost it. I'd intimately known the Oscar Peterson/Ella Fitzgerald version of the song. Here was Ellington's version which literally took the song apart and reconstructed it. Art was performed in front of me thanks to local radio.)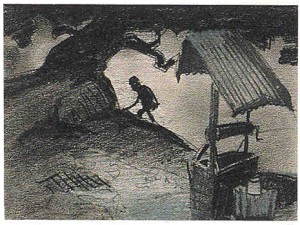 - A treasure of a piece, John Canemaker wrote an article for the March/April 1993 edition of Print magazine an article about Finian's Rainbow. This was an animated feature well under way in 1953 to be directed by John Hubley. It was to be an adaptation of the successful Broadway musical by Burton Lane and E.Y. Harburg. The film about racism twisted into a fantasy story about love and leprechauns would have been the first official adult film done by a team of brilliant animation artists. The soundtrack would have featured songs sung by Frank Sinatra, Ella Fitzgerald, Louis Armstrong, Oscar Peterson and Jim Backus.
I remember hearing stories about animation in production at the Bill Tytla studio, with Tytla animating on it. In Hollywood, Art Babbitt and Bill Littlejohn were animating, with Paul Julian, Aurelius Battaglia and Gregorio Prestipino art directing. Maurice Binder had assembled a LEICA reel.
Senator Joseph R McCarthy and the HUAC investigation brought the entire project down to ground and set back the history of animation some 30 years.
John Canemaker has generously allowed me to post this article again; I wanted to celebrate the artist and director,John Hubley.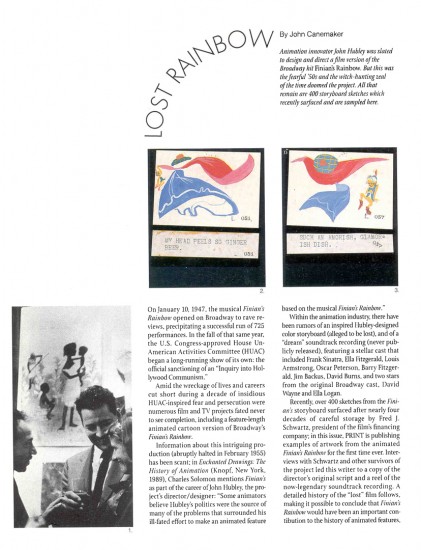 1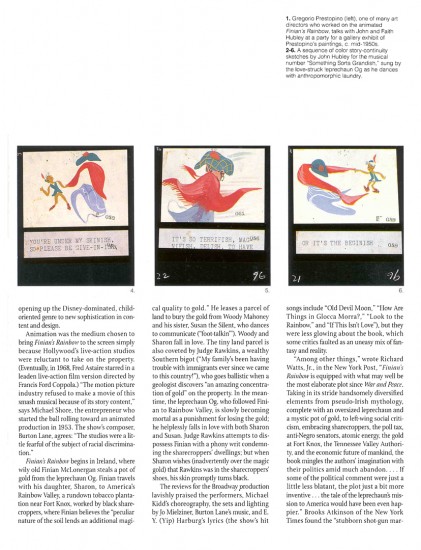 2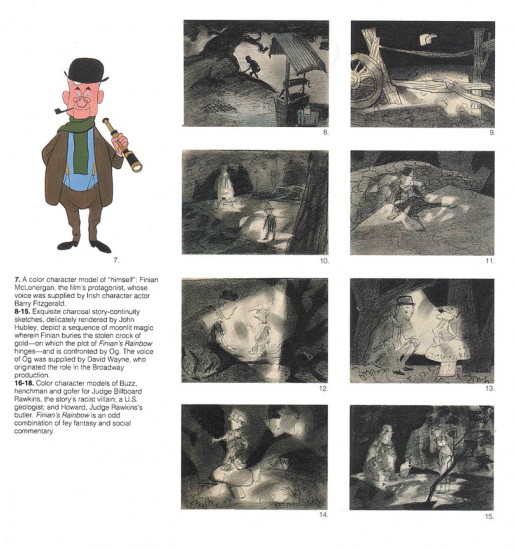 3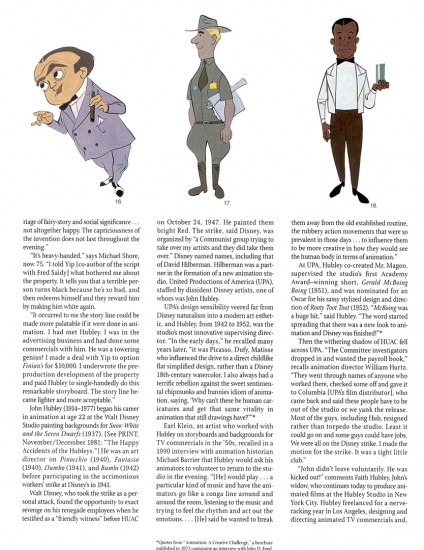 4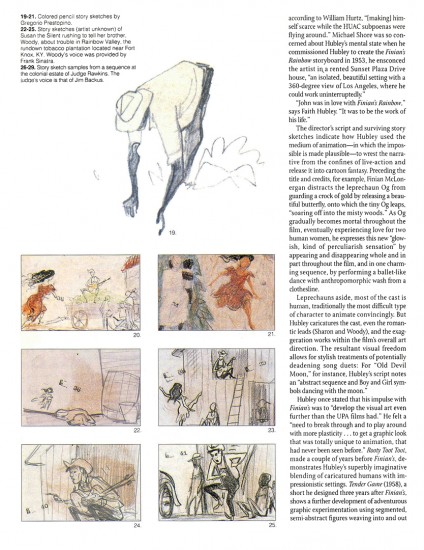 5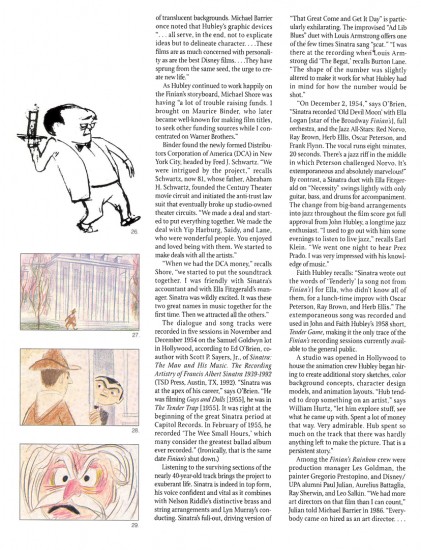 6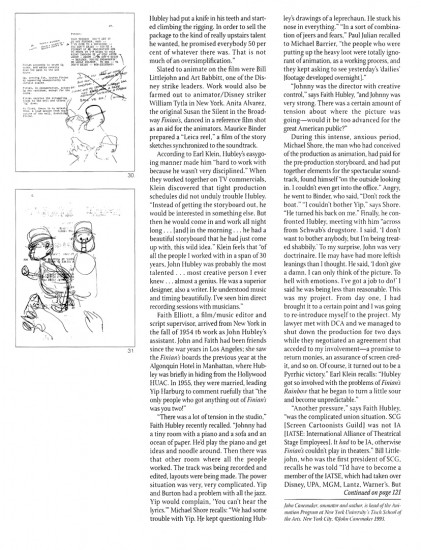 7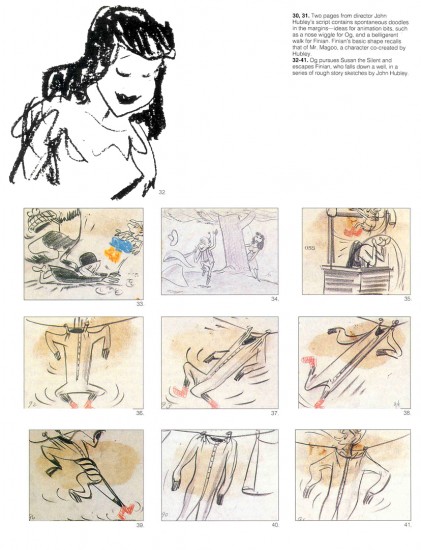 8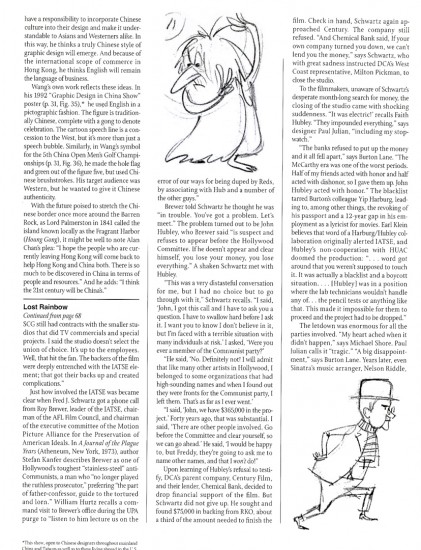 9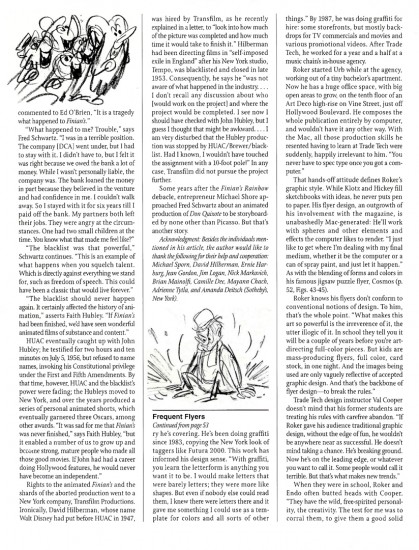 10

The story told to me by several people came most faithfully from Jim Logan, a long-time Asst. Animator working for Bill Tytla and sitting at a desk nearest Tytla's office. Within his office there was a wall of mirrors. Tytla was in the middle of a hand out of a scene from Finian's Rainbow. He was acting as an animation director for Hubley. He wanted the animator to practice the dance steps with him in front of the mirror. The animator was embarrassed to be asked to roll up his pants legs so he could better see how the move should animate.
Tytla was in his element. This was the first time since he'd left Disney's that he was really being asked to do animation, get animation out of his staff for this eccentric and thoroughly adult animated feature. It was about Racism in 1956, and it was a serious attempt to do something serious and political and funny – all at the same time. Within days the animated scene had been collected by the producers who lost all their financing because of a ridiculous anti-communist comment thrown Tytla's way. Tytla wasn't the only one who lost; Hubley did as well. As a matter of fact, the entire industry lost. A second rate journalist made easy accusations, and the only thing to be done was to shut the production down.
Years later a young Francis Ford Coppola directed a young Petulia Clark with another Brit, song and dance man, Tommy Steele, playing the mischievous leprechaun. Needless to say, that film is a minor effort from Coppola's resume.
4 Responses to "Finian's Rainbow"
Leave a Reply