Animation Artifacts 22 Feb 2007 08:01 am
- To me, Lewis Carroll's nonsense poem, Jabberwocky, is one of the most brilliant pieces ever written. It's always been important to me, and I've collected many versions of it in illustrated versions. Now that I mention it, let me confess that I'm a Lewis Carroll addict, and Jabberwocky is one of my favorites among his many poems.
In film, you have the one live action feature by Terry Gilliam; it's a good film with a clunky monster in the end. In animation, professionally, I know of only two versions completed. One was by Jan Svankmajer done in 1974. I did a version of it in 1989. Mine, of course, sticks closer to the poem even though it is pretty "arty".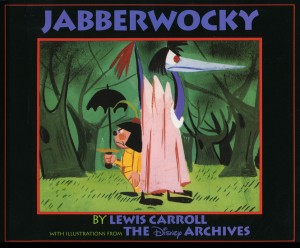 Apparently, there was also a version Disney was preparing as part of Alice In Wonderland. A book was published, credited to the "Disney Archives," with illustrations from the preparatory drawings of this sequence. It's obvious that the final versions of these drawings were done by one person, but there's no record in the book of who did the finals.
I'm not in love with the images in the book. I like the technique used, but I find the images too cute. Though, it's amazing how current they look.
(Click on any image to enlarge.)
I'm going to give you a number of the book's pages today and, in comparison, will follow it up with images from my version tomorrow.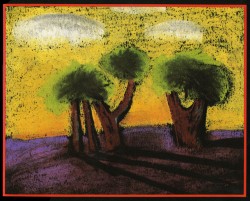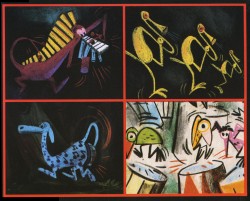 'Twas brillig and the slithy toves
Did gyre and gimble in the wabe;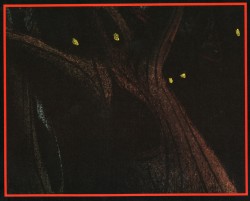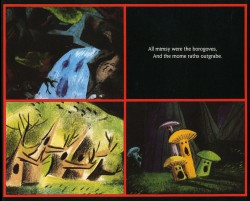 All mimsy were the borogoves,
And the mome raths outgrabe.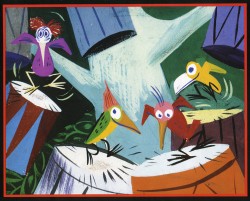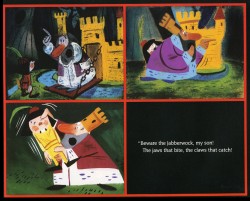 "Beware the Jabberwock, my son!
The jaws that bite, the claws that catch!"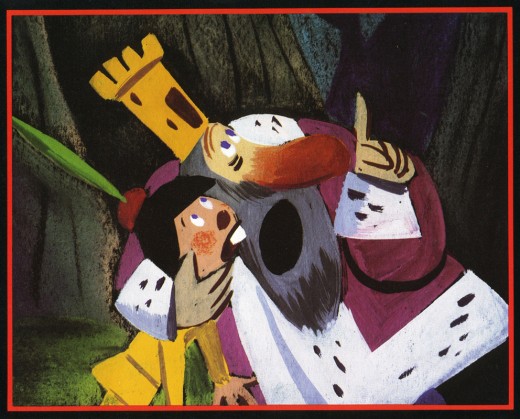 "Beware the Jubjub bird, and shun
The frumious Bandersnatch!"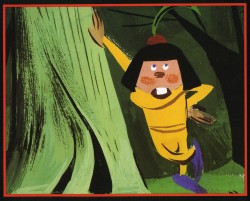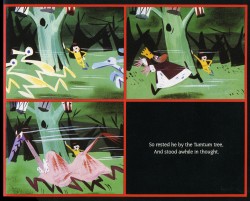 He took his vorpal sword in hand;
Long time the manxome foe he sought -
So rested he by the Tumtum tree
And stood awhile in thought.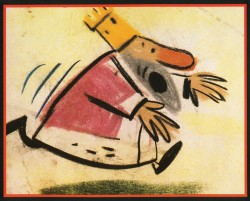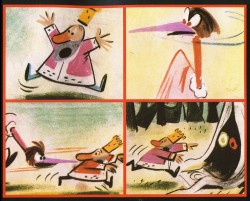 And as in uffish thought he stood,
The Jabberwock, with eyes of flame,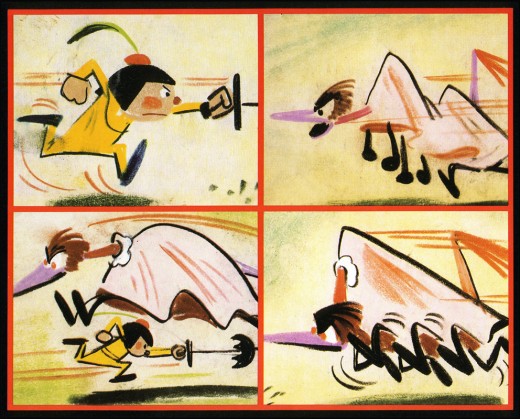 Came whiffling through the tulgey wood,
And burbled as it came!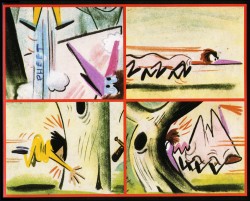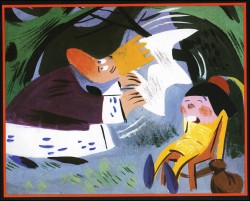 One, two! One, two! And through and through
The vorpal blade went snicker-snack!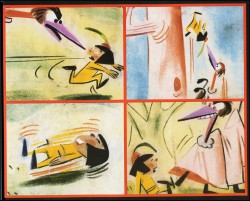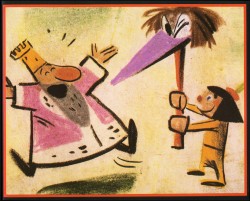 He left it dead, and with its head
He went galumphing back.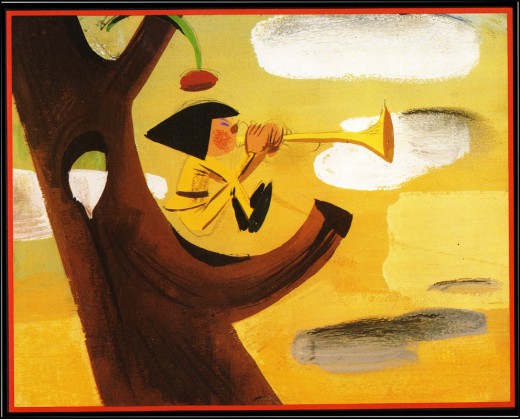 "And hast thou slain the Jabberwock?
Come to my arms, my beamish boy!
O frabjous day! Callooh! Callay!"
He chortled in his joy.
Jim Hill talks a bit about this book on his site in a letter response. here.
For amusement, you might check out this site for translations of this poem into 58 other languages, 23 parodies of the poem, and 10 explanations trying to define what Carroll meant by it.
Tomorrow, I'll post images from a version I did.
5 Responses to "Jabberwocky 1"
Leave a Reply