Animation &Commentary &UPA 25 Feb 2007 09:54 am
- Mike Barrier had something interesting to say on his site, and this was compounded by Hans Perk's response on his site. I've thought about it all yesterday into this morning.
Mike pointed out the Hans was posting the Drafts for Pinocchio on his site, A Film LA. Of course, Barrier was pleased about this but wondered how much it was appreciated. He said that he found the response to some Song of the South drafts he'd posted last September
(pg 1, pg 2, pg 3, pg 4, pg 5, pg 6, pg 7, pg 8, pg 9, pg 10) brought little response to it.
The amount of work that goes into scanning and posting these things is enormous, I can assure you, and it's disappointing when there doesn't seem to be much of reaction in the community.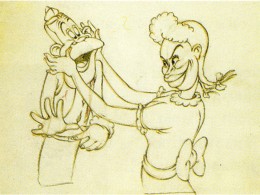 I immediately jumped to Hans' site to see his response. Hans has been posting many of the Disney Drafts. Everything from Mother Goose Goes Hollywood to The Band Concert to . . . well, Pinocchio.
Hans pointed out that not only was he disappointed at some of the reaction of these drafts but even more so when he places some of the notes for the Action Analysis classes from the 30′s Disney studio. The silence gets to be deafening. He questioned whether there's a lack of interest in how to best improve the quality of animation – even in the 3D business – without the knowledge of those who came before us.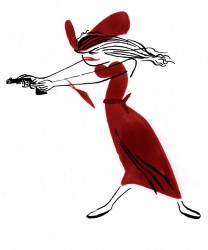 I had an amazing advantage coming along at the time I did and receiving some of the breaks I had. Of course, I wasn't just searching for a job. This was always going to be my life. Getting a job working for and with my hero, John Hubley, at that developmental stage of my career, allowed me to ask questions and get a significant response. I knew not to bother him about history. (Disney and UPA were sore spots for John, and I stayed clear of the subject. The one time I mentioned it was after seeing Rooty Toot Toot for the first time, and, having been blown away by the film, mentioned it the next morning telling John what an amazing work it was. His response was to say, "Do you think so?" and leave the room. He wanted no conversation about it.)
(Thanks to Cartoon Modern for this model.)
.
So, I would gather several questions and rework them so that in asking one good question, it would solve several for me. John always gave good answers to every question about the work, and I learned a hell of a lot.
But most people didn't have access to John Hubley (or, in my career, Tissa David, Dick Williams, Art Babbitt or a dozen other brilliant people.) But there are these lecture notes from the Disney studio. And there are the Drafts where we can study the films, analyze who did what, and really get to know the significant difference between animators.
Mark Mayerson uses Hans' Drafts to create these brilliant Mosaics on his site. He makes the work easier for us; we don't even have to look at the film – it's all layed out for us.
And then these scenes show up on YouTube somewhere else. You don't even have to buy the films to see many of them. The Drafts Mike Barrier posted for Song of the South immediately turned up on Thad Komorowski's Animation ID site. (Disney, of course, removed it for copyright infringement, but it was there as was the opportunity to see it for a short bit.)
Basically, what all this rambling comes down to is that there's so much out there. There's so much to learn, and there's so much opportunity to learn it. I love Tissa David, who I like to call my mentor. She is one of the great animators, trust me, and in her mid eighties she's still animating. She says that she still has a lot to learn. If she feels that, imagine how I feel. Imagine how we all should feel.
Yet, there's this incredible new tool out there – the internet. It gives us so much material and with sites like Mike's and Hans' and Mark's and others (like most of those listed to the right of this post) we just have no excuse for all the bad animation out there. Get to work people; we're all watching.
__________________________
Hans points out in his commentary, that not publishing pictures probably gets less attention. Hence there are some pictures here.
__________________________
The Oscars are tonight. I don't like most of the animation choices.
For animated feature I see only one nominee that's been animated, Cars. And I wasn't crazy about that film. The animation was excellent in places, but conceptually the film's a wreck.
For animated short, I didn't think most of the films were good, never mind great. I voted for The Danish Poet since it was the only one that really told an adult story. It was a cheap gag or a sophmoric attempt at filmmaking. (Really, students have told many of these same stories without spending the wads of cash on them.) You all know my favorite was Joanna Quinn's film. That got my Oscar.
6 Responses to "There's So Much Out There"
Leave a Reply