Daily post 26 Feb 2007 09:21 am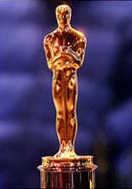 - I enjoyed last night's Oscar ceremony. Ellen Degeneris brought an amiability to the procedings that made it entertaining. Despite my heated comments about the Animation nominees, I was, overall, generally pleased with the Live Action choices. The winners were a better mix for my taste.
The Lives of Others was certainly one of the best films of the year, and it was pleasing to see that win for Best Foreign Film over the overheated and, in my opinion, overrated Pans Labyrinth. If you have the opportunity seek out this German film; it's intelligent, exciting and arresting.
I was pleased that Forest Whitaker had written such a noble speech after being so tongue-tied at the Golden Globes. Unfortunately, Helen Mirren rewrote her speech after winning so many, and the joke – if it was one – didn't work. Alan Arkin is a treasure, so it was great seeing him win. Eddie Murphy can make Norbit II, and doesn't lose much by not winning for his fine performance.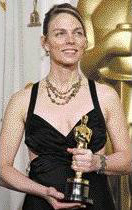 To animation: Happy Feet beat out Monster House and the only animated feature nominated, Cars. This is the first MoCap film to have won an Oscar for that "Special Effect." It's impossible now for them to separate this program driven "animation" out of the category, and before long all of the nominated films will be "Performance" capture rather than animation.
It is an effect, and we get to see a non-animator like George Miller accept his Oscar for "Animation." Perhaps, Robert Zemeckis will win for Beowulf next year.
At least, Torill Kove won the award for Best Animated Short with The Danish Poet. When I first saw the film, I was pleased to hear Sigrid Undset's name show up in animated cartoon! It gave me hope that literacy wasn't completely dead; now, this film gives me hope that 2D isn't completely gone – yet. Perhaps, the people at Disney in conjunction with Robert Zemeckis, can take care of that as they build their ultra-high-tech new facility to create "Performance" capture films. (Sorry, I'm being too sarcastic even for myself.)
Congratulations to Torill Kove and the NFB; I am very pleased that the best nominated film in this category won.
2 Responses to "Oscartime"
on 26 Feb 2007 at 11:25 am 1.Michael said …

Somehow I accidentally deleted Han Perk's comment with all the Spam received.
Sorry Hans

He said to take my quote and add a "Me, too!" there.

on 26 Feb 2007 at 2:02 pm 2.Hans Perk said …

Yes, "Me, too!" on the thank you to Hans Bacher et al. comments on the previous posting!
Leave a Reply