SpornFilms 02 Mar 2007 09:23 am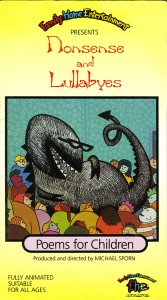 – Jason McDonald is an artist who started with me as a runner. Over the course of a couple of years, he worked his way up through inking, painting and coloring. He was very energetic and not at all pushy. I kept watch on his personal artwork that he'd show. His drawing style was so eccentric and charming that by the time a pair of low-budget films animating poetry – nursery ryhmes & children's poems – I gave him the task of designing and boarding the films.
This Sunday I want to show off some of the images from this film, hence it made sense to give samples of his storyboard today.
This is his first real boarding job – two half hour films. I encouraged him to have fun and asked him to put in all camera move & cutting suggestions. I took some and discarded others.
I was able to get a handful of celebrities to read the poems: Linda Hunt, Eli Wallach, Courtney Vance, Karen Allen and mixed in a couple of studio regulars Heidi Stallings, Phillip Schopper to read others. One child I got was Grace Johnston. She was Barbara Hershey's daughter in the film Beaches. What an actress she was; I had great fun working with her and cast her to do a couple more films for me.
These two poetry films went through our studio within three months. Jason took two weeks for the boards. We had an absolute smash doing them. It was fun from start to finish.
No money, but fun.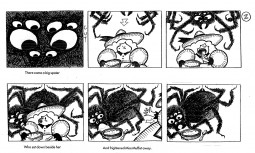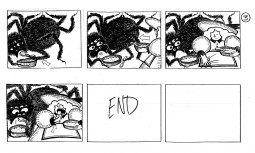 One of the films was made up of Nursery Rhymes: Mother Goose and the like. It was great seeing the take Jason would have on some of these poems. His style was very animatable. At the beginning, though, he didn't always know how to communicate some of the elaborate camera moves in his head.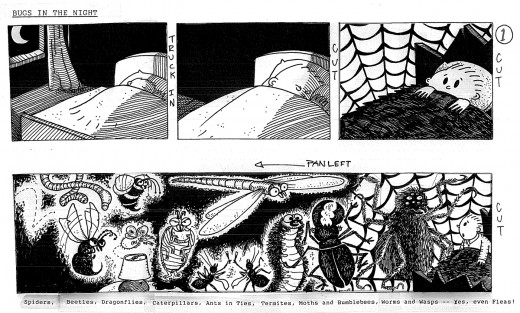 The other video was made up of poems by some famous authors. Robert Louis Stevenson, Jack Prelutsky et. al. Since we had to pay for the rights to these poems, I coaxed my writer, Maxine Fisher, to write a couple of poems. This one was inspired by a dream her brother had had, and it made for a funny piece.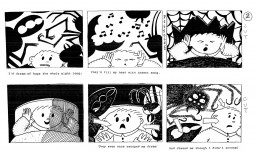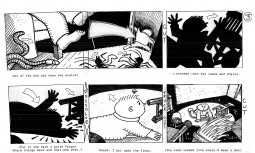 Jason is an action-adventure fan, so he was able to put some that into this piece with giant bugs chasing the boy everywhere.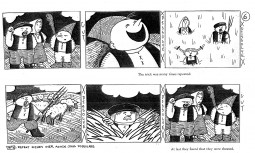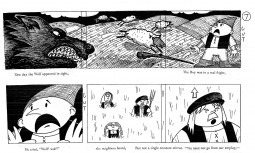 One of the longest poems ran about 4 mins. It was a version of The Boy Who Cried Wolf. It felt like I was forever animating villagers running back and forth. Because of the style we decided on, I animated the piece with a black Sharpie pen. Lots of ink bleeding through the animation paper; I had to have a two levels of paper over the last drawing.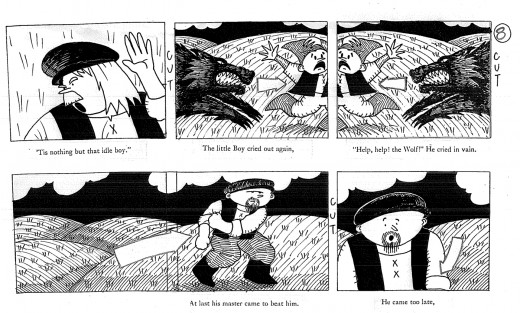 Ultimately the piece turned out well. It looked different than many of the other pieces in the show.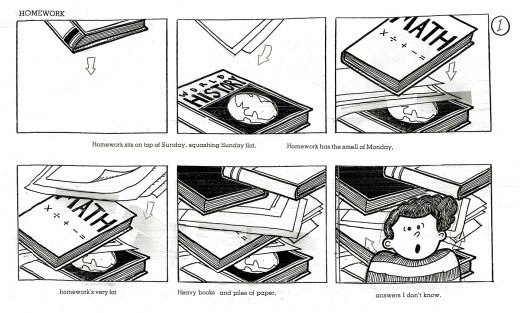 Russell Hoban is one of my favorite authors. Animation fans may know him from The Mouse and His Child, a brilliant book he wrote. (The best part of that film is his invention, and they only use 2/3 of the book!) He'd also authored The Marzipan Pig which I produced.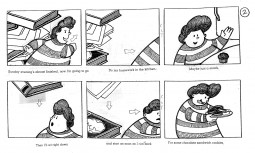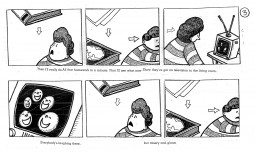 We bought the rights to several poems by Hoban. Each and every one excellent stories done economically with humor.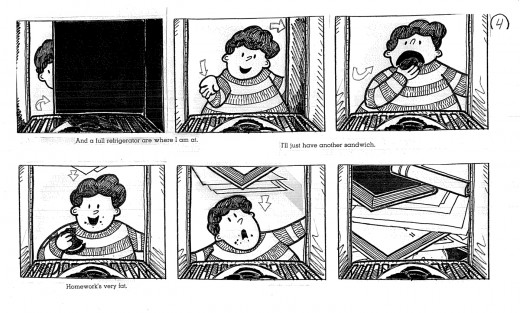 The soundtrack by Caleb Sampson required a full hour's worth of music and several songs. With so many short pieces there was a lot of writing for him; each piece came with its own meter that Caleb had to lock into and he couldn't fight the words of the poems. It was a tough job that never seemed to have been a challenge to him. At least, he never complained to me.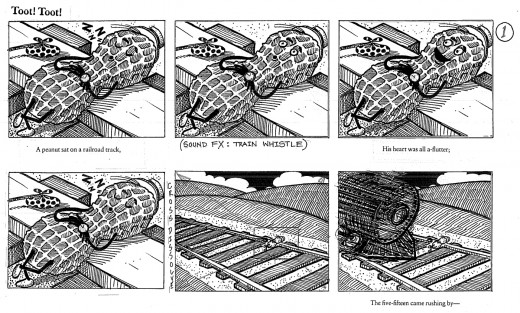 One of my favorite pieces was this less-than-a-minute poem, "Toot! Toot!"
Yvette Kaplan's son, Randy, read it for me. I think he was eight or ten at the time. His reading never fails to make me smile.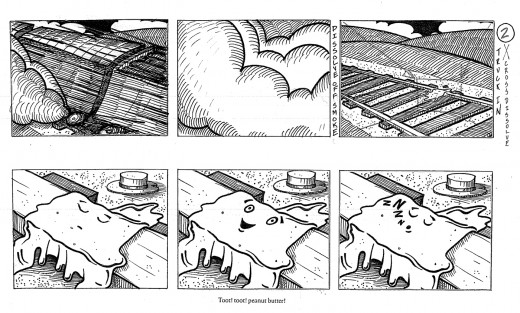 This was a last minute addition, and it went smoothly, just like every other part of these films. I wish I had more of these projects to work on; all my days would be happy.
One Response to "Nonsense and Lullabyes (sic)"
on 02 Mar 2007 at 10:59 am 1.R.Dress said …

These are fantastic boards. Great line work.
I had the privilege to work with Jason on a hand full of TV pre-production jobs in NYC. Great guy, Supper talented.
Leave a Reply