Animation &Animation Artifacts &Articles on Animation &Commentary &commercial animation &Independent Animation &Layout & Design 22 Jun 2013 05:13 am
A number of years ago I'd made a short trip to LA. During that visit, a man came up to introduce himself. It was John Wilson. He told me that he had just nominated me for an ASIFA Hollywood Award because he'd loved my work. I'd learned so much from watching Mr. Wilson's films that it was wonderful to see that the mutual admiration society ran both ways.
John Wilson died yesterday. His son, Andrew, wrote to tell me of it. My feelings go out to the family and am enormously sorry that animation loses another one of its masters.
He was a director, designer and animator about whom I'd done a series of posts on his career. Out of respect for Mr. Wilson, I'd like to post all of those articles together (and hold them there for the entire weekend.)
Hope you'll enjoy.
1.
Let me start by sharing some bio information about John Wilson and his company Fine Arts Films.
- John Wilson was born in Wimbledon in 1920. He attended the Royal College of Art and was working by age 18 as a commercial artist with Willings Press Service. In WWII he served with the London Rifle Brigade in African where he was seriously wounded. Recuperating in hospital, he drew many cartoons of which several were printed. Eventually he would recover and get work at Pinewood Studios in the art department where he worked on GREAT EXPECTATIONS and THE THIEF OF BAGHDAD, among other films.
By the time he was 25, he was working in animation at Gaumont-British Animation, a newly formed division of J. Arthur Rank's studio, working under the direction of David Hand on the "Animaland" series starring "Ginger Nut."
In 1950 he moved to the United States working in layout and animation at UPA. He found himself working with Bobe Cannon, Pete Burness, Jules Engel, and Paul Julian. Eventually he left for the Disney studio working in Les Clark's 'Tinkerbell' unit on PETER PAN and with Ward Kimball on TOOT WHISTLE PLUNK & BOOM.
He tried to sell Disney on the film Tara, the Stonecutter, but they weren't interested. He completed it himself in 1955 using a Japanese style to tell the story. Wilson was impressed with the UPA style of modern art in animation, and that's the route he took for his personal film. Thus his studio was born, called Fine Arts Films, in 1955. Tara had some success playing theatrically with the successful Japanese feature film, GATE OF HELL by Kinugasa (which had won the Oscar for Best Foreign Film.)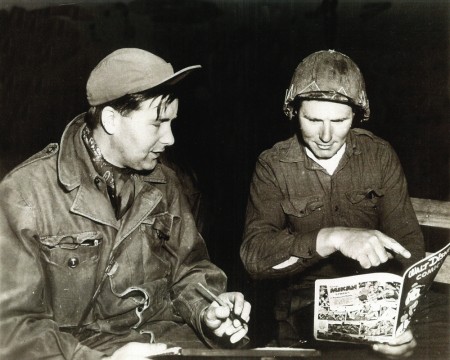 Wilson in Korea with the Bob Hope Tour to entertain the troops.
This film led to his producing a verion of Stravinsky's Petroushka for NBC which aired in 1956 as part of The Sol Hurok Music Hour. Notably, Stravinsky, himself, arranged and conducted the shortened version of the score suing the LA Philharmonic Orchestra. The film was designed by John Wilson and Dean Spille with anmation by Bill Littlejohn, Art Davis, and Phil Monroe. Chris Jenkyns, Dean Spille and Ed DeMattia designed the 16 minute show from Wilson's storyboard.
Fine Arts Films had produced 'Journey to the Stars', a project for the 1961 World's Fair, an animated voyage through space for NASA, which was seen in 70 mm Cinerama by ten million visitors to Seattle.
Billy Wilder employed Wilson to do the titles for Irma La Douce after which they did a six-minute trailer for this Jack Lemmon, Shirley McLaine feature. It was all about Parisian prostitutes romping about in Montmartre, and animation could apparently make it acceptable. Artists Ron Maidenberg, Sam Weiss, Sam Cornell and Bob Curtis caught the vivid nightlife of Paris in a sexually charged animated short. It was a huge success in promoting the feature.
In 1970 Wilson flew to Chicago to see Carol Channing and Eddie Bracken appearing in "archy and mehitabel in Shinbone Alley". On the basis of this theatrical musical, Wilson bought the screen rights to the book "archy and mehitabel" by George Herriman and began work on an animated feature which was released by Allied Artists in 1971.
Fine Arts Films was also responsible for many animated commercials as well as weekly music video segments for the weekly CBS-TV series "The Sonny and Cher Show." The songs included Joni Mitchell's "Big Yellow Taxi" and Jim Croce's "Leroy Brown."
Here are some storyboard sketches by John Wilson for his initial short film, Tara, the Stonecutter. This film started it all for Wilson.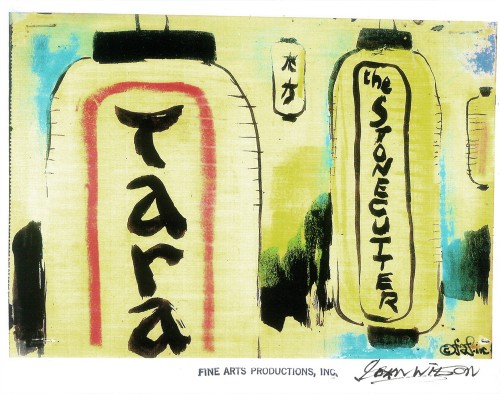 1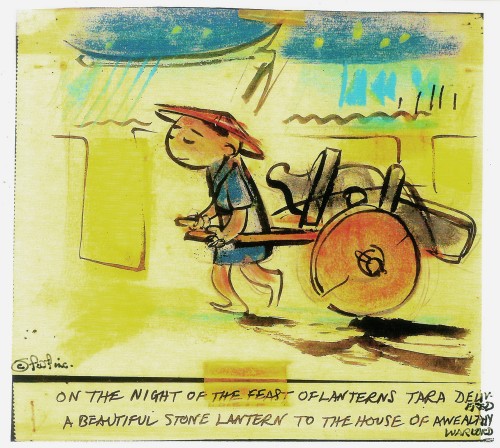 2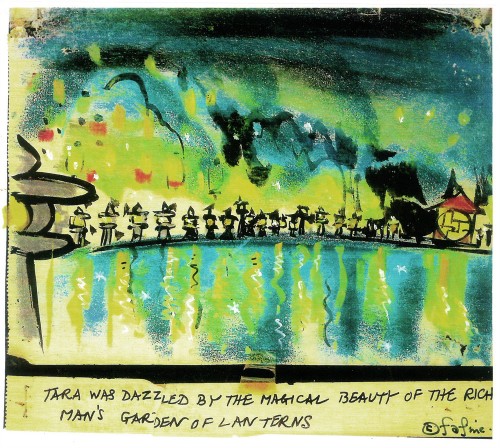 3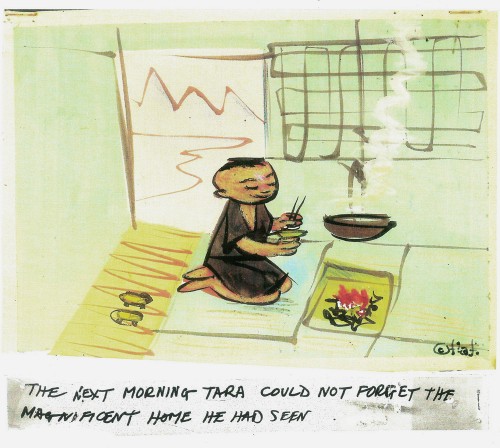 4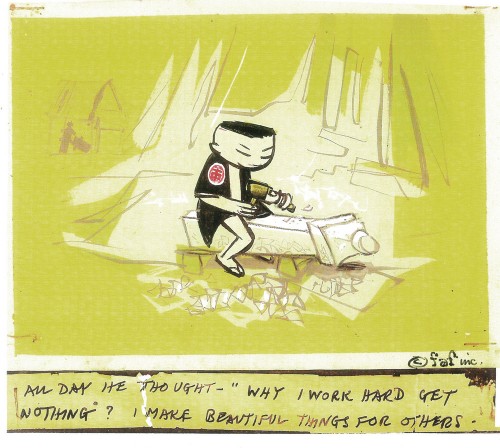 5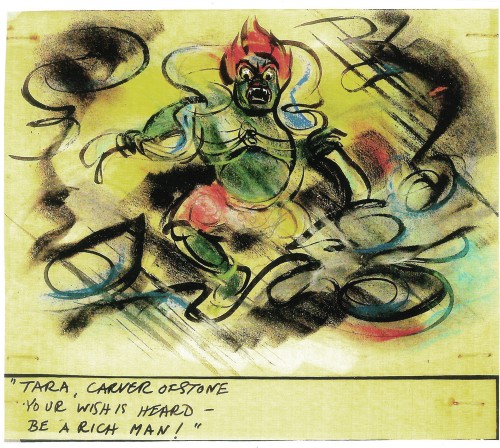 6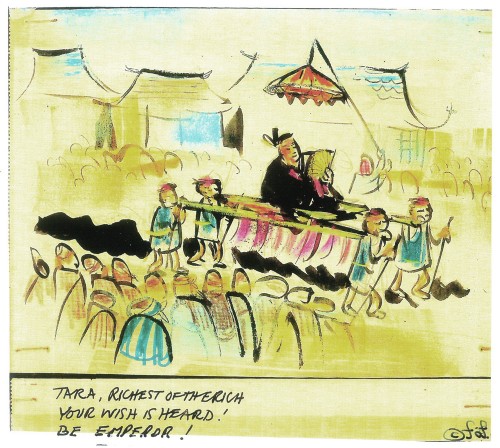 7

I haven't seen the finished film, but I understand that Japanese decorative papers were used in the backgrounds and costumes of the characters.
Here are two press clippings for this film from California papers.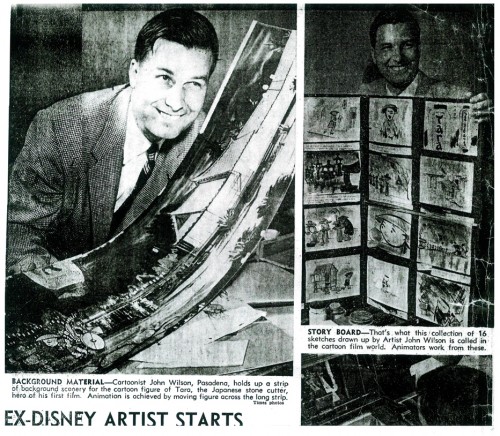 (Click any image to enlarge.)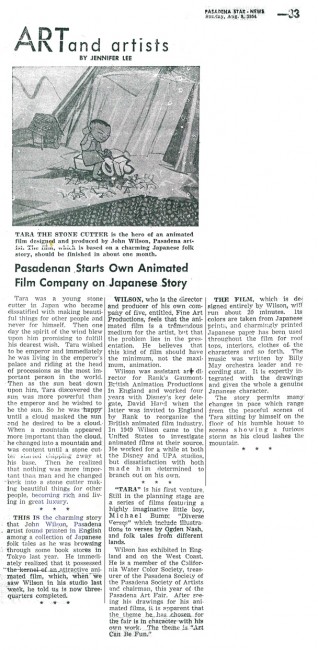 2.
- After completing the film, Tara the Stone Cutter in 1955, John Wilson and his newly formed company,Fine Arts Films, was able to sell the idea of an animated version of Stravinsky's Petroushka to NBC. They aired the 16 min. film in 1956 as part of The Sol Hurok Music Hour. Stravinsky, himself, arranged and conducted the shortened version of the score using the LA Philharmonic Orchestra.
The film was designed by John Wilson and Dean Spille; animation was done by Bill Littlejohn, Art Davis, and Phil Monroe. Chris Jenkyns, Dean Spille and Ed DeMattia designed the show from Wilson's storyboard. This is considered the first animated Special ever to air on TV.
Here are some stills from that film and its artwork.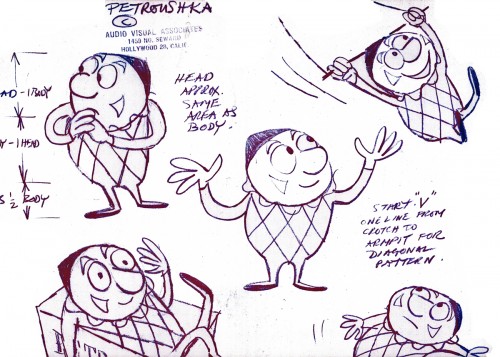 1
Petroushka – model 1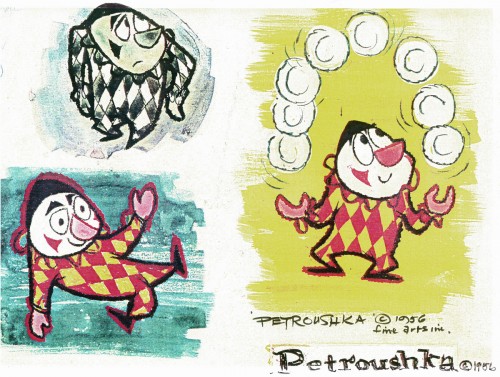 2
Petroushka – model 2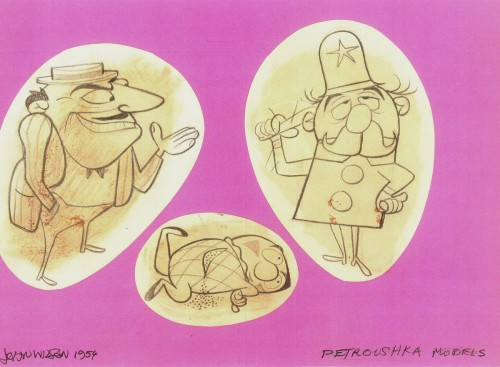 3
Petroushka – model 3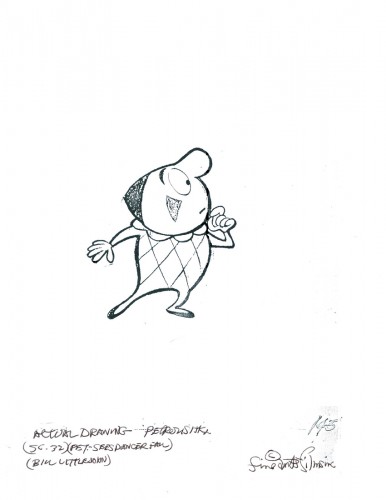 4
Bill Littlejohn drawing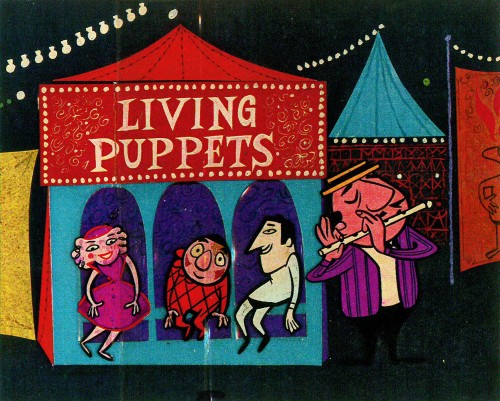 5
film still #1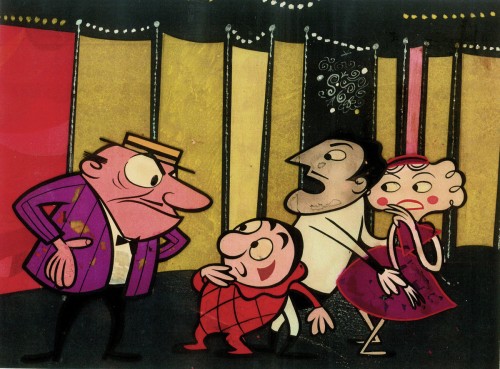 6
film still #2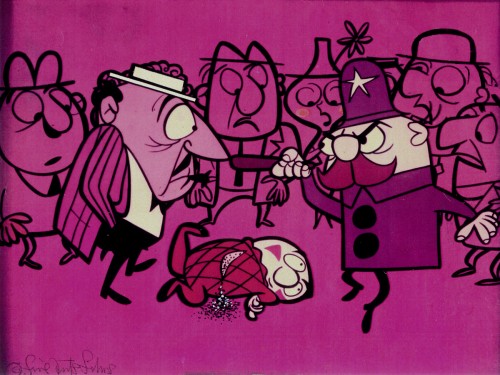 7
film still #3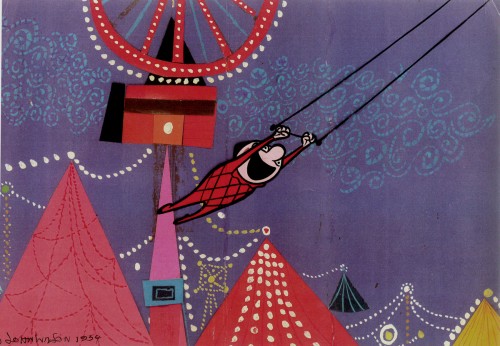 8
film still #4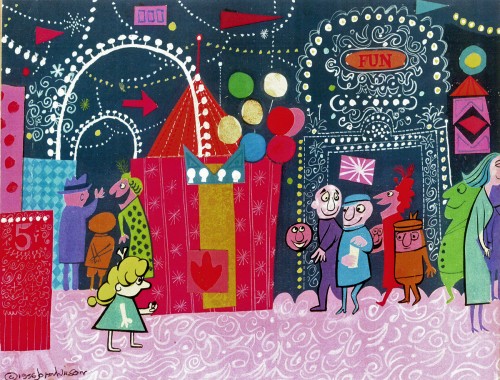 9
film still #5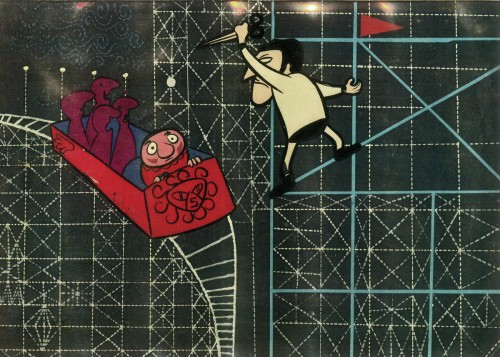 10
film still #6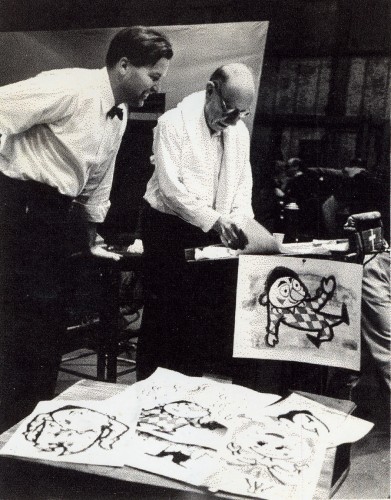 11
John Wilson and Igor Stravinsky preparing for recording of Petroushka
with the Los Angeles Philharmonic Orchestra (1955).

Here are copies of two reviews: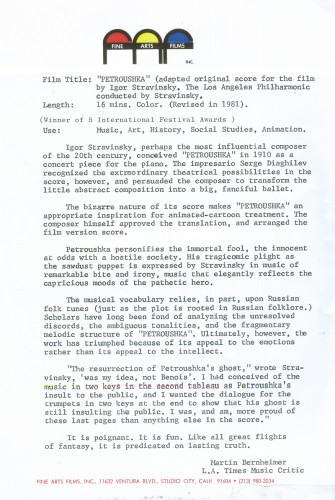 Los Angeles Time review (1956)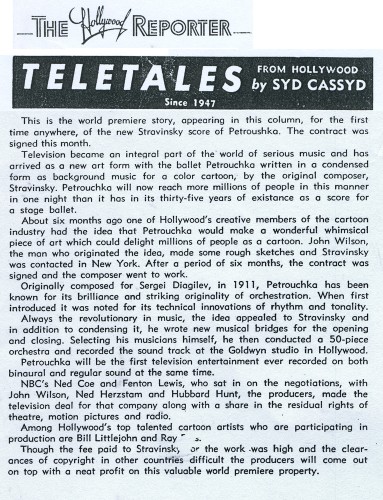 Hollywood Reporter review )1956)
(Click any image to enlarge.)

Petroushka was released on VHS tape combined with a number of the song pieces he did for the Sonny and Cher program. This tape, John Wilson's Fantastic All Electric Music Movie, can still be found on Amazon but is pricey.
Thanks to Amid Amidi for the loan of this material.
3.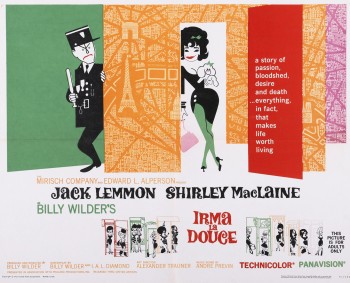 Irma La Douce was a racy film written and directed by Billy Wilder that starred Shirley MacLaine as a Parisian prostitute and Jack Lemmon as a French policeman who falls in love with Irma (Shirley MacLaine.) The film, for its time was daring, and came up with (heaven forbid) a "C" for Condemned rating from the Catholic church. This made it off limits for anyone under the age of 18. I was determined to go see the film, so I ignored the ban and went by myself. Naturally enough, no one tried to stop me. I wasn't jaded by the movie anymore than I had been disturbed by the violence in all the Warner Bros. cartoons I'd seen. Looking back on Irma La Douce, it really is an innocent film, hardly risqué in any way shape or form.
The film started with some nicely drawn animated credits which were done by John Wilson's studio. Until recently I hadn't known that Wilson also produced an animated short promoting the feature for the Mirisch Company. I have some preproduction art from that short as well as the color storyboard. The board is large enough that I've decided to break it into two parts. We'll see part one today and the second part next week.
Each section of three images is long enough that unless I post one drawing at a time, it'll be too tiny to see unless enlarged. I'd like to post each storyboard sketch a nice viewing size and still give you the option of enlarging it.
Let's start with some production and post production stills so you can see what it looked like.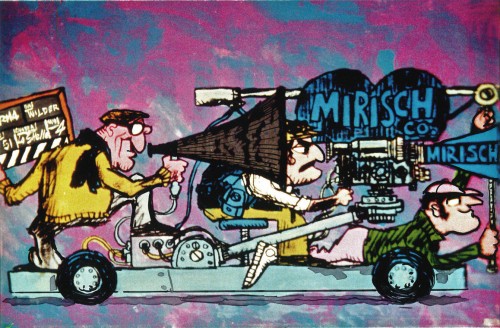 1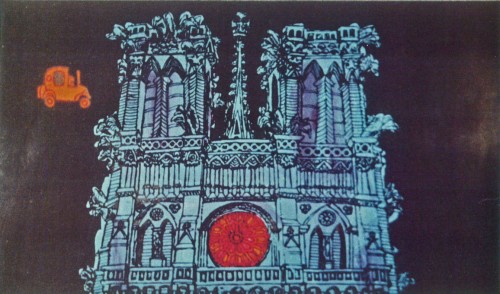 2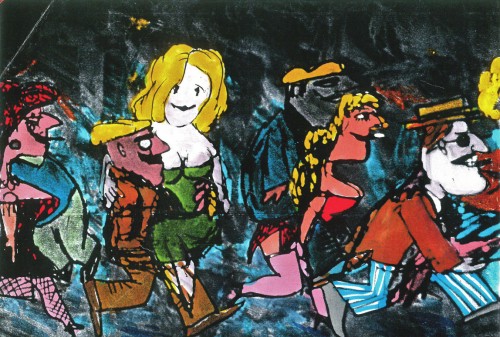 3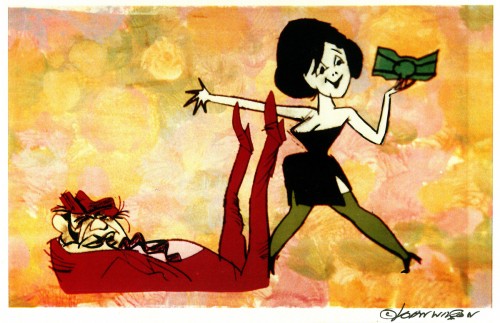 4
A couple of pre-production drawings: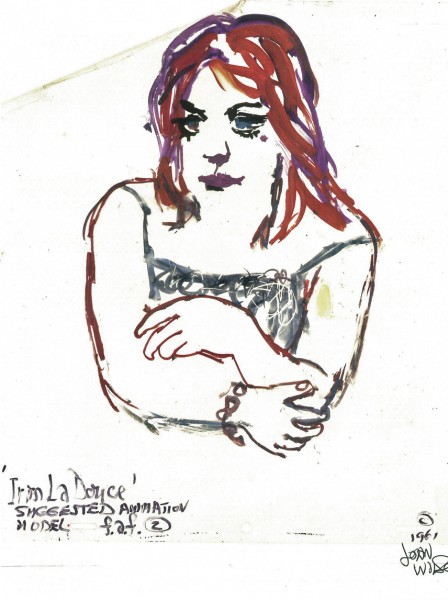 1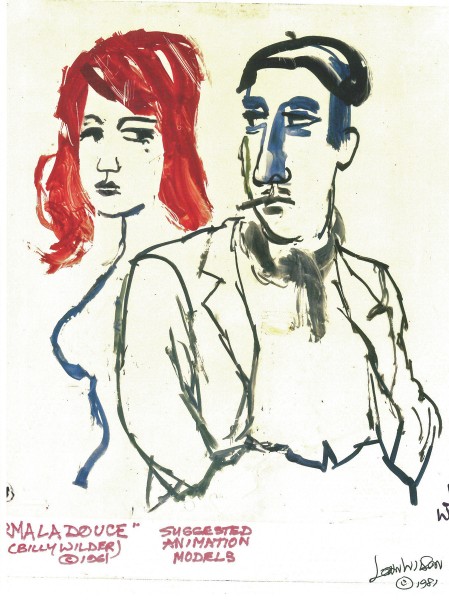 2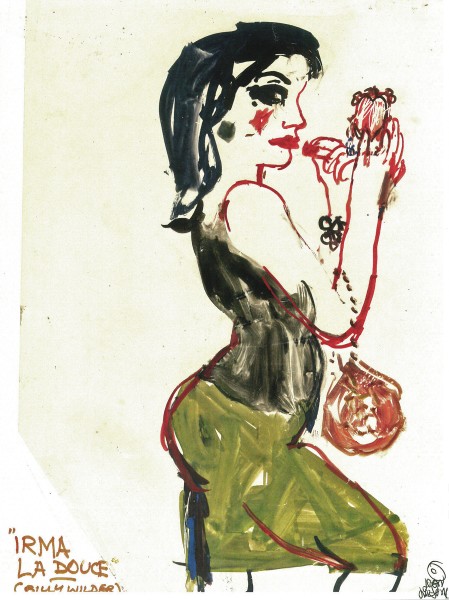 3

Then, there's the storyboard. I'll give an example of the three panel pull out and follow that with each individual image.


You can see why I've decided to enlarge the images.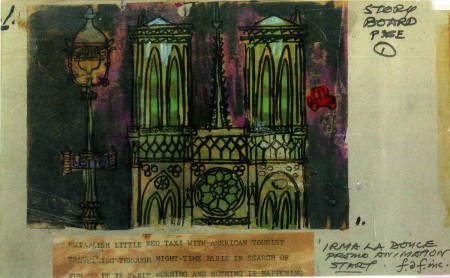 1a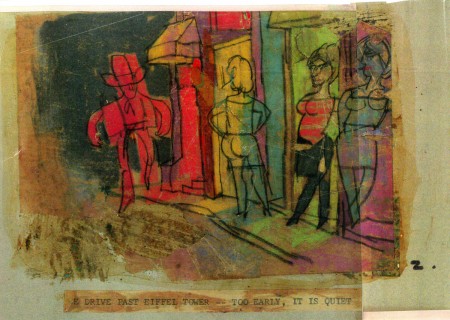 1b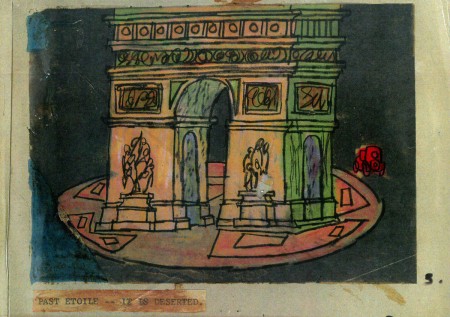 1c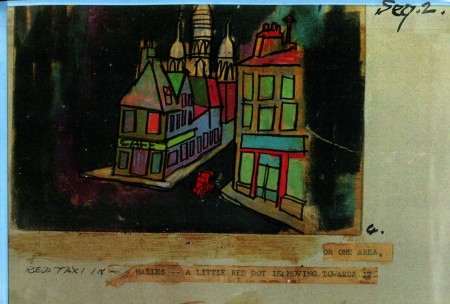 2a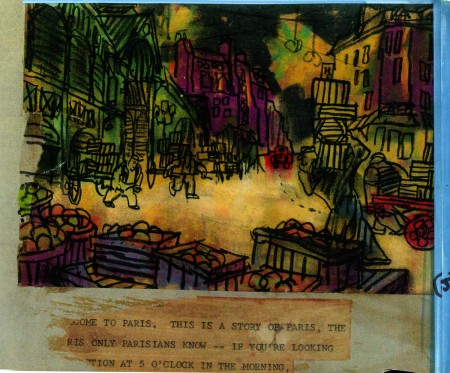 2b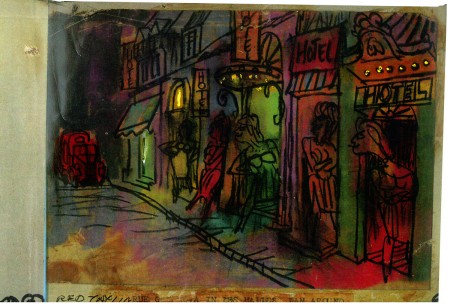 2c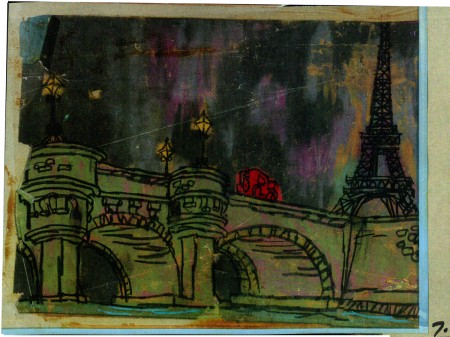 3a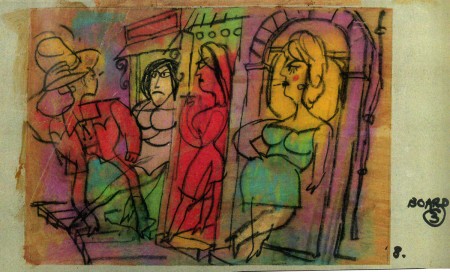 3b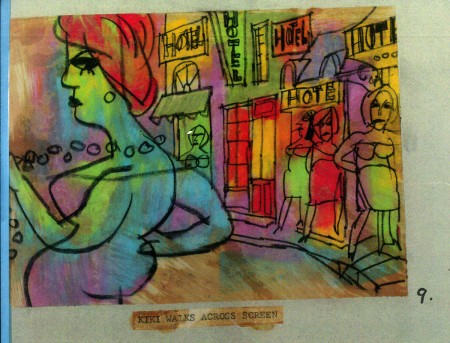 4a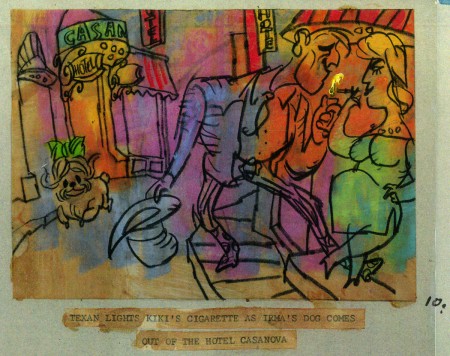 4b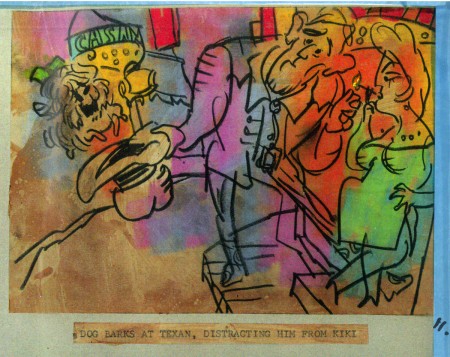 4c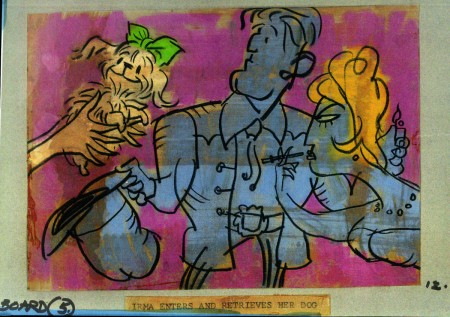 5a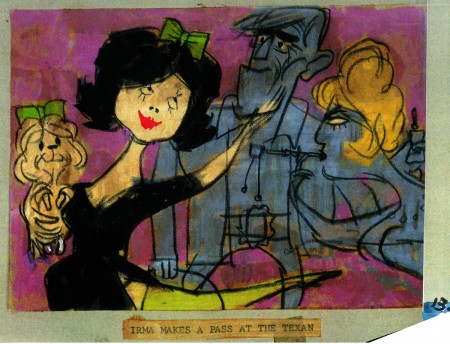 5b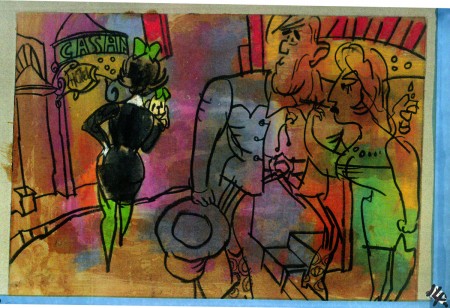 5c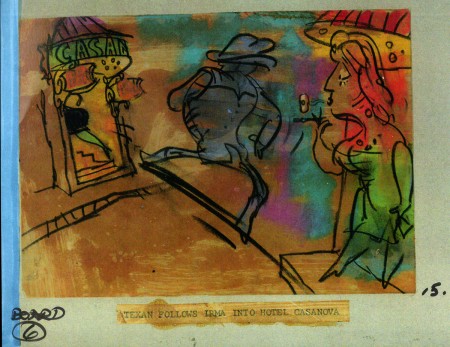 6a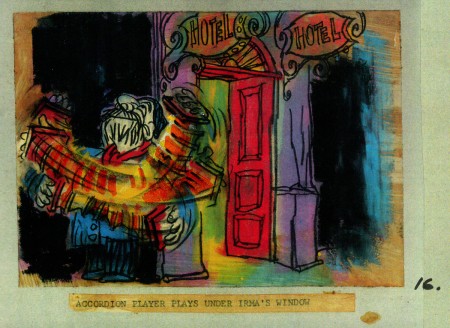 6b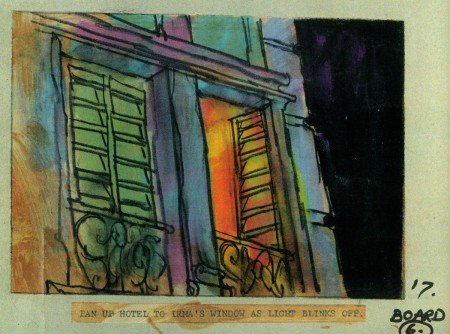 6c

4.
John Wilson created this storyboard for the Mirisch Corp. It was an animated trailer to promote Billy Wilder's coming film, Irma La Douce. The board comes in 18 pages of three storyboard drawings. Rather than post the sets of three images (and only being able to show them at a smallish size) I've taken each individual drawing and have blown them up to see them better on this blog.
Again, these were for a lengthy trailer for the film not the opening credits. The film's credits do not use animation.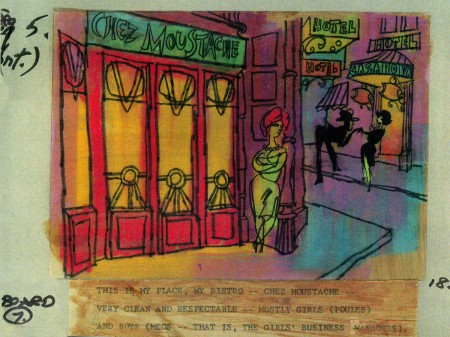 7a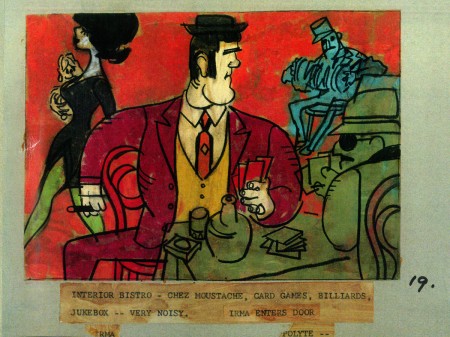 7b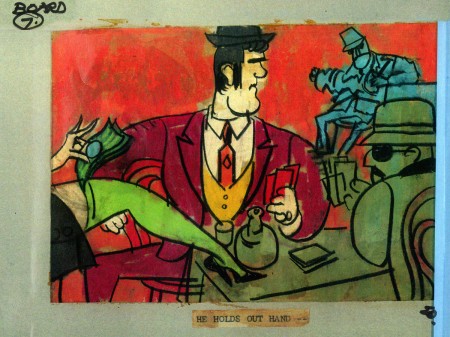 7c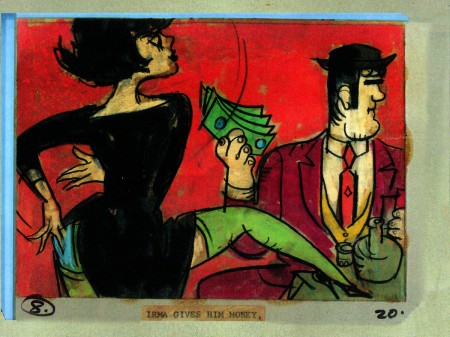 8a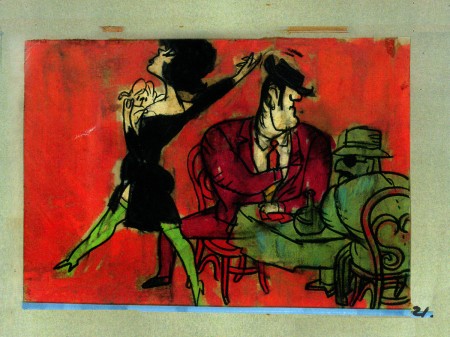 8b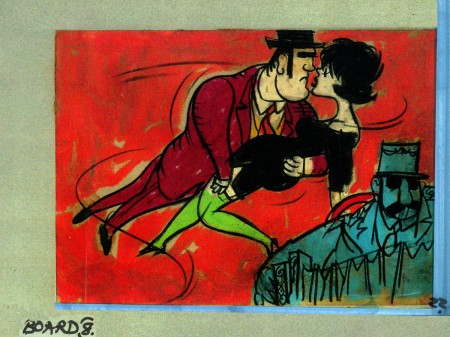 8c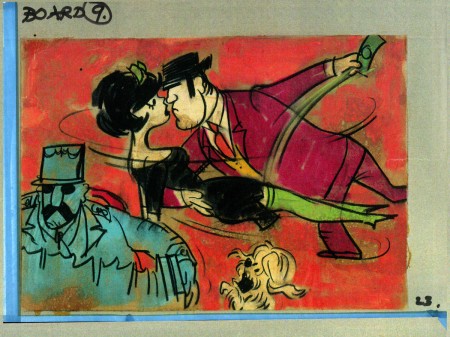 9a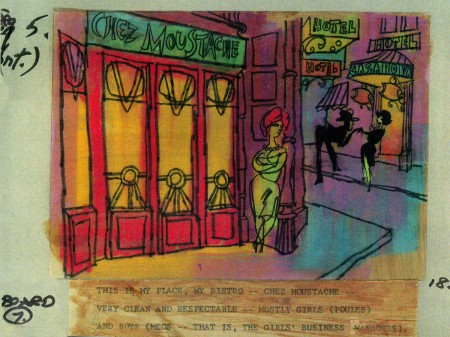 9b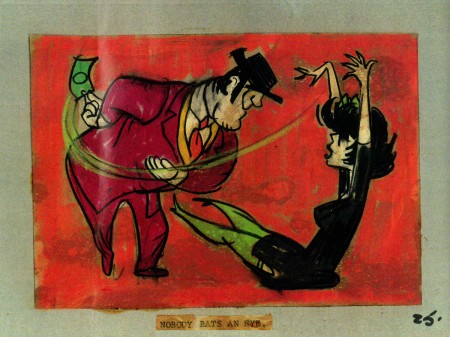 9c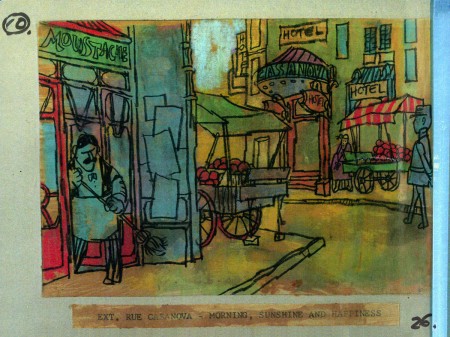 10a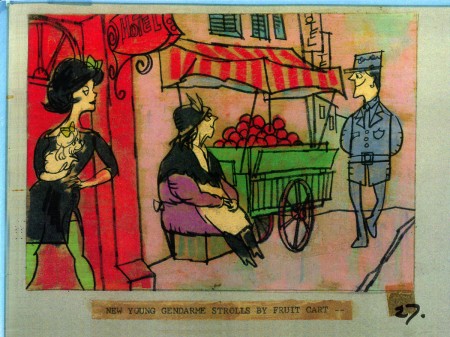 10b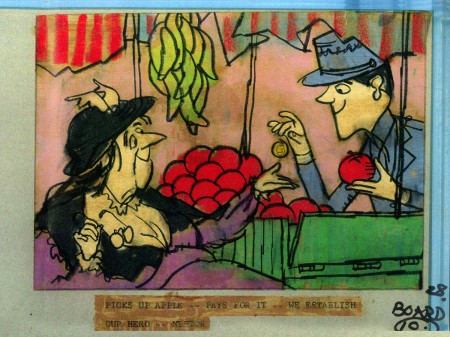 10c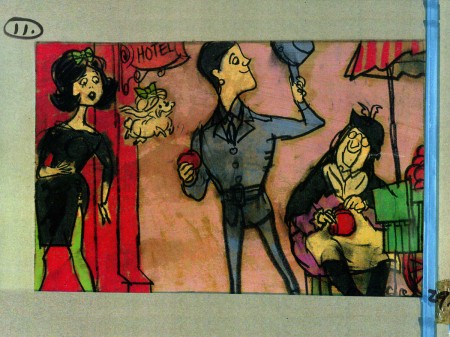 11a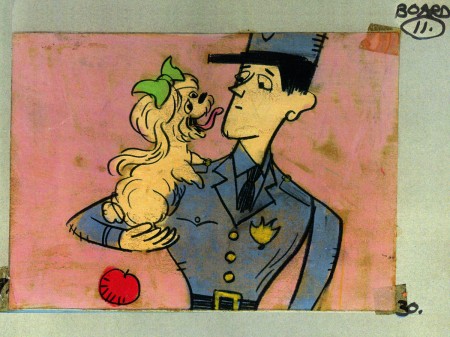 11b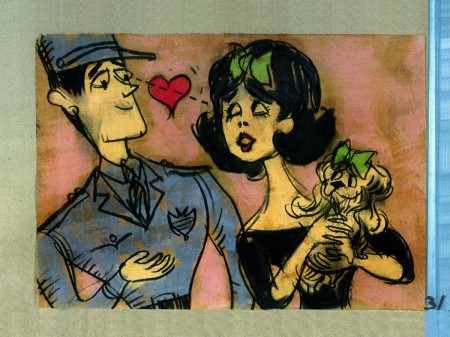 11c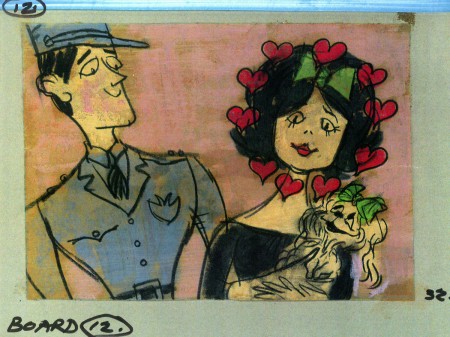 12a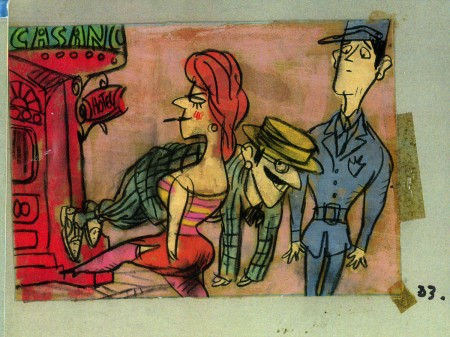 12b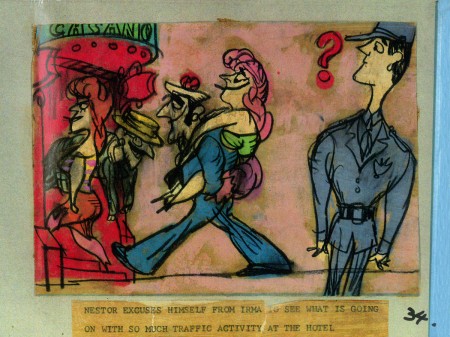 12c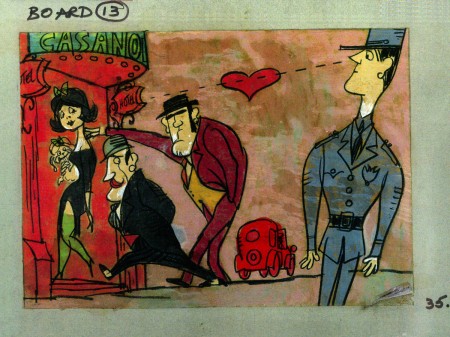 13a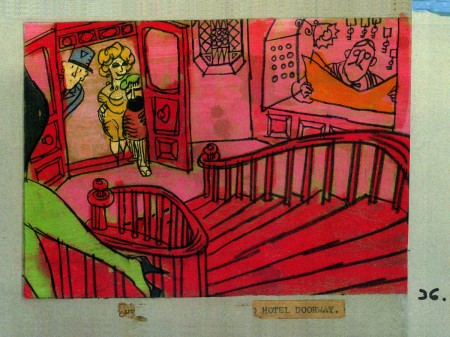 13b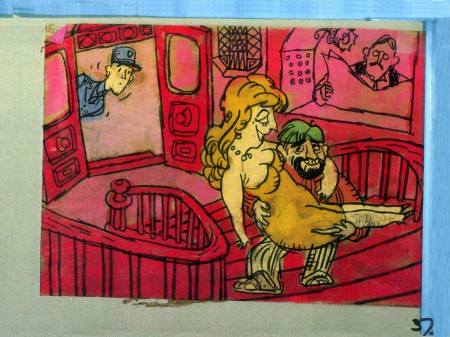 13c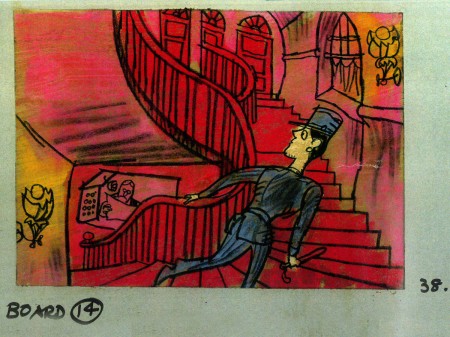 14a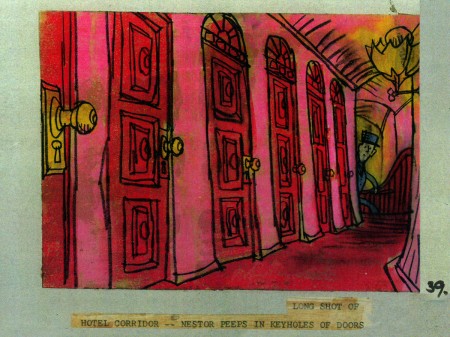 14b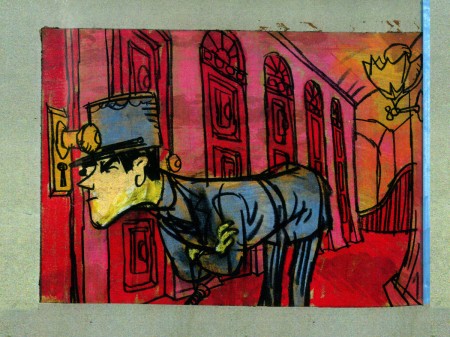 14c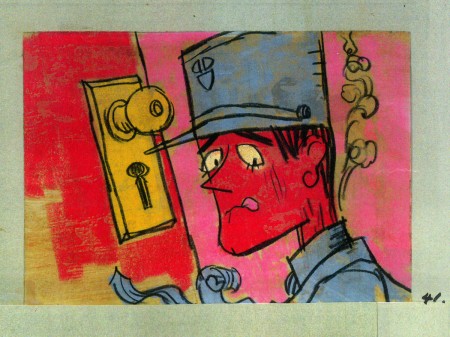 15a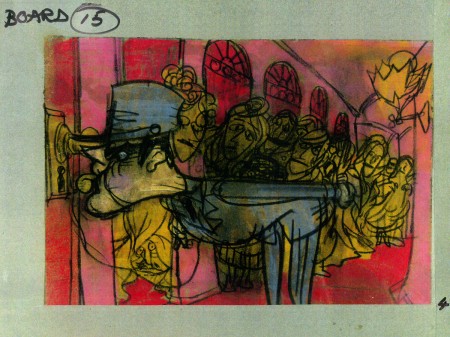 15b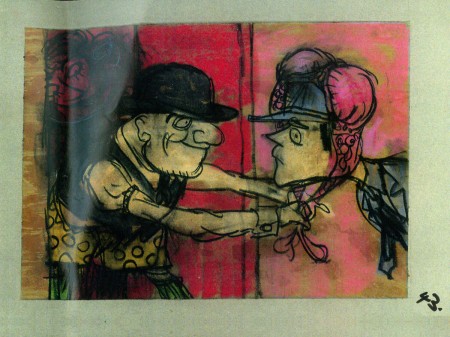 15c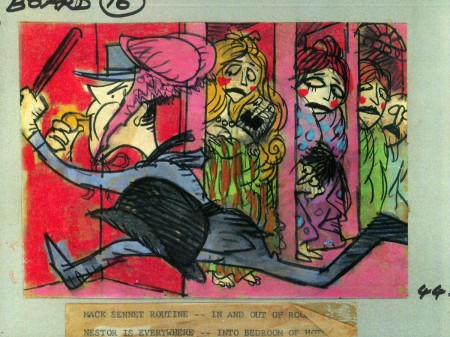 16a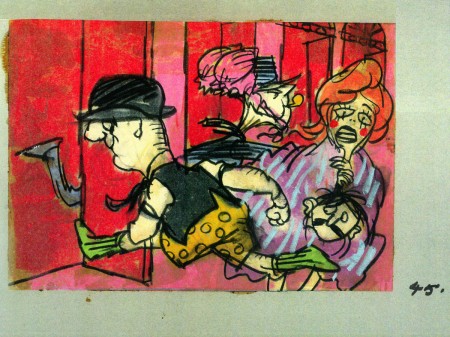 16b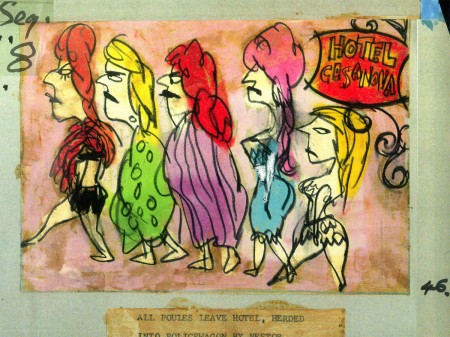 16c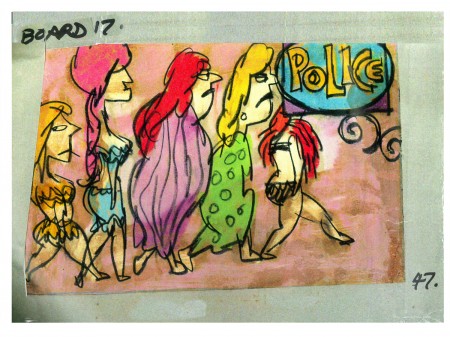 17a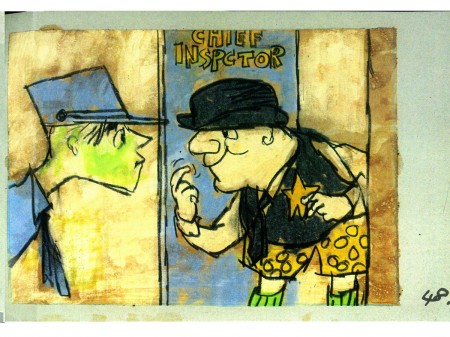 17b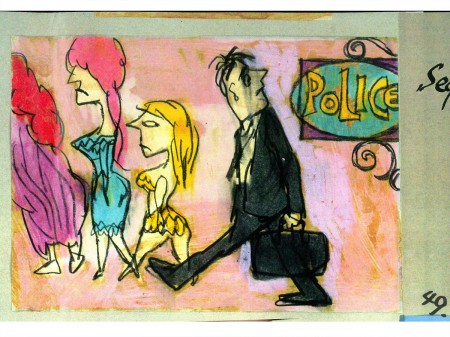 17c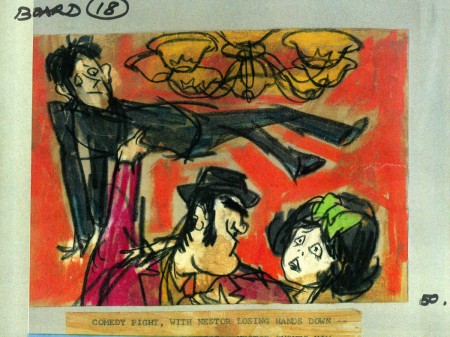 18a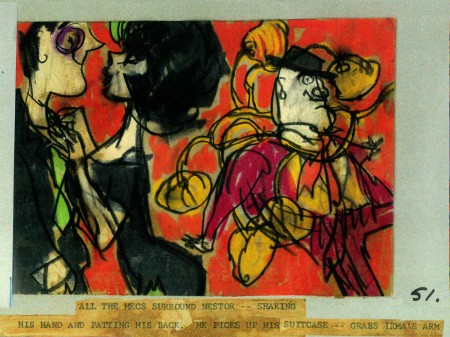 18b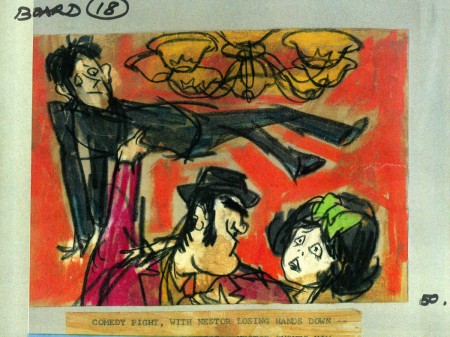 18c

___________________________


Here's a YouTube version of the trailer. Not the brightest quality, but you can see it.



5.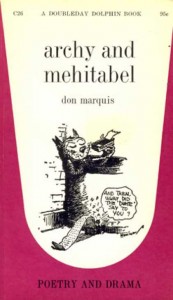 - Don Marquis' book, Archy and Mehitabel, garnered fame quickly and not least because of the extraordinary illustrations of George Herriman, the creator of Krazy Kat.
The first book was published in 1927 and others followed in 1933 and 1935. It wasn't until the third book that Herriman took over the characters created by Marquis in his book of short stories, developed mostly, in poetry. An on-again off-again love affair, the story had two principal characters: a cat, Mehitabel, and Archy, cockroach. (You can read these poems on line here.)
In 1953, writer Joe Darion along with composer George Kleinsinger (the creator of Tubby the Tuba) wrote a musical theater piece. Tenor Jonathan Anderson played Archy and soprano Mignon Dunn was Mehitabel. At about the same time a recording of the showtunes was recorded with Carol Channing as Mehitabel and Eddie Bracken as Archy. The record was a success.
With the help of the young writer, Mel Brooks, they were able to get their show to Broadway in 1957, but it was now named Shinbone Alley. After 49 performances, the show closed, but the original cast album was recorded that same year. The songs stayed in the permanent repetoire of Carol Channing and Eartha Kitt.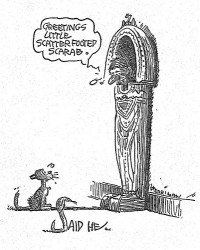 In 1971, John Wilson directed an animated feature starring the voices of Channing and Brackett and using the songs from the musical. The love affair between Archy and Mehitabel was penned by Archy, the cockroach; his poems tell their story.
The film suffers from its music. The songs are simple and sound as if they're written for children, but the lyrics pull from the poems which are definitely designed for adults. It gets a bit confusing, as a result, and is a bit picaresque; the poems are short and illustrating them in animation would take more adaptation than seen here.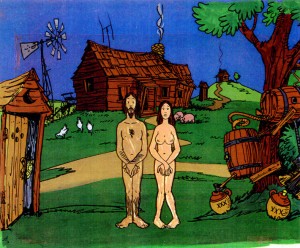 John Wilson had developed his studio, Fine Arts Films, on the back of the weekly, animated, music videos he did for The Sonny and Cher Show, an enormous hit in the early 70s.
These music videos were loose designs animated quickly and lively around the songs Sonny & Cher would schedule each week. There would always be one or two of these pieces, and they were highlights in the weekly one-hour musical/variety program.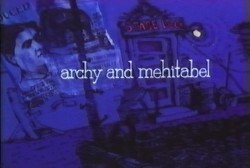 The graphics of Shinbone Alley aren't too far from these Sonny & Cher videos. Loose design and animation with a design style not too far from the Fred Wolf's made-for-ABC feature, The Point. This was the first feature made for television and featured the songs and story of Harry Nilsson, although Shinbone Alley featured a wilder color pallette.
Jules Engel, Corny Cole and Sam Cornell all worked in design on the film. The long list of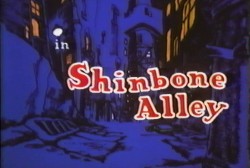 animators included Barrie Nelson, John Sparey, Spencer Peel, Eddie Rehberg and Jim Hiltz. Mark Kausler was an assistant on the show.
The film wasn't an enormous success, but that was probably explained much by the limited distribution and the poor marketing of the film. I saw the film when it came out; I was living in Washington DC at the time (in the Navy). I was very disappointed. The animation is very limited and the style was a real let-down having known the George Herriman illustrations from the Don Marquis book. We'd already seen those limited animation Krazy Kat cartoons from King Features, so I knew the style could be done adequately – even on a budget. The style in this film just seemed a little too Hollywood cute, at the time, and it felt dated when it came out. I don't feel too differently about it watching the VHS copy I own.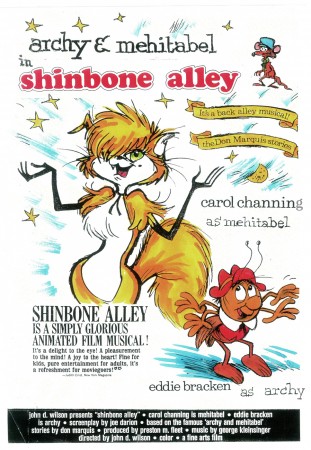 the film's poster
Here are some frame grabs from the first 1/4 of the film: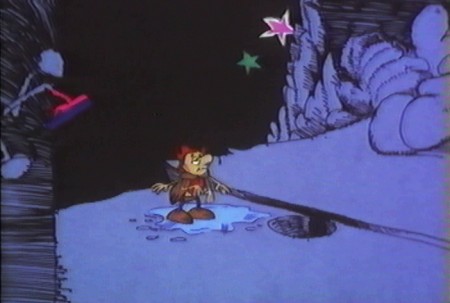 We're introduced to Archy right off the bat as he
flies out of the river onto the dock. He realizes that he,
the poet, tried to kill himself and was sent back as a cockroach.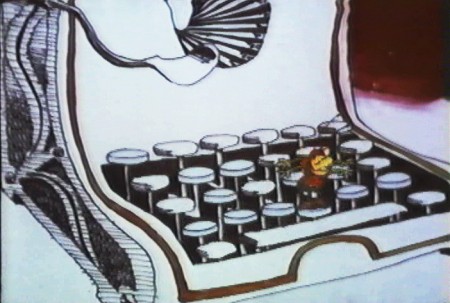 He soon finds a typewriter and goes straight back to work.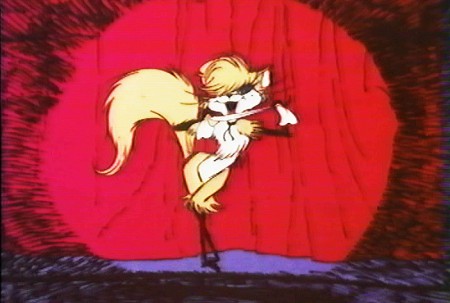 Mehitabel is a performer – with Carol Channing's voice.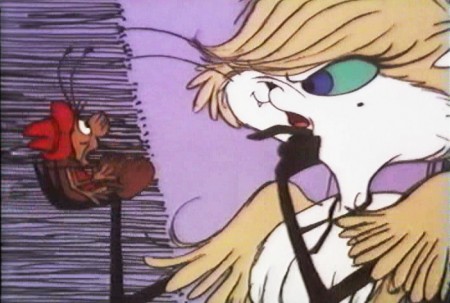 The two meet cute.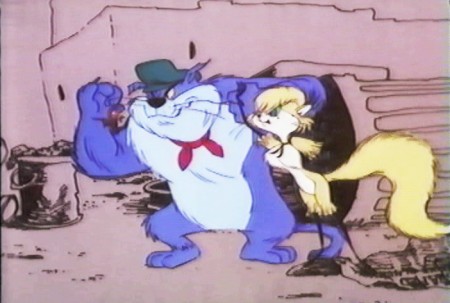 She has another boyfriend, voiced by Alan Reed,
who is also the voice of Fred Flintstone.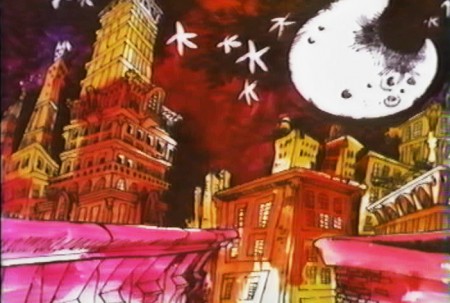 A song video takes us outside.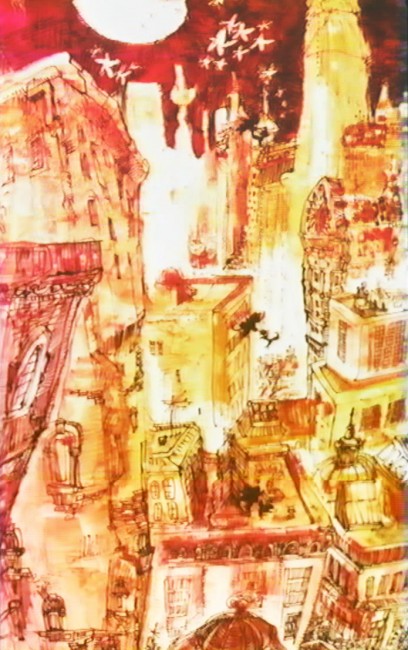 pan down.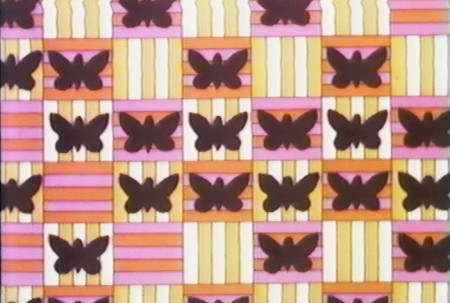 Another music video brings us into Peter Max's style.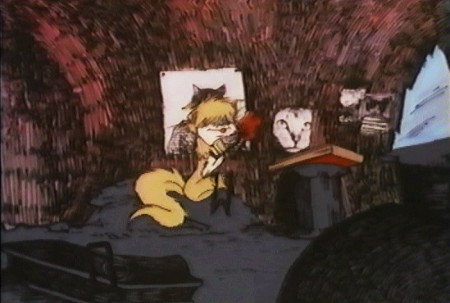 Life in Shinbone Alley.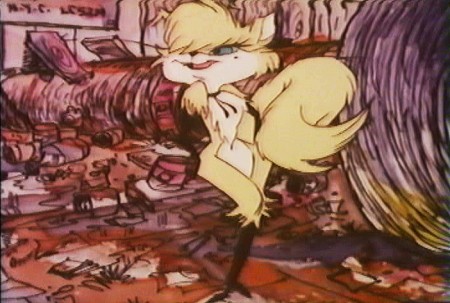 6.
- This final post featuring the work of John Wilson and his company, Fine Art Films, covers many varied film projects. Unfortunately, I found relatively few images available for posting especially considering the amount of film done.
The Sonny and Cher Show was a long running Variety program on television in the 70s. Most weeks featured an animated music video as done by John Wilson. Some examples of this include: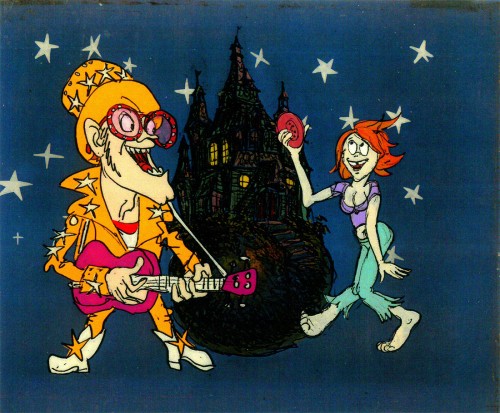 Helen Reddy's song "Angie Baby"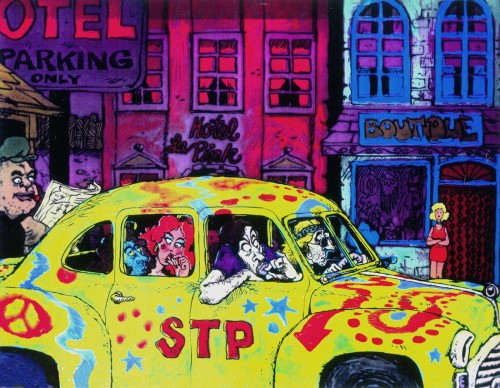 Joni Mitchell's "Big Yellow Taxi"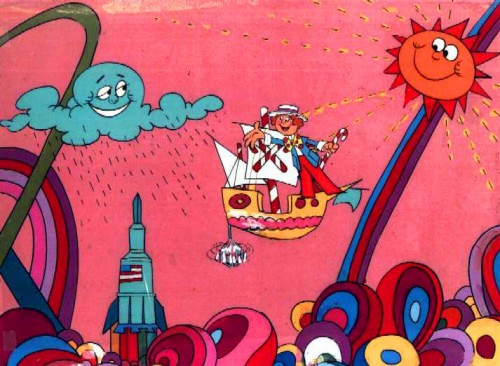 Sonny Bono's version of "The Candyman"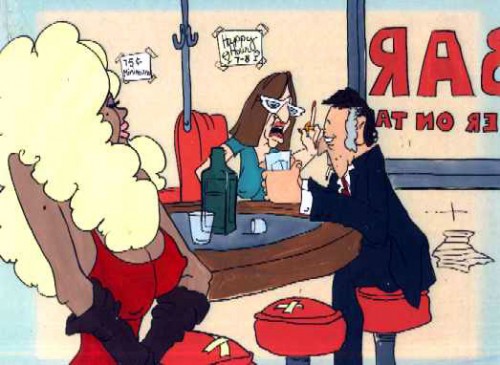 The Kinks song "Demon Alcohol"
Fine Arts Films
also did some movie titles and trailers. We saw, recently, the long theatrical trailer done for
Irma La Douce
. Here are a few stills done for the main title sequence for the 1978 musical,
Grease
.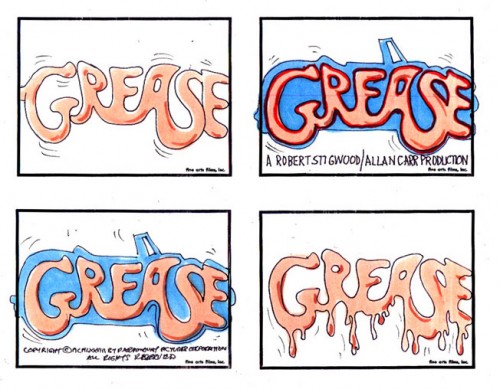 storyboard sketch for Grease.
Produced and Directed by John Wilson
Story and Layout by Chris Jenkyns
Music by Barry Gibb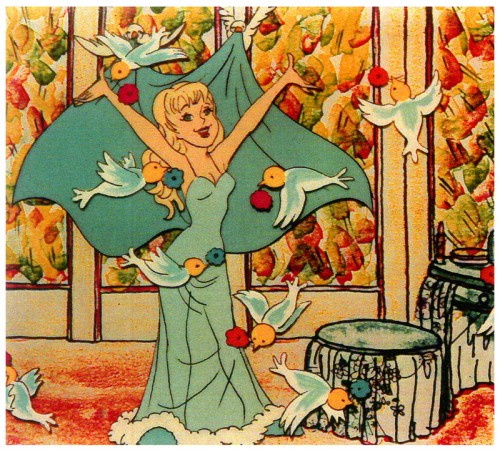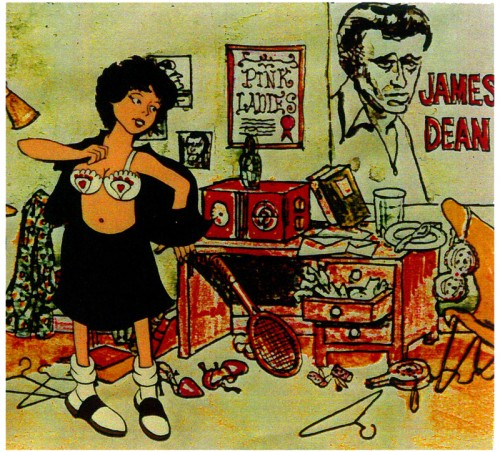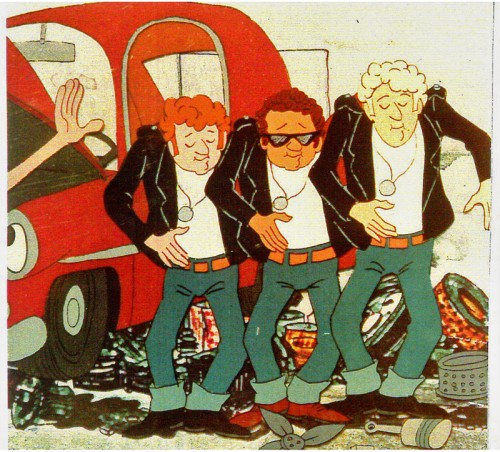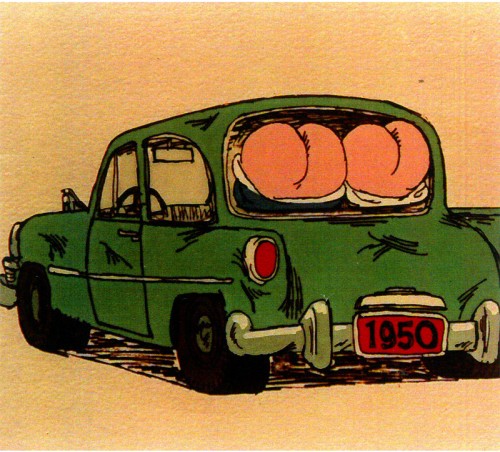 John Wilson also directed a number of short films which appeared on television on the NBC program, "Exploring" between 1964-1966.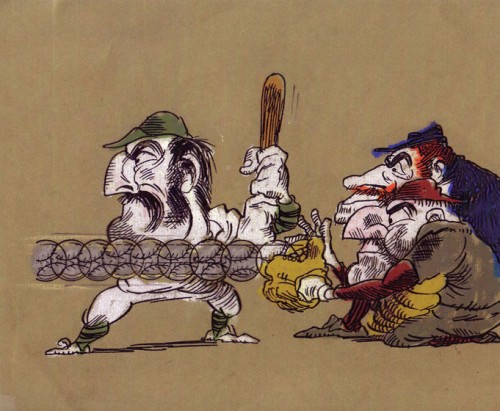 "Casey At the Bat"
Narrated by Paul Frees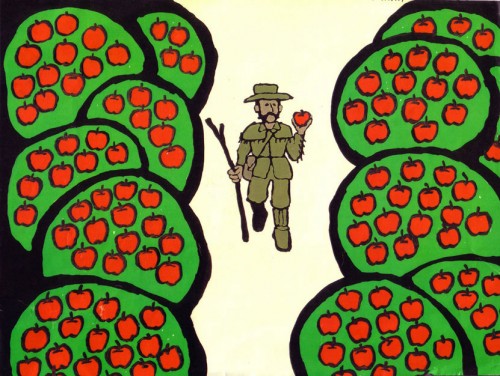 "Johnny Appleseed"
Narrated by Dan Blocker
Finally, for MTV's "Liquid Television" in 1992 John Wilson directed some of the 10 episodes of a series called "The Specialists."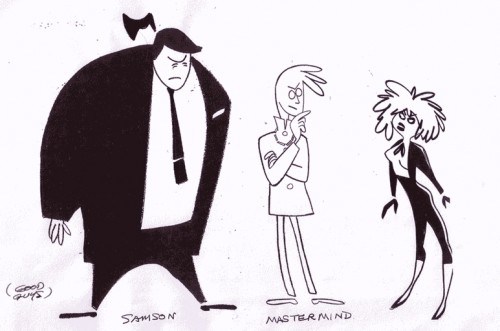 1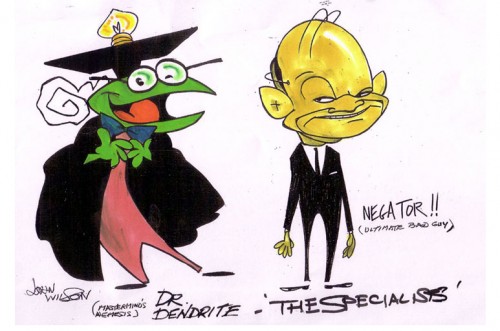 2
Go here to see other episodes.
8 Responses to "John Wilson 1920 – 2013"
Leave a Reply