Miyazaki &SpornFilms 13 Jan 2006 08:44 am
This and That: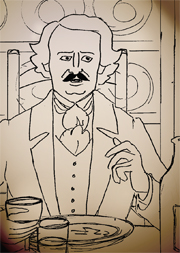 Friday the 13th. As of today we're introducing a new page to our website. The POE Page will feature material from the long-in-development feature film that we've been preparing. We've now accumulated enough artwork and other materials that we feel it deserves its own chronicle to record development. Here you'll find a journal which we'll update on a weekly basis, storyboard sections from several of the Poe Tales, story reel from Tissa David's biographical section, preliminary layouts and clips of animated color tests. All of the artwork is preliminary, nothing completed or finished. None of the film's voice tracks are final. It's all rough; a chance to see a film in the making.
Go to the Filmography section of our main site; click on the POE link. (Alternatively, click here.)
This page represents more excellent work by Adrian Urquidez who has been maintaining this site since it's premiere last month. He's done brilliant work, I think.
Last night I returned from a screening of The Libertine and turned to Miyzaki to cleanse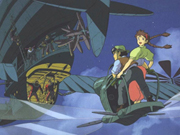 my palate. I watched about an hour of Laputa, Castles In the Sky and taped the rest for later watching. I have the original language dvd but hadn't seen it before.
The John Lasseter introduction was a bit over-the-top. He said, several times, that the film had the greatest opening of any film in history. The opening was evocative but one wonders if he's seen Citizen Kane or even The Lion King.
Lasseter's comments about Miyzaki's storyboarding process was revealling, though. Since Miyzaki writes the screenlay and storyboards his film entirely by himself, he doesn't always know where the film is going when he starts. He draws it out one picture at a time and allows it to develop on its own. I would suspect that's why some of his films, such as Laputa, are little more than set-pieces building toward an end. One would guess by some of the later titles such a Princess Mononoke and Spirited Away (though that film also does have a lot of episodic adventures, albeit longer ones) that a grander scheme was planned prior to beginning the storyboard.
Again the dubbing voice work was hit and miss, but not quite as bad as Princess Mononoke. Anna Paquin brought a delicacy to the part she played. She's turning into a very good actress. James Van Der Beek tried to match her but didn't quite. I always felt he was trying to make his voice sound younger. Cloris Leachman tried her best with the character she had – an old hag (or at least that's how the English dubbing director saw it). Mark Hamill has been doing some excellent voice-over work for quite some time; I'm surprised no one's made more of it. Was Wizards his first?

Hoodwinked opens in NYC today.
Here are links to a couple of reviews (Ouch!) I've scanned: NY Times, NY Daily News, NY Post, Newsday. None are enormously positive.
Will it outgross King Kong or Narnia this weekend?
One Response to "Poe"
Leave a Reply