Articles on Animation 12 Mar 2007 08:25 am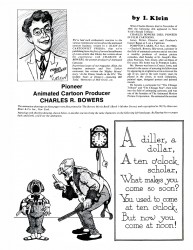 – Charles Bowers was an animation pioneer and entrepeneur. He is often mentioned in animation histories but is given short mention in the same publications. The brilliant book, Before Mickey by Donald Crafton, often mentions Bowers by name and company (Celebrated Film Corporation), but it doesn't really go into what he did.
In fact, he supervised the Mutt and Jeff series for Pathe-Freres and Bud Fisher and was instrumental in trying to get The Katenjammer Kids animated (until law suits from Hearst developed). He invented a new camera for live action and became a moderately successful silent-screen comedian. He also did a couple of puppet animated shorts in 1939 & 1940 which were released by the Fleischers.
(Click on any image to enlarge.)
Additioinally, he was an animator for Loucks & Norling on a World's Fair film about petroleum done in 3-D (stereo vision), a story writer for Walter Lantz, a published cartoonist, a children's book author/illustrator, a high-wire walker and at one time a bronco buster. Perhaps his problem was that his energies were too spread out trying to do many different things. Had he been more focussed on a single métier, he might have had more success. (Just a guess.) His is in some ways a typical animation biography.
In March and June of 1975, Cartoonist Profiles published a two-part article by animator, Izzy Klein. Klein witnessed Bowers' work and writes about it in a very affable style.
Cartoonist Profiles magazine stopped publishing in 2005 when editor Jud Hurd died. I've decided to post the two parts of this article: Part 1 here, today. Part 2 later this week.
6 Responses to "I.Klein's Charles Bowers 1"
Leave a Reply