Animation Artifacts &Story & Storyboards 14 Mar 2007 08:16 am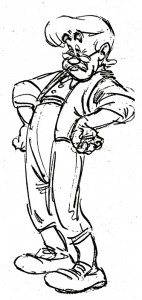 – John Canemaker came for a short visit and brought the real gold with him. He's loaned me the photographic stats of the Pinocchio storyboard. The entire board isn't there, but there's sure a lot of it. We start with the Blue Fairy sequence. F3-1.3.
So I'll post it a bit at a time. They're large scans that have to be reconstructed in photoshop, and I'm doing that as time permits. I'm also trying to clean it up a bit since it's a rather dark image. I'm trying to post it at the highest possible resolution so that it can be read, but that means I have to cut it in half again or it otherwise won't load. (Since the board reads across row by row, I'm splitting it lengthwise to make reading easier.)
The type is still a bit small, but it's the best I can do.
It's a gem and something that should be out there now while Hans Perk posts the Drafts to the film and Mark Mayerson continues his Mosaic of the entire film. Hopefully, I'll be able to catch up and keep up with him – a couple of posts a week.
Happy reading:
18 Responses to "Pinocchio Board #1"
Leave a Reply