Commentary 22 Mar 2007 08:40 am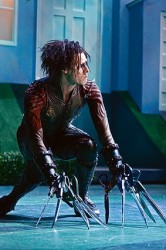 – Last night I got to see Edward Scissorhands, the Mathew Bourne ballet at the Brooklyn Academy of Music. (Watch BAM's video montage here.)
I like Bourne's choreography; it seems to fit somewhere between Jerome Robbins and Mark Morris.
Caroline Thompson, who wrote the script for the original film, reworked the story for the ballet. (She also wrote Corpse Bride and Nightmare Before Christmas.)
Danny Elfman, who did the score for the movie added to the score for the ballet.
So, the set was beautiful, gorgeous costumes, original writer and composer, and I liked the choreography. What was wrong? Why didn't I find it thrilling?
Five words: Johnny Depp, silence & Tim Burton.
(Click any image to enlarge.)
If you're out to rework a movie that a lot of people love – and a lot of people love this movie – you'd better top it. That means you have to find an approach that is different than and better than Johnny Depp's character. Depp IS Edward Scissorhands! In the Bourne production, we had an imitation of the personality Depp created for that film. It was an original, and it can't be duplicated by someone else, or it ends up feeling like one of those stuffed people dressed like Mickey Mouse and Goofy wandering around Disneyland. (A small side note: I once asked my young niece and nephew, who watched tv with me as Michael Eisner cavorted with people dressed like Donald and Mickey, if that was the REAL Donald and Mickey. They categorically said, "No!" The real characters were cartoons.)
Johnny Depp was being impersonated in this ballet, and the real guy was a pirate in a sequel coming out this summer.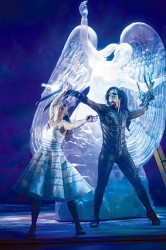 In the movie, Depp's character was silent; everyone else talked. In the ballet, no one talked. This takes away from Edward's character. He obviously CAN talk, now, since no one talks in this version – they performed mime to tell the story. Everyone was Edward Scissorhands.
Tim Burton is an original. Go from Edward Scissorhands to The Corpse Bride to Willy Wonka to The Nightmare Before Christmas to Big Fish. No one has to tell you that Tim Burton made those films (with and without Caroline Thompson.) The ballet tried to recreate the movie; they tried to recreate Tim Burton. I'm sorry but originality can't be duplicated.
I'm glad I saw the ballet, but I'd have preferred something original.
You can see more video clips on YouTube: go here.
_________________________________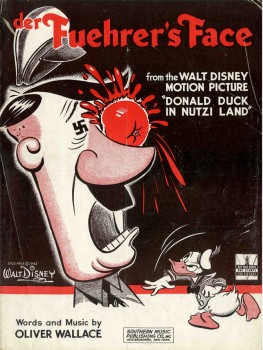 – Last year I posted the sheet music cover and talked about the animated short, Donald In Nutzi Land or, Der Fuehrer's Face (after the name change).
Now on the site Toons At War layout drawings for this sheet music have been posted. You'll find a lot of other documents about the film there as well.
Bob Thomas, in the original The Art of Animation (1958) wrote the following story from composer, Oliver Wallace:
A favorite story of his concerns the time when Walt returned from Washington in wartime.
"I need a song for a cartoon the government wants me to do about the enemy," Walt said. "It's got to be serious, but funny."
"You mean serious to them but funny to us?" Wallace suggested. (Click any image to enlarge.)
"Yes," Walt replied.

The composer went home that evening, had dinner and took a nap. His wife asked him
to bicycle to the market with her. As he pedaled, a marching tune began to come to him.
His wife lost him in the market and finally discovered him leaning against a wall and tapping his foot. When he got home, he went to work. In an hour and a half, the words and music to "Der Fuehrer's Face" were ready for the publisher. Both the song and the Donald Duck short were hits. "Der Fuehrer" was hailed by Oscar Hammerstein II as the great psychological song of the war.
To hear the song as played by Spike Jones & His City Slickers go here.
The film is available on the Disney Treasures dvd On The Front Lines – Disney Goes To War.
_________________________________
Michael Barrier is hooked, and we benefit. He not only released the Draft for the Disney masterpiece, Who Killed Cock Robin?, but he's produced a "Mosaic" à la Mark Mayerson. This, along with his Capsule notes on the film, give the short quite an analysis. Show and tell isn't always enough. Good commentary is necessary. That's where Mike Barrier and Mark Mayerson's sites excel far beyond most. (Originality. I've heard that word before, somewhere.)
4 Responses to "Nuts"
Leave a Reply