Commentary 30 Mar 2007 08:03 am
- Infrequently, there are cartoons which sometimes make a difference as to how you see a particular character, or studio, or sometimes even the world. One of these I recently thought of was Tup Tup by Nedeljko Dragic in 1972. It was nominated for the Oscar and lost to Richard Williams' Christmas Carol.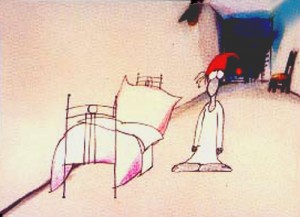 I had seen a lot of films from Zagreb and had heard a lot about how great they were. They were even Oscar winners for Ersatz in 1962. Yet, I wasn't a fan. I didn't understand the acclaim the films were getting, yet kept it to myself. It was obvious that I was the alone in my opinion, and it confused me.
So along comes Dragic's film, Tup Tup. At first the film was annoying, but then it got under my skin and stayed with me. The cartoon had an insidious insanity which overwhelmed and haunted me.
I started looking at Zagreb shorts a little differently, but, I'm sad to say, my opinion didn't change much. Many of the films just seemed like a new-found freedom in an iron curtain country, but it didn't make the films great to me. I was a very big fan of UPA and Hubley at the time, and Zagreb didn't come close.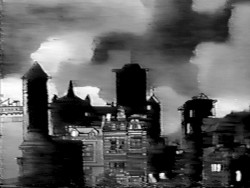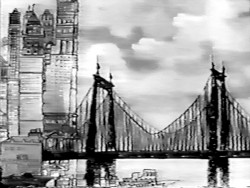 (Some frame grabs from The Four Poster. Go here to see some great stills of artwork.)
I'd even heard about the effect The Four Poster had had on the Zagreb founders. Apparently, when this live action/animation feature made it to Yugoslavia, they hijacked the print and studied it for two weeks prior to returning it. Their admiration for Hubley's work in the Stanley Kramer produced feature film caused them to develop their own studio and style. A new animation studio was born. By the time I'd seen Tup Tup, I'd already seen The Four Poster on television (in the early sixties) and knew everyting about Hubley. Nothing I'd seen from Zagreb even compared to what I'd seen from UPA, never mind Hubley. It was all so cold and unemotional, to me, although it did try for some blaring stylization.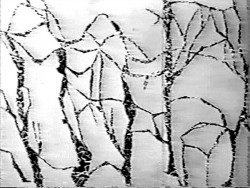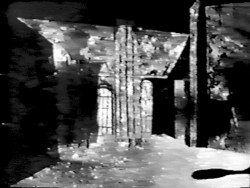 (More frame grabs from a bad dvd copy of The Four Poster.)
But there was Tup Tup. it stayed with me. The style of the film didn't overwhelm the story, and I was into it.
To be honest, there were other films by Mr. Dragic that I found just as compelling. Diary is another excellent film which is literally an animated diary of his animation festival going. It's not as persistent as Tup Tup, but it's as gripping. I think ultimately, it's a matter of the artist rather than the studio, and I suppose the same is true of any grouping of artists. The National Film Board has produced an inordinate number of brilliant films, but there are a few clunkers in there. The same is, I guess, true of Zagreb; I've only seen a couple dozen of their films, so I wouldn't make a blanket statement.
Actually, the low budget films they produced, in retrospect, however small, are significantly better than 99% of what's produced today. The difference is an intelligence behind the films. That's conspicuously missing from most of the shorts we see today. Americans are generally trying to make stupidly funny shorts and aren't concerned with articulating any statement about life or society. It's sad, really. I wonder that I can make such negative comments about a studio like Zagreb when we're living through such a fallow period.
There are a couple of dvds available of Zagreb films, but far too few. I don't think Tup Tup is among those on dvd; at least I haven't found it.
Tup Tup
1972 10min.,
Script, Director, Drawings, Animation, Backgrounds: Nedeljko Dragic
Music: Tomica Simovic
4 Responses to "tup tup"
Leave a Reply