Errol Le Cain 27 Apr 2006 07:27 am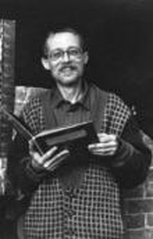 One of the most influential artists on Richard Williams' The Cobbler and The Thief was Errol Le Cain.
Errol came to the Williams studio in Soho, London early on. Dick took him under his wing and pushed him to complete, almost singlehandedly, the animated short The Sailor and The Devil (1967). The film is a very stylized piece animated in a very liquid and fluid fashion all on ones. The bacgrounds are predominantly black with large expanses of sea always in motion.
Having this artist do much of the film, himself, was how Dick felt would be the best way to teach him animation. In fact it is a good way, but one doesn't expect such films to be this exceptional. A good portion of the film is featured in a BBC documentary done about the Williams Studio in 1967.
Errol went on to set the style of Nasurudin, one of the original titles of Dick's dream feature. Over the years he became most prominently involved in doing the backgrounds for the feature.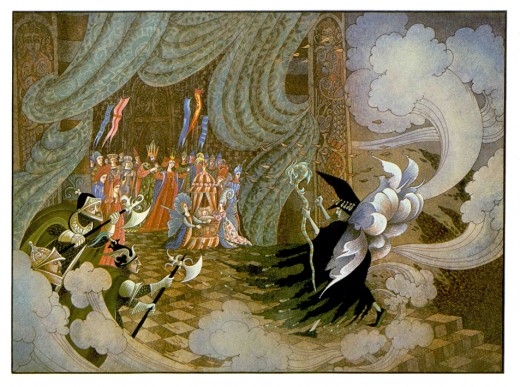 While working for Richard Williams, Errol Le Cain illustrated children's books. His illustration style is a meticulous one, often using a soaked parchment which he took weeks to prepare. The books took on a fame for the illustrator, and he received his greatest acclaim, deservedly so, for this art.
I have in my collection a number of these books, and starting with Thorn Rose, I'd like to post a couple of the book illustrations.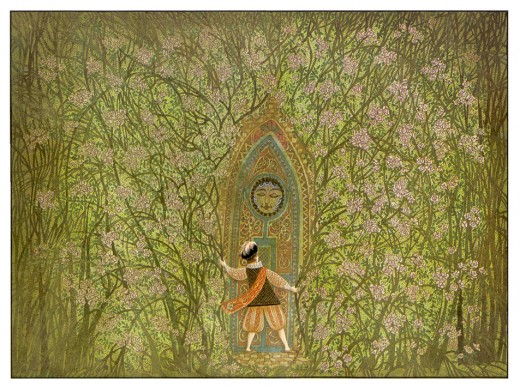 10 Responses to "Errol Le Cain I"
Leave a Reply