Music &SpornFilms 12 May 2007 08:43 am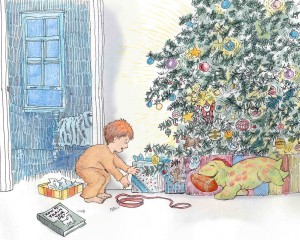 – The Mysterious Tadpole was another of the films I've done for Weston Woods which was also scored by Ernest Troost.
In 1984 Doctor DeSoto was nominated for the Oscar. For a full year from the date of the announcement I was without work except for one job from Weston.
The Mysterious Tadpole had a budget which totaled about $15000. That was it for the year. So much for the glory. The budget was such that I had to do the entire film with help from only Bridget Thorne, who helped render the artwork and prepare it all for camera.
As a result, I got particularly close to this film. When it came time for the music, I had formed a lot of specific ideas. I'd thought about it a bit too much. This made the job for Ernest particularly difficult; I was going to be hard to please.
When the music arrived it sounded completely different from what I'd expected. This was in the days before synthesized music, so the only way I'd heard it played was on a piano. It was a complete surprise to hear those final tapes. The orchestration was not what I'd heard in my head, and I'm afraid my disappointment was obvious.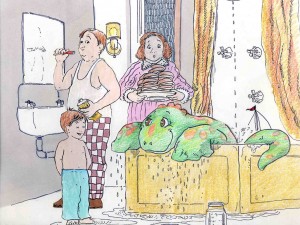 After spending a bit of time placing the music into the film with Paul Gagne, who was co-producing the film and editing it, I started to warm to the score. By the time I'd heard it in place and watched the film with its score two or three more times, I'd fallen in love with what Ernest had done. My ideas were so simple, and he had done something complex.
That was a lesson to learn. When you're working with someone whose talent you respect, trust that person. So often when hearing music for my films or when hearing an actor reading the script, I've had a surprise jolt getting something completely unanticipated. I have to say 90% of the time I've immediately recognized it's positive. That other 10% of the time it's often just an attitude adjustment I've had to make.
That's not to say that there aren't those times when I know it doesn't work as well as it might have, but that doesn't happen too often if I'm working with people whose talent I respect.
________________________________________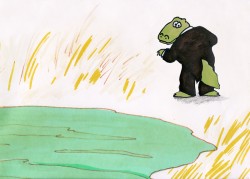 – Continuing to look at a couple of Sesame Street spots Ernest Troost scored for me, my favorite, by far, is Crocodile Smiles. This was done in 1981. Edith Zornow was the producer of animation at Sesame Street, and I saw her as my guardian angel. (I've said that before.) She always seemed to show up just when things seemed bleakest. The first three spots I did for her included this film and it really sold me on Ernest's work.
I wanted opera, and he gave me more – cartoon opera. It really feels like this group would be playing in some 30′s cartoon. Again, the budgets for Sesame Street was always low. These two films had about $5000 total for everything from script/board to completion.
This film is available on YouTube, but I don't like the resolution of that copy, so I've put it up here as a QT movie.
Crocodile Smiles
The Stranger was done a couple of years later. This is from one of the last films we did for Edith Zornow. She died soon after of Parkinson's Disease. Since my father was also suffering from the disease at the same time, I was comfortable with it, though she seemed obviously uncomfortable. It didn't stop her from going on right to the end.
The Stranger
2 Responses to "Ernest's Tadpole"
on 12 May 2007 at 3:37 pm 1.Tom Minton said …

Who did the singing in "Crocodile Smiles?" The music is certainly solid but so is that vocal.

on 20 May 2007 at 3:48 am 2.Eddie Fitzgerald said …

Wow! Those were great! The Crocodile music was especially good! You and tour associates have a lot of talent!
Leave a Reply