Animation Artifacts &Hubley &Story & Storyboards 30 Jul 2007 08:06 am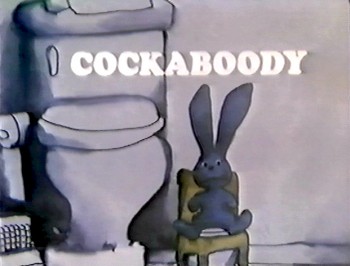 – I have a photostat copy of the storyboard to John and Faith Hubley's short film, Cockaboody. So I thought I'd post it to give a good demo of a storyboard from a master. The board was done in 1973.
I had worked at Hubley's for four months on Letterman and was layed off when that work ran out. They started preliminary work on Cockaboody while I was working on the feature Tubby The Tuba.
I left that project in time to get back to see the final scenes of Cockaboody colored, and I did a little animation of a rocking chair, with the two girls cradling it, at the film's end. I didn't do enough work on the film to receive credit, but I can still see my pencil lines on those two girls at the end of the film.
The film tells the story of two girls playing in a room next door to their babysitter. They laugh they cry they laugh they cry.
The film was improvised by Emily and Georgia Hubley in a recording studio years before they started the film. From the edited tracks a story was culled, and a storyboard formed. John did all of the drawings in storyboarding it.
Here are the first six pages; there are 17 in all. I've inserted fraame grabs so you can see how the final turned out. Tissa David animated the entire film.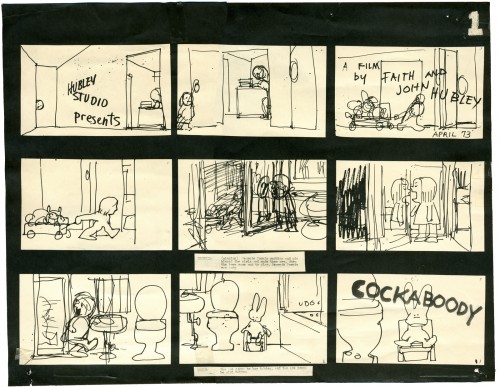 ___(Click any image to enlarge.)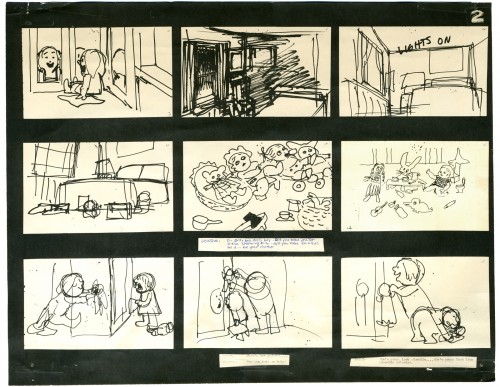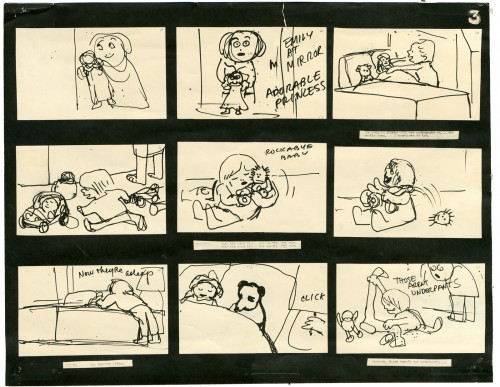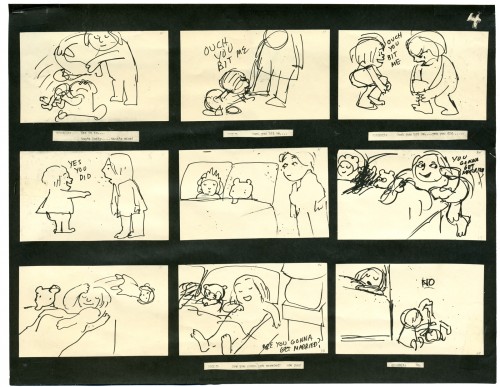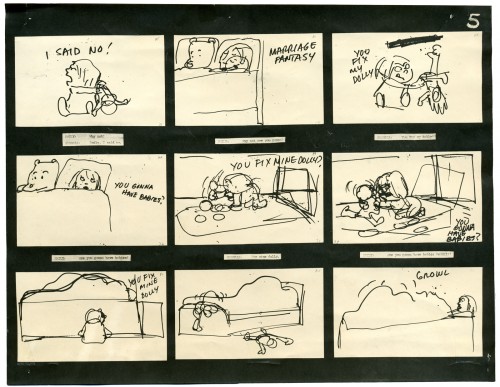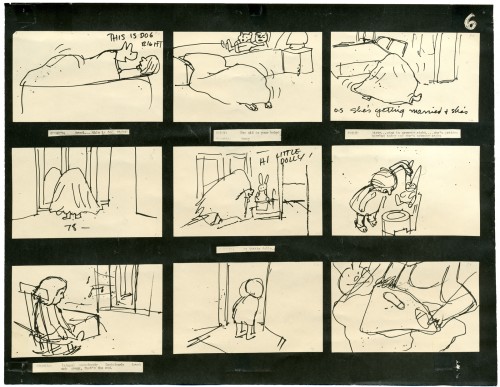 ____________________________________________________(to be continued.)
2 Responses to "Cockaboody Board 1"
on 30 Jul 2007 at 10:30 am 1.Ward said …

Oh man, this is fantastic. Thank you for posting this with us, Michael!

on 08 Jul 2009 at 2:39 pm 2.Ian Lumsden said …

What stupendous work this is. And so opportune because I was planning to write about the film on my blog. Your material is, as ever Michael, beautiful. Thank you.
Leave a Reply