Animation Artifacts &Disney &Peet &Story & Storyboards 25 Feb 2008 09:20 am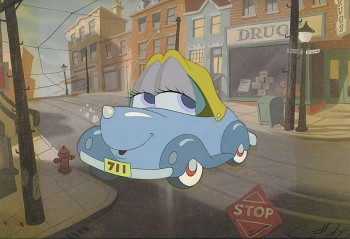 - Last week, I posted the galleys for Bill Peet 's book art for Susie, the Little Blue Coupe. I can't say for sure that it ever became a book, but I do know it was a film completed in 1951.
..The film was directed by Clyde Geronomi.
..The Layout was by Don Griffith and
…______________________Hugh Hennesy.
..The animation was by Bob Carlson, Ollie
._.Johnston, Hal King and Cliff Nordberg.
..The backgrounds were by Ralph Hulett.
..The music was composed by Paul Smith.
Thanks again to John Canemaker, I have the storyboard by Peet for this short Disney film. Part 1 appears here.
As in the past I've broken the board down so that I could post it as large as possible so that you can read it when the images are enlarged. Enjoy.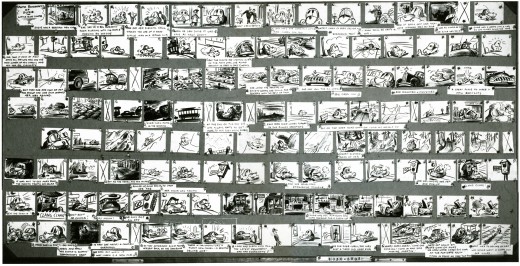 .__This is the complete board. I've broken up each individual row, they appear below.

A1a
_________(Click any image to enlarge.)

A1b

A2a

A2b

A3a

A3b

A4a

A4b

A5a

A5b

A6a

A6b

A7a

A7b

A8a

A8b
_______________________________I'll finish the rest of this storyboard tomorrow.
5 Responses to "Susie Board 1"
Leave a Reply