Animation Artifacts &Daily post 26 May 2008 09:40 am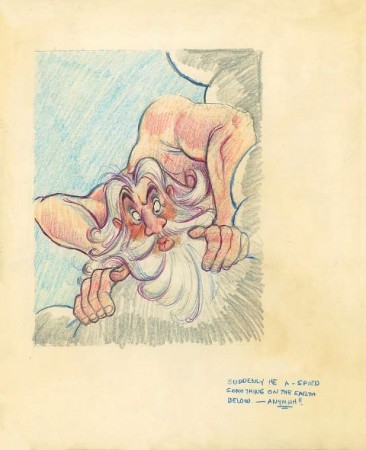 - After all the artwork from Fantasia that I posted in the past week or so, I received an email from Howard Penner. He had a beautiful sketch of Zeus looking down from the clouds.
Howard wondered whether it could have been drawn by James Bodrero, who did other storyboard sketches in a series I posted on loan from John Canemaker.
It looked somewhat different in style to me, so I asked John. He wasn't able to affirm that it was Bodrero's work, though he suggested it also might be by Martin Provenson or Jack Miller, both of whom also worked on this same sequence. It has more the cartoony look that I would expect from a Provenson drawing, so that's where I'm siding. Any other guesses?
Here are some closer scans: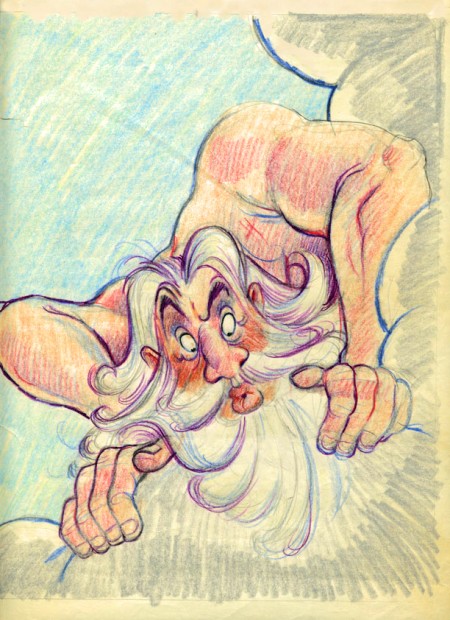 (Click any image to enlarge.)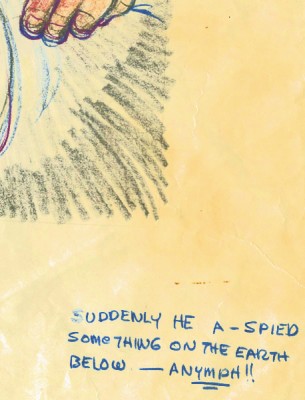 Having written "A-Spied" shouldn't
he have written "A-Nymph"?
__________________________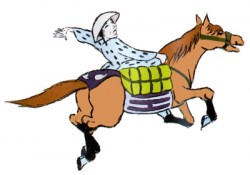 - Ken Priebe has written me to inform about the Vancouver Art Gallery's program called Krazy!. It's a show of original sketches, notes, concept drawings, animation cells, and 3-D models.
Ken writes in depth about it on his blog The Boundaries of Fantasia.
Ken also informed me that the brilliant animator, Tony White, has just posted a number of his films and reels on YouTube. Go here to see all of these short films. Don't miss Hokusai; it's a great film which won the BAFTA in 1978. Tony's commercial work can be seen here.
Ken Priebe is the author of The Art of Stop-Motion Animation.
Tony White has written Animation from Pencils to Pixels and the classic book The Animator's Workbook.
__________________________
- Sony Classic Pictures bought the distribution rights of Waltz with Bashir before the Cannes Festival closed yesterday. This assures that the film will eventually be released in the US. The film did not win any awards at the Festival as was predicted by a couple of reporters. Juror Natalie Portman commented on this, "I think it's a testament to the amazing selection (in the Festival) that a film as good as 'Waltz With Bashir' didn't win an award."
5 Responses to "More Notes"
Leave a Reply