Animation Artifacts &Disney &Story & Storyboards 28 Jul 2008 08:03 am
- Last week we left off Part I of this storyboard sequence 19 with Phillip cutting his way through the forest of thorns trying to make his way into the castle. Maleficent watches from a distance and is getting more and more angry.
This is Ken Anderson's storyboard presentation. The photographs of the board were loaned to me by John Canemaker, and I am indebted to him for it.
This is this photo of the board as is: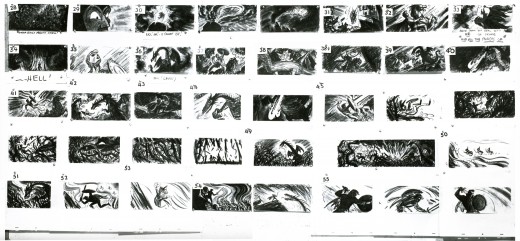 (Click any image to enlarge.)____________
Here are the rows of the board broken into two so that I can post them a bit larger.

1a

1b

2a

2b

3a

3b

4a

4b

5a

5b
The conclusion of this sequence remains.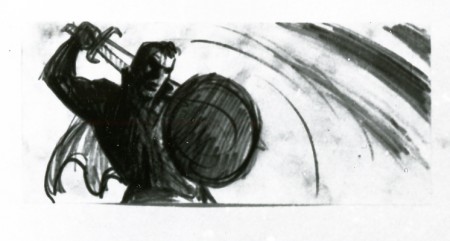 If only he knew what he's to face next.
2 Responses to "Sleeping Beauty – storyboard Seq 19 Pt 2"
on 29 Jul 2008 at 10:58 am 1.Stephen Macquignon said …

Hard choice:
slay dragon/kiss girl
A no win situation.

on 30 Jul 2008 at 12:35 pm 2.Eddie Fitzgerald said …

Wow! Very dramatic and the medium the pictures were drawn with supports the mood perfectly!
Leave a Reply